When you shop through retailer links on our site, we may earn affiliate commissions. 100% of the fees we collect are used to support our nonprofit mission.
Learn more.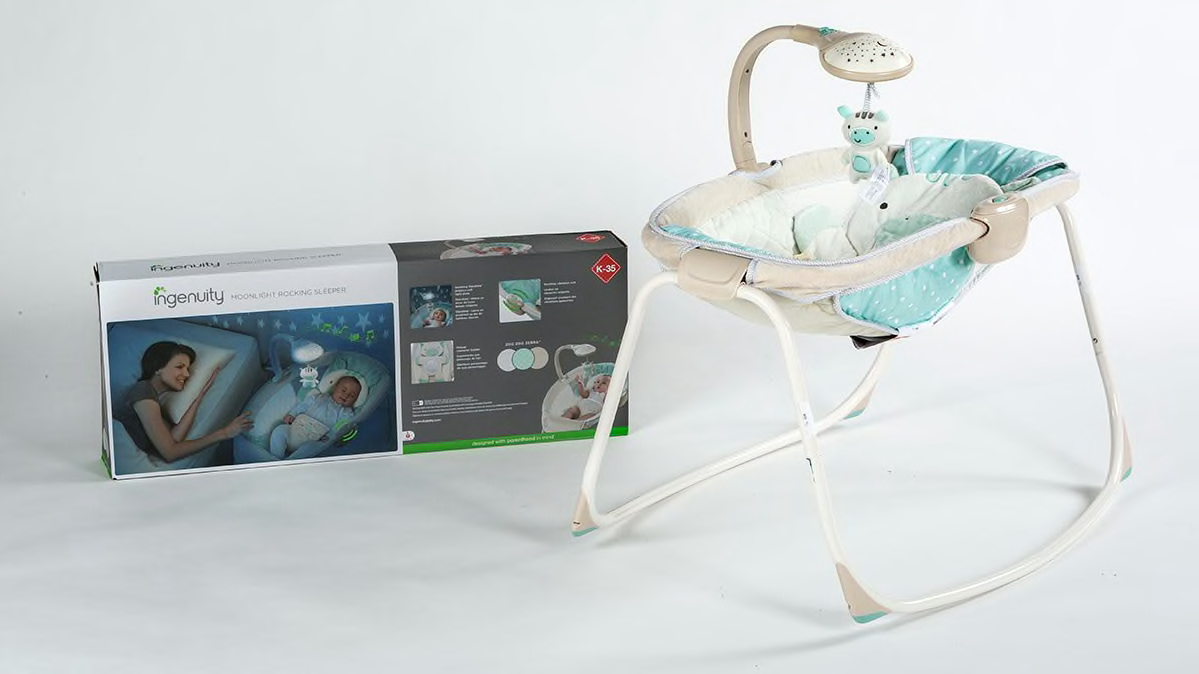 On Friday, Kids II recalled about 694,000 of its Rocking Sleepers, citing "five infant fatalities," four of which were first reported by Consumer Reports on April 11.
The recall includes all models of Kids II Rocking Sleepers made from March 2012 through April 2019, such as the Ingenuity Moonlight Rocking Sleeper and the Bright Starts Playtime to Bedtime Rocking Sleeper. For a complete list of recalled products, read the Consumer Product Safety Commission's recall announcement.
The recall comes two weeks after Fisher-Price recalled all 4.7 million of their Rock 'n Play Sleepers following a CR investigation that revealed the product was linked to at least 32 infant deaths.
The CPSC announcement urges parents and caregivers to stop using the product immediately.
The American Academy of Pediatrics has warned that inclined sleepers don't align with safe sleep guidelines, which state that babies should be put to bed alone on their backs on a firm, flat surface (not at an incline) free of restraints and soft bedding. All inclined sleepers, such as those made by Kids II, Fisher-Price, and other companies, increase the risk of suffocation and strangulation, according to the AAP.
When asked whether the CPSC intends to eliminate the entire category of inclined sleepers rather than just issuing recalls for these specific models, an agency spokesperson said it "continues to actively evaluate and examine inclined sleep products. [And] we are reassessing the product class and hazards associated with it."
Mattel, the parent company of Fisher-Price, announced this week that the recall of the Rock 'n Play Sleeper cost the company $27.3 million in the three-month period ending March 31, 2019. When asked whether the company intended to reintroduce the product as a "soothing seat," as it is marketed in Canada, a spokesperson said that its "energies are focused on the recall at this time."
Caregivers who own one of the recalled Kids II sleepers can call Kids II at 866-869-7954 from 8 a.m. to 5 p.m. EST Monday through Friday or go to kids2.com and click on "Important Recall Information" to receive a refund or voucher.
The company's refund option states that customers will get a refund or voucher based on how long they owned the sleeper.
William Wallace, manager of home and products policy for CR, is pleased that the Kids II products are being recalled but says it reveals flaws in the process, too. "As with Fisher-Price, this recall happened only after the public learned of infant deaths, it is being announced on a Friday when it could be missed by consumers, and its terms make it harder for consumers to send the product back and get compensated," he says. "In light of the Fisher-Price and Kids II recalls, where the companies seem to be setting their own timing and terms, we question whether the CPSC is doing all it can to stand up for consumers' interests."
Ben Hoffman, M.D., chairperson of the AAP's Council on Injury, Violence, and Poison Prevention Executive Committee, cautions parents to avoid all inclined sleepers, saying, "I urge all parents to talk to their pediatricians about how to keep their babies safe during sleep."