When you shop through retailer links on our site, we may earn affiliate commissions. 100% of the fees we collect are used to support our nonprofit mission.
Learn more.
Food freshness claims from refrigerator manufacturers are on the rise. We've encountered built-in air purifiers said to eliminate airborne bacteria, and we've seen small pouches that sit inside crisper drawers, supposedly absorbing the ethylene gas that causes some produce to ripen.
Those claims are difficult to measure because food quality and storage requirements vary. But our lab tests have confirmed that the refrigerators that are best at preserving food are those that maintain steady temperature and humidity. And one relatively new innovation does more than any other to create optimal climate conditions. It's called dual-­evaporator cooling.
Typical refrigerators use a single evaporator, or cooling coil, in the freezer section, alongside a circulating fan. When a cooler temperature is needed in the refrigerator section, additional air is diverted into the fridge from the freezer section through a damper positioned between the two compartments.
Single evaporators come with two big trade-offs. First, the evaporator must operate at cold temperatures to keep food frozen. But that removes moisture from the air, and the cold, dry freezer air lowers humidity levels in the refrigerator section, which is bad for many foods. Second, odors can migrate between the two chambers, causing your ice cubes to taste like salmon or other smelly foods in the fridge.
Dual-evaporative refrigerators take care of both problems by creating two distinct climates, one for the freezer and one for the refrigerator. The feature used to be available only on top-of-the-line refrigerators, but it's slowly migrating to more price ranges, as shown in our refrigerator Ratings, which as of mid-July 2016 had nearly 50 models with dual evaporators.
One standout to consider is the Samsung RF28HDEDPWW, which holds the current high score among all refrigerators we've tested and is competitively priced at $2,700. In addition to its dual evaporators, the 36-inch-wide French-door model features a temperature-controlled meat and deli bin, good for keeping cold cuts and beverages in their ideal climate, and its crisper drawers are excellent at maintaining optimal humidity levels.
Like all of the best refrigerators in our tests, the Samsung also keeps the fridge at 37° F, which the government says protects most foods from spoilage and foodborne illness.
How to Have More Shelf Control
Bring 'raw and order' to your food storage by making the best use of the bins and shelving in your refrigerator.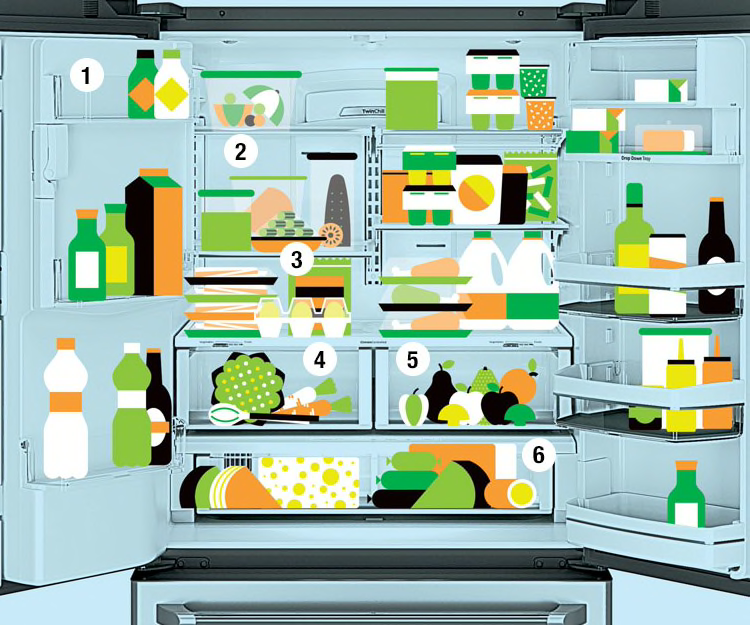 On the door: Butter, condiments, carbonated drinks, cooking oils (can go rancid
at room temp), jam and jelly, juice, peanut butter, water.
Warmer upper shelves: Yogurt, snacks (pudding cups, fruit cups, etc.), leftovers (in separate
containers), beverages.
Cooler bottom shelves: Milk, eggs (in original carton), raw meat, poultry, and fish (on trays to catch any drippings).
High humidity drawer: Broccoli, carrots, cauliflower, green onions, leafy greens.
Low humidity drawer: Apples, avocados (once ripe), grapes, mushrooms, peaches (once ripe), pears (once ripe), peppers, plums (once ripe), melon (once ripe), nectarines (once ripe), summer squash
Deli drawer: Cheese, Deli meats, Hot dogs

Items that shouldn't go in the fridge: Bananas, bread, coffee, garlic, onions, potatoes, tomatoes.