When you shop through retailer links on our site, we may earn affiliate commissions. 100% of the fees we collect are used to support our nonprofit mission.
Learn more.
Eating out isn't just for special occasions anymore: It's now the American way of life. We'll spend an estimated $720 billion at restaurants this year, up 19 percent from 2012. That breaks down to $1.97 billion per day—or roughly $2,222 per year for every man, woman, and child in the U.S. It's almost half of every food dollar we spend.
A lot of those dollars—$262 billion, in fact—are going to fast-food emporiums such as McDonald's and Burger King. But Americans are also spending $206 billion at restaurants with table service such as California Pizza Kitchen, Chili's, Red Lobster, and Waffle House, among many others. Our new survey findings represent the largest sit-down restaurant ratings ever reported by the Consumer Reports National Research Center, reflecting the experiences of 68,950 subscribers who frequented a record 238 restaurant chains and had 170,838 meals.
Overall, our survey surfaces praise­worthy options for almost every palate and budget, from informal homestyle family restaurants in the coffee-shop class, such as Elmer's, to sophisticated white-tablecloth dinner houses, such as Mastro's ("Proper Attire is Required").
Although megachains like our five most frequented—Applebee's, Olive Garden, The Cheesecake Factory, Cracker Barrel Old Country Store, and IHOP—are well-­represented, this year is notable for 141 newcomers to our survey, making a strong showing in ethnic and organic foods. New favorites run the gamut: all-natural, organic Bareburger; made-from-scratch Lazy Dog Restaurant & Bar; and Cooper's Hawk Winery & Restaurants, where the menu is planned to pair with the company's wines. Others that were once only local hits, such as Chuy's, a Tex-Mex chain from Austin, Texas, have expanded geographically. Indeed, reflecting America's broadening tastes, our new ratings cover 11 cuisine categories and contain our most eclectic mix of flavor profiles to date, including Japanese barbecue (Gyu-Kaku), Irish specialties (Fadó Irish Pub), tapas (Barcelona Wine Bar), and Cajun cuisine (Razzoo's Cajun Cafe), among many others.
Respondents also enjoyed eateries that rely on different themes and atmospheres. Jimmy Buffett's Margaritaville pays homage to the island lifestyle that the singer captures in his music. Buca di Beppo, loosely translated as "Joe's basement," serves "immigrant" food in a kitschy vintage atmosphere where the walls are covered with photos of ethnic icons including Joe DiMaggio and Sophia Loren while classics by Frank Sinatra and Dean Martin play in the background. Other chains work a more sophisticated ambience. Case in point: Chart House, known for seafood served in historic buildings such as the John Hancock counting house in Boston or in buildings with spectacular settings such as a bird's-eye view of the Ohio River and Cincinnati skyline.

Check our restaurant ratings and buying guide to get all the details from the Consumer Reports National Research Center's exclusive survey of 68,950 subscribers reporting on 170,838 restaurant visits.

As we've found in the past, many newbies to our survey raised the bar, and not just in terms of dining experience. Some category leaders reveal just how diverse American tastes have become:
Hillstone, our overall top-scoring chain, features unique artwork and dishes made with local ingredients at each spot.
Seasons 52, a casually sophisticated eatery and wine bar known for seasonally inspired menus.
The Counter, a high-end build-your-own-burger (organic bison, vegan veggie, crab, and more) chain featuring premium cheeses, sauces, and toppings.
Primanti Bros., a Pittsburgh-area institution known for its giant signature sandwiches stuffed with french fries.
Rudy's Country Store and Bar-B-Q, originally a combination gas station, garage, and grocery store in Texas. The company added a barbecue pit to the operation in 1989.
Tommy Bahama Restaurant & Bar, a culinary spinoff of the islands-inspired lifestyle and clothing brand.
Ultimately, though, survey respondents told us that nothing matters more in their choice of a restaurant than the quality of the food. But our scores show that just 20 chains served truly inspired fare, and 30 received a below-average rating.
We also saw that, to attract and keep more customers, food establishments are trying to evolve. In particular, we found four major trends that are shaping today's chain-restaurant landscape.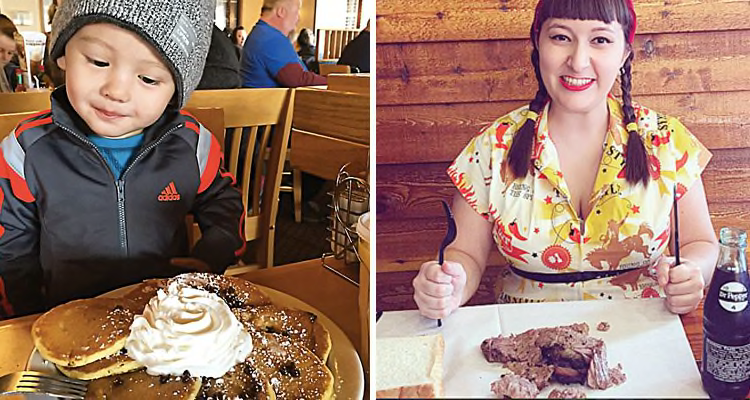 Photo: @KOL10 (left), @HANNAHSTEFFAN (right)
1. Cuisine Gets a Conscience
Consumers are increasingly interested in finding options that are healthy—not just for themselves (though they want that, too: See "How to Eat Healthier at Restaurant Chains") but for the environment.
Sixty-eight percent of consumers polled by the National Restaurant Association as part of its 2016 Industry Forecast said they're more likely to go to a restaurant that offers locally sourced food, and 60 percent said they prefer those that engage in environmentally conscious practices such as water conservation and recycling. More diners also care about the humane treatment of animals. Other trends gaining traction include food that's "clean" (free from additives and close to nature) and sustainable (not depleting our natural resources).
Our survey confirms the growing appeal of restaurants that consumers can feel good about. Thirty-eight percent of Consumer Reports subscribers surveyed said the availability of healthy menu options figures prominently in their choice of a restaurant, and 50 percent said it was "somewhat important." The use of locally sourced food or meat from animals raised without antibiotics was significant to around 15 percent; about 10 percent said they especially seek out places that use organic ingredients. About 10 percent are also especially drawn to those serving foods without genetically modified organisms.
But don't expect to find organic items and food grown or raised in an environmentally sustainable way at many casual and family dining chains. Darren Tristano, president of Technomic, an industry consulting and research firm, said that high costs and limited availability mean it's not practical or plausible everywhere. Such foods cost more, and there's just not enough to go around.
Despite the costs, some casual dining chains are starting to answer the call, saying their food is sourced in a way that's safe, ethical, responsible, and sustainable. Those claims can vary widely in meaning, says Charlotte Vallaeys, a senior policy analyst for Consumer Reports' Food Safety and Sustainability Center, because they may be unverified, may not yet be implemented, or may address only part of the story. There are many key components of sustainability and animal welfare that restaurants should address, including reducing or eliminating the use of antibiotics, pesticides, and GMOs on farms, and improving living conditions for farm animals. Ideally, chains would have commitments that have been implemented and are backed by verified labels with meaningful and comprehensive standards, such as certified organic and Certified Humane.
2. The Table Becomes To-Go
Full-service eateries are facing increased competition from chains that offer only limited service, such as Panera Bread and Chipotle Mexican Grill, a category not covered in our survey. They're also losing business to supermarkets, which are reinventing themselves as "grocerants," industry-speak for food stores that incorporate restaurant-style, sit-down aesthetics. In fact, in-store dining and purchases of take-out prepared foods from grocers have grown 30 percent since 2008, says trend tracker The NPD Group. Perhaps in response, chain-restaurant takeout has taken off. More of us are ordering our food to go, and takeout and delivery services are flourishing among table-service eateries. That includes even pricey, sophisticated chains such as Morton's The Steakhouse.
Takeout will continue to boom, according to Technomic's Tristano, driven by Generation Z consumers (those born after 1995), who tend to be comfortable eating on the go and in their cars. Adding tech to the trend, many full-service chains are making it easier for takeout customers by accepting online and mobile orders and allowing them to pay electronically in advance; some also provide local home delivery and curbside pickup. With Outback Steakhouse, for instance, you place a detailed online order, down to the smallest details, such as whether you want to skip the butter or add extra cheese, set a pickup time, and in as little as 20 minutes your meal is ready. At Applebee's, Outback, and Red Robin, a staffer will run your order out to your car for you. And Bob Evans, Cracker Barrel, Legal Sea Foods, and Red Robin sell some of their signature items in supermarkets or online.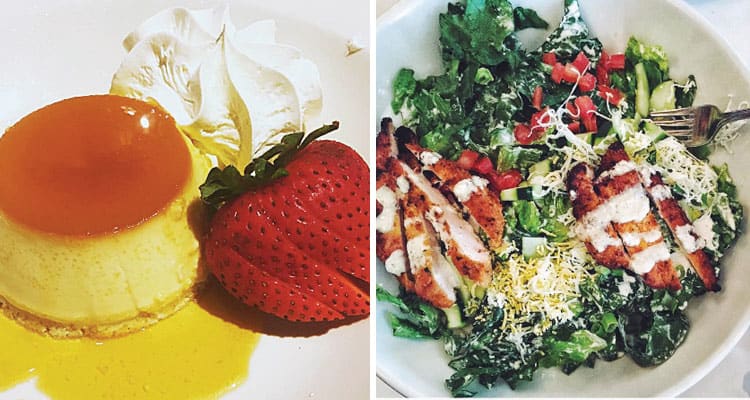 Photo: Left (flan): @curiousabode; Right (salad): @ali_eats
3. Curiosity Turns Culinary
Consumers are eager to try innovative fare that they can't replicate at home, says Annika Stensson, director of research communications for the National Restaurant Association. Those ages 18 to 34 in particular consider the availability of unique, creative, and unfamiliar cuisine important factors in choosing a restaurant.
Our survey also shows that consumers are giving a thumbs-up to unconventional chains. For starters, there's HuHot Mongolian Grill, where guests can imaginatively mix and match protein sources with various types of noodles, rice, vegetables, and sauces; Umami Burger, which showcases seafood, beef, veggie, and poultry patties with inventive ingredients and dishes—such as truffle aioli, maple bacon fries, soy pickles, and caramelized kimchi; and The Melting Pot, which specializes in fondue.
4. Waits Start to Shrink
The subscribers in our survey made reservations for only 6 percent of their restaurant outings. But for the most part, lacking one didn't slow things down: The median wait time without a reservation among all chains was less than 5 minutes. During peak periods, like Friday and Saturday evenings, and at highly popular chains, though, the wait can be much longer if you don't book ahead. At Carmine's, for example, guests waited an average of 15 minutes for a table, and seating took almost as long at Benihana, Texas de Brazil Churrascaria, Maggiano's Little Italy, Redstone American Grill, and Cooper's Hawk Winery & Restaurants.
We found that chains are making an effort to keep customers happier here, too. Some casual chains such as Texas Roadhouse are now encouraging call-ahead seating, which gets your name on the wait list before you've even left home rather than after you arrive. Carrabba's Italian Grill and Outback Steakhouse introduced a new twist called Click-Thru Seating that allows you to monitor real-time seating availability at your local restaurant by computer or smartphone and put your name on the wait list for now or later.
As for waiting for your food, the median time was 15 minutes among all chains in our survey. But 17 percent of visits resulted in waits of 20 minutes or longer. That, too, may change because several chains have started employing technology to speed up service. Tables at Chili's are equipped with tablet computers that let guests peruse menu items and specials, as well as order whenever the craving strikes and pay when they choose.
Editor's Note: This article also appeared in the November 2016 issue of Consumer Reports magazine.
Photo credits for top image: @krown_ki, @tallyeatz, @grubnat, @tonyalight, @woozysoozy, @chitownmo1973, @lonestarwoodpens, @noahleejordan, @juyang1122, @drive_thrive_alive, @malee78, @dallaspartyof2, @adiandkiki, @tattooed_teacher77, @_georgiakaye_, @girl_vs_food, @alohasavani, @arun_rajs, @brookecb1977, @vashabhatari, @holistic_helen, @colin929, @curiousabode, @leeleekiki, @foodieandwinelover, @chitown_eater, @roadmapsandsnaps, @kcorbett1970