When you shop through retailer links on our site, we may earn affiliate commissions. 100% of the fees we collect are used to support our nonprofit mission.
Learn more.
When you go holiday shopping this year, you might be tempted to pay for major purchases using one of the layaway plans promoted by major retailers such as Burlington Coat Factory, Kmart, Toys "R" Us, and Walmart.
The reason these layaway plans are so popular is because they let you spread payments for large purchases over several weeks and there are no interest charges, says Michelle Corey, president and CEO of the St. Louis Better Business Bureau.
The layaway concept dates back to the Great Depression, when retail customers paid a percentage of the purchase price as a down payment, then spread the balance over several months. The merchant held the item until payments were complete.
When consumer credit cards became readily available, most stores began to do away with the practice. But during the recent Great Recession, layaway plans came back in a big way. According to a recent National Retail Federation poll, the plans are most popular with consumers between the ages of 35 and 44. One in 10 shoppers 18 to 24 say layaway services are important in their destination decision.
If you plan to use a layaway plan, you should understand that terms and conditions vary from one merchant to the next and can differ from state to state. Some retailers limit the type of products that can be put on layaway. The plans always come with rules and some fees, and if you don't read the fine print, you could get some unwanted surprises.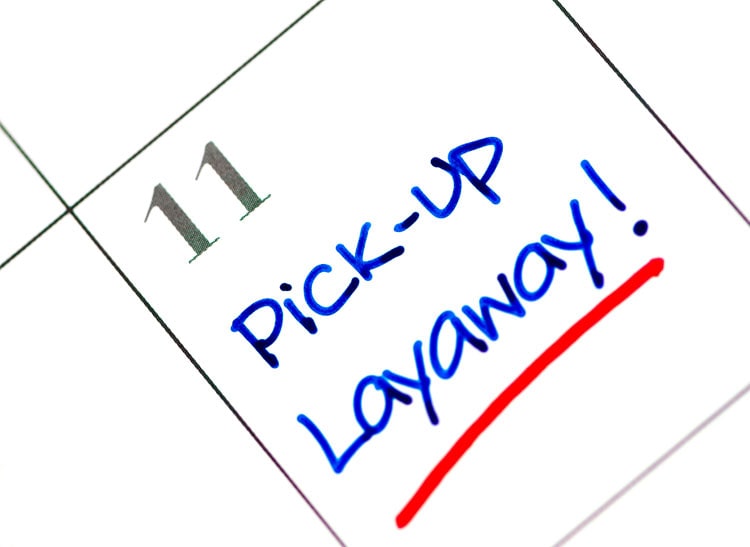 Details You Need to Know
Before you sign up for a plan, check the terms carefully. Make sure you know the answers to these key questions:

Is there a fee to open an account? Many stores charge a $5 to $10 service fee to initiate a layaway, which is generally not refundable if you cancel the contract or can't make a payment (which effectively cancels the contract). Some retailers, such as Walmart, waive the fee for the holiday season if you open an account in one of its stores.

Are there minimum spending requirements? At Walmart, your total layaway purchase has to be worth $50 or more. For a Kmart store plan you have to spend at least $300 if you want to spread your payments over 12 weeks.
What is the required down payment? Some stores, including Burlington Coat Factory, require a down payment worth 20 percent of the total cost of your layaway goods. At Toys "R" Us, it's 10 percent. Walmart requires $10 or 10 percent, whichever is greater. Kmart waives its $10 down payment requirement for layaways through Nov. 26 (the Saturday after Thanksgiving).

When are payments due? It depends on the plan. Kmart, for example, requires a payment every two weeks. The retailer gives you a grace period of seven days beyond your due date. If you still don't pay, the item is put back on store shelves and you'll owe a cancellation fee.

How long can the item be on layaway? Some items have a time limit and are returned to store shelves once that deadline hits if you haven't paid it off. At Walmart, for example, you have to pay off the item and pick it up on or before Dec. 12 or the layaway is canceled.
Will the item be placed in a holding area until all payments are made? If not, it could be inadvertently sold to another customer. Kmart wraps up the item when you open a layaway account and places it in a storage area.

What happens if the product is not in stock? Find out if it is ordered when your layaway is opened or when the last payment is made. The delivery time frame of the merchandise should be agreed to up front.
What it the price drops while you're making payments? Be aware that if the item you've place on layaway goes on sale, you may not be entitled to a price adjustment. In other cases, you may be eligible for one price adjustment within the first week or two. Ask the store about its policy, and get it in writing.
What if your layaway is canceled? If you or the retailer cancels a layaway plan, your payments are likely to be returned, but the store will probably charge you a cancellation fee. At the Burlington Coat Factory, Toys "R" Us, and Walmart, the cancellation fee is $10.

How are my payments refunded if the layaway is canceled? Burlington Coat Factory puts your refund on a store gift card; Walmart refunds your original payment method.

Layaway Alternatives
Before signing up for a layaway plan and locking yourself into a payment program, consider other options. You could put an equivalent payment into a savings or high-yield checking account on a regular basis instead of letting a retailer hold on to it. By doing that, you'll pocket a small amount of interest and avoid possible fees. Then, when you've put enough aside, you could buy the goods with cash.

Though layaway might sound like a good substitute for credit, you could end up paying more in fees than you would pay in credit card interest. Say you want to put a $300 item on layaway and you're required to put 10 percent down ($30), pay $10 to open the account, and pay the balance in 60 days. Essentially, the store is loaning you $270 for two months. That equals an annual percentage rate of more than 24 percent. By contrast, the average low-rate card APR is around 12 percent today, and the average reward card APR is around 15 percent, according to Bankrate.com. So consider using a credit card instead as long as you can pay the balance promptly and avoid a finance charge.