Best Rice Cookers From Consumer Reports' Tests
We tested half a dozen rice cookers to find the best ones for various home cooks
When you shop through retailer links on our site, we may earn affiliate commissions. 100% of the fees we collect are used to support our nonprofit mission. Learn more.
Stovetop rice seems easy enough—you measure out the rice and water and set it on the burner. But there are a number of variables that can lead to mushy or burnt rice, including the burner's level, the pot's insulation, the lid's seal, and even the kitchen's humidity.
Rice cookers shrug off all those variables because they're a sealed vessel with a precisely controlled heat source. The best ones make consistently perfect rice every time with the press of a button.
We selected six models from five popular brands: Aroma, Black+Decker, Hamilton Beach, Instant, and Zojirushi. All models are in the 3- to 4-cup-capacity range because our research indicated that this was the most popular size. Prices average around $35, but we also brought in a $270 Zojirushi model—which announces that your rice is ready by playing "Twinkle, Twinkle, Little Star," among other (less whimsical) features—to see how it stacks up.
Consumer Reports testers rinsed and cooked small and large batches of long-grain white rice as well as batches of long-grain brown rice following the rice cooker manufacturers' directions. (We always follow manufacturers' instructions for the appliances we test. Plus, in this case, not all rice packages include instructions for how to cook the rice using a rice cooker.) We used the rice measuring cup that comes with each cooker and adhered to the fill lines on the pots to measure the amount of water to use. (All the cookers also come with a fluffing paddle.)
A panel of several trained tasters and a few lucky CR staffers sampled each batch of rice in a blind side-by-side taste test. The ideal batch of rice was cooked evenly top to bottom—no mushy or crunchy pockets—with soft, fluffy grains. Tasters also compared how rice tasted when cooked in a rice cooker vs. a multi-cooker.
Larry Ciufo, CR's lead tester for rice cookers, says all the machines easily made white rice that earned either Very Good or Excellent ratings. "But we saw a lot more variation in taste, texture, and cooking time with brown rice," he says.
Testers also factored convenience and the control settings into the Overall Score, assessing how easy it is to clean, the clarity of the controls, how audible the alerts are, whether it automatically switches off, and how clear the water line-markings are on the pot.
"None of these machines were an all-out fail," Ciufo says. "Even the ones that ended up at the bottom of the ratings still make rice better than a multi-cooker."
Because most of the rice cookers performed well overall in our tests, we break them down below by their various attributes. For more details and our complete test results, see our full rice cooker ratings.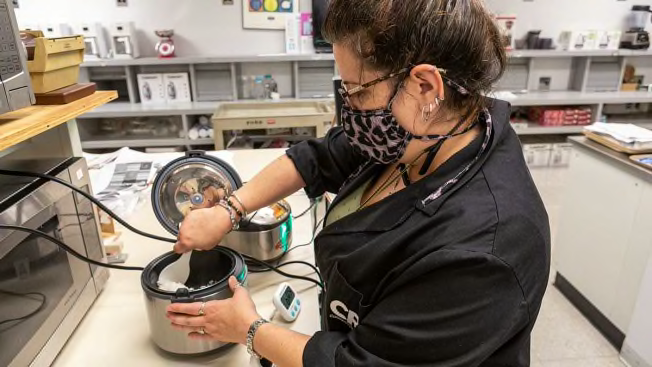 Despite the name, the Zest is actually a 4-cup rice cooker. (The "8-cup" refers to cooked rice; most rice cookers go by dry measurements.) Like most of the rice cookers in our ratings, this one scores a Very Good rating for cooking rice, but it's on the slow side, turning out white rice in a little over 30 minutes and brown rice in about an hour.
One taster said the brown rice made in the Zest had a good texture and a nice bite. Many tasters found that while the white rice was cooked through, it often came out too sticky.
The Zest has a steam setting (and steamer insert), plus programs for making quinoa and oatmeal. In addition to the keep-warm setting, it has a handy delayed-start function for planning ahead or soaking grains and cooking status indicators let you know how much time is left before you can chow down.
Best Rice Cooker for Rice Aficionados
This pricey 3-cup rice cooker consistently makes beautiful rice, earning a Very Good rating for cooking rice, but takes its sweet time—almost 45 minutes to cook white rice and a whopping 90 minutes to cook brown rice. Still, it's the all-around best-performing and most foolproof rice cooker we tested. It's also the only rice cooker in our ratings that uses induction technology, which generates a magnetic field that turns the pot itself into the heating element. Heat is distributed throughout the pot instead of radiating from the bottom like with traditional rice cookers.
We like that it's intuitive to use. It has set programs for cooking white, two different types of brown, rinse-free, and sushi rice. Plus, there are additional programs for mixed grains, rice porridge, quick-cooking, and delayed start. It's the rice cooker to have if you love cooking all kinds of rice.
The pot and removable inner lid are also easy to clean, and the white markings on the dark pot were the easiest to see out of the bunch.
It's also worth noting that this is the only model among the ones we tested that has buttons for people with visual impairments. The start button has a raised dot, and the cancel/reset button has a raised dash. Its audio alerts are also quite loud (the default is the song "Twinkle, Twinkle, Little Star"), so you know exactly which appliance is beckoning you into the kitchen.
Best Rice Cooker for Seasoned Rice
The Aroma performed quite well in our tests, earning Very Good scores across the board, but some batches of brown rice came out slightly undercooked and some batches of white rice came out slightly mushy. It's not a fast cooker, either—white rice takes about 45 minutes, and brown rice cooks in about 55 minutes.
Still, if you make seasoned rice, you might find this model worth seeking out for its sauté mode. It's the only cooker we tested with this function, which can be used to soften onions, garlic, or other aromatics, and toast spices before adding rice and water to the pot. In addition to the white and brown rice settings that we tested, it has programs for quinoa, oatmeal, quick rice, steaming, and slow cooking. It also has delayed-start and keep-warm functions. It comes with a steamer tray and a five-year warranty, which goes far beyond the usual one-year warranty for rice cookers.
For a basic, one-button machine, this compact model produced perfectly tender, chewy rice. In fact, it was the best of the bunch, earning an Excellent score in that test—and the fastest. It took half the time to cook rice compared with most of the other models we tested. Points were docked for convenience, though, because it lacks programs, a keep-warm mode, and audio cues when the rice is done (it automatically turns off). But if you're looking for the simplest rice cooker without any microcomputer, touch screen, or alerts, this is a good choice that takes up little space. It's the kind of starter rice cooker that seems made for college students.