How to Keep a Roomba Vacuum Cleaner From Collecting Data About Your Home
According to iRobot, you can shut down the robotic vac's Wi-Fi connection in a few simple steps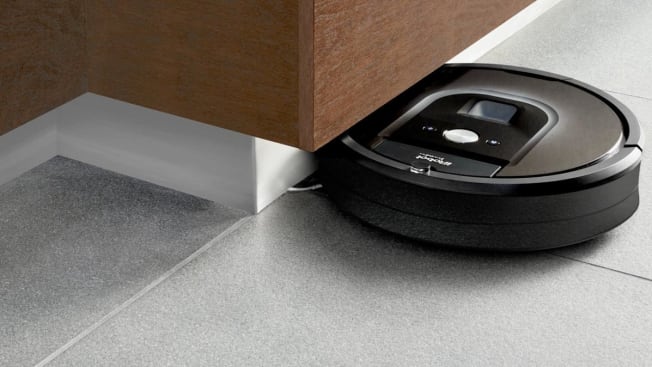 In an interview with Reuters published last Monday, iRobot CEO Colin Angle suggested his company might one day share the mapping data collected by Roomba robotic vacuum cleaners with tech companies such as Amazon, Google, or Apple. Within two years, he explained, a detailed diagram of the floorplan in your home could be highly valuable to such tech giants.
"There's an entire ecosystem of things and services that the smart home can deliver once you have a rich map of the home," he said.
According to James Baussmann, the company's public relations manager for North America, only four of the WiFi-connected Roomba models are capable of transmitting data: the 690, 890, 960 and 980. And none of those models is currently sending data to third parties.

"iRobot is committed to the absolute privacy of our customer-related data, including data collected by our connected products," he says. "No data is sold to third parties. No data will be shared with third parties without the informed consent of our customers."
But there's a surefire way to keep this type of data from being collected in the first place: If you own a Roomba vacuum cleaner, you can cut off its connection to the internet altogether. Here's how.
Can I Use a Roomba Without WiFi?
Yes, it will still clean your home. "The Roomba is very simple," says Frank Rizzi, a Consumer Reports senior test technician. "Hit the start button and it'll clean your room. Right out of the box, it'll do the job."
But if you pass up the WiFi connection, you lose some of the convenience features offered through the mobile app. You won't be able to remotely schedule cleanings, customize cleaning features, and receive the device's mapping reports, says Baussman. You'll also give up any voice control functionality provided by Amazon's Alexa or Google Assistant.
And there's currently no way to maintain that functionality after you opt out of the company's data collection.
How Do I Turn Off the WiFi?
If you've already set up your Roomba's WiFi connection and wish to turn it off, you can perform a factory reset by depressing all three buttons on the vacuum cleaner (Clean, Spot Clean, and Home) at once and holding them down until you hear a tone.
To be safe, says Baussmann, hold the buttons down for about 15 seconds. This will essentially return the device to its out-of-the-box configuration. Just be aware that doing so wipes out any settings you may have entered, including scheduling info.
Can I Delete Info That's Been Collected?
Yes, iRobot claims it will delete any data that has been collected upon request, but you have to contact the company directly for that. For assistance with that—or any of the options above—contact the company's customer support site.
Editor's Note: This article has been amended to reflect a correction to a Reuters story; iRobot CEO Colin Angle suggested to Reuters that his company might "share," not "sell," data collected by Roomba vacuum cleaners.