Healthy Salad Dressings That Will Make Your Tastebuds Go 'Wow'
These recipes require minimal effort but produce maximum deliciousness The wrong dressing can ruin a salad in terms of health and flavor. Though it's possible to find a bottled dressing that's tasty and good for you—like some of the ranch and raspberry vinaigrette dressings we recently rated—store-bought ones can often mean too much sugar, sodium, or unwanted additives.
Red Raspberry Vinaigrette
(Ingredients shown at top)
½ cup ripe raspberries
2 tablespoons raspberry or sherry vinegar
½ teaspoon sugar
1 teaspoon lemon juice
¼ teaspoon salt
Black pepper to taste
6 tablespoons olive oil
Directions
1. Using the back of a spoon, push the raspberries through a wire mesh strainer into a small bowl. Set the strainer over the bowl to allow the juices to drain. Be sure to scrape the bottom of the strainer to get all of the purée into the bowl.
2. Whisk the raspberry purée, vinegar, sugar, lemon juice, salt, and pepper to blend completely.
3. Slowly whisk the oil into the mixture.
Makes 6 servings.
Nutrition information per 2 tablespoons: 130 calories, 14 grams fat, 2 grams saturated fat, 2 grams carbs, 1 gram fiber, 1 gram sugars (<1 gram added), 0 grams protein, 95 mg sodium.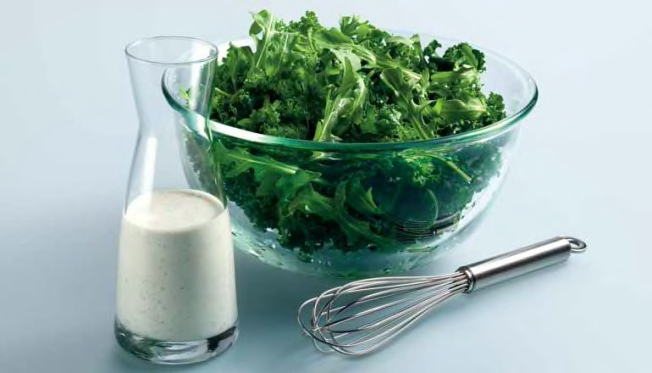 1 teaspoon each dried chives, parsley, dill, garlic powder, and onion powder
½ teaspoon each salt and black pepper
½ cup sour cream
¼ cup mayonnaise
½ cup low-fat buttermilk
Directions
1. Mix the dried spices, salt, and pepper together well and store in an airtight container.
2. For the dressing, add 1 tablespoon of the spice mix to the sour cream, mayonnaise, and buttermilk. Stir to combine.
Note: If you don't have buttermilk, combine 1½ teaspoons of lemon juice or vinegar with ½ cup milk and let stand for 10 minutes.
Makes 8 servings.
Nutrition information per 2 tablespoons: 60 calories, 6 grams fat, 1.5 grams saturated fat, 2 grams carbs, 0 grams fiber, 1 gram sugars (0 grams added), 1 gram protein, 130 mg sodium.