Best Cyber Monday Deals Under $100
Great discounts are still available on kitchen appliances, tech gadgets, and more
When you shop through retailer links on our site, we may earn affiliate commissions. 100% of the fees we collect are used to support our nonprofit mission. Learn more.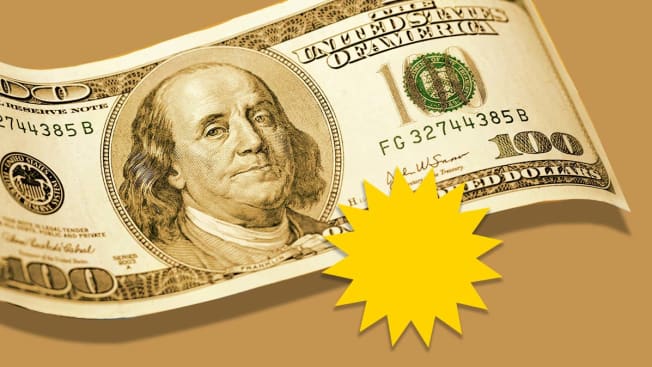 Sure, there are still Cyber Monday deals out there this week priced at less than $100. But it's difficult to know whether that $99 blender is a steal or a clunker that doesn't deserve space in your home.
To help budget-conscious shoppers—who shouldn't have to sacrifice good quality for a low price—we went through low-cost options searching for the most promising deals on items including coffee makers, streaming devices, and even vacuums. Below, you'll find items on sale for between $50 and $100. If you're looking for even lower-cost products, check out our roundup of the best Cyber Monday deals under $50.
These are just a few of the best Cyber Week deals we're still seeing, but we're tracking everything regardless of price. So check out more great discounts on TVs, laptops, headphones, mattresses, vacuums, and plenty of other home and kitchen products.
Keep in mind that these prices are accurate at the time of publication, but some deals may sell out and prices can change.
Overall, this Black+Decker does a good job at the basics: baking, reheating, and toasting. But it also comes with a few additional functions, including convection bake and broil, as well as settings for cookies, pizza, frozen snacks, potatoes, and bagels. If you're looking for a countertop oven, here's an opportunity to get one for 20 percent off.
CR's test results: Black+Decker 6-Slice Digital Convection CTO6335SS toaster oven
The Dreo Air Fryer earns high scores in CR's tests for the ease and legibility of its controls, ease of cleaning, and relatively quiet operating noise. The basket's claimed capacity is 4 quarts, but CR's test engineers measured it at 2.5 quarts. The one-year warranty is on a par with most of the models we've tested. At Amazon, you'll need to click the on-page coupon before adding it to your cart to get the savings.
CR's test results: Dreo air fryer
A CR Best Buy, this GoWise air fryer has a measured capacity of 4.9 quarts. Its touch buttons and programmed settings are among the easiest to see and use. And this is one of the quietest air fryers we've tested. The exterior's crevices and the basket's nooks and crannies take some effort to clean, however. Make sure to select the on-page coupon before adding the air fryer to your cart to get the savings.
CR's test results: GoWise GW22731 air fryer
Looking for a blender that will warm your heart during soup season? This full-sized Ninja performs very well overall in CR's tests—powering its ice-crush and purée functions at 1,400 watts on seven speeds. It includes push-button controls, a 9-cup plastic jar, a convenient removable blade, and a one-year warranty. But it doesn't come with additional accessories or attachments.
CR's test results: Ninja BN701 Professional Plus with Auto iQ
For more discounts: Best Cyber Monday Deals on Small Kitchen Appliances
Not long ago, Amazon's Echo speakers were smart, but they weren't much good at, say, playing music. This model addresses that complaint, offering improved sound, strong but slightly boomy bass, and enough volume to fill a midsized room. It also sports a Zigbee smart home hub that allows it to link directly to many Zigbee-compatible devices—think Philips Hue smart bulbs, some Yale smart locks, and certain Honeywell thermostats—without requiring an app. At the regular price, it's a solid value, but at 40 percent off, it's definitely worth a look.
CR's test results: Amazon Echo (fourth generation)
The Show 8 has an 8-inch touch screen (ideal for displaying online recipes), responds to voice commands (useful when you have messy hands), and has a camera that can adjust the focus to "follow" you as you move about the room on a video call. The device's footprint is also significantly smaller than that of the new Show 10, which needs a beach-ball-sized space on the countertop to provide clearance for a rotating screen. As with many smart speakers, though, the Show 8's sound quality is somewhat lacking, according to our testers, who note the model's strident high frequencies. If you buy the speaker at Kohl's, you'll also receive $15 in Kohl's Cash that can be applied to other purchases.
CR's test results: Amazon Echo Show 8
For more discounts: Best Cyber Monday Deals on Bluetooth and Smart Speakers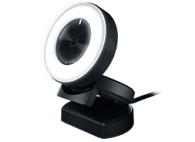 This webcam, designed for gamers and livestreamers, tops out at 1080p at 30 frames per second and has an 81.6-degree field of view, which is wider than most models we've tested. The picture quality is fair, and the audio quality is good and mostly sounds clear. Features include autofocus, auto white balance, and a built-in ring light with settings to adjust the illumination level, which can help improve image quality in environments with poor lighting conditions. The model lacks a privacy shutter, and the indicator light doesn't turn on to alert you when audio is being recorded.
Samsung 15W Wireless Charging Stand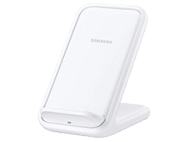 This model, one of the best wireless chargers CR has tested, has a built-in cooling fan and a gridded surface that lets air flow behind the device, which is meant to allow for faster charging. As a small trade-off, the charger is bulkier than most of its competitors.
The angled stand also allows you to view a phone's screen in portrait or landscape position as it charges. The LED status indicator tells you when power is on, the device is charging, and the charging is complete. The model features a proprietary power cable, which could be a problem if you misplace it. It's also relatively short at 3 feet, 2 inches long.
Samsung 2.0-Channel Sound Bar
This is a pretty good deal, though we did see this same sound bar for $20 less during last year's Cyber Monday sales. It's the Samsung HW-T400, a basic one-piece sound bar that lacks an HDMI input. Like most sound bars these days it does have built-in Bluetooth for wirelessly streaming music from a smartphone or tablet. It also has near field communication technology, so you can pair your phone to the speaker just by placing it next to the speaker's NFC symbol. We didn't test this model, but lower-priced Samsung sound bars we've evaluated have been decent, if not great, performers.
For more discounts: Best Cyber Monday Deals on Sound Bars