Best Cyber Monday Deals Under $50
Great products that won't break the bank—and they're still on sale
When you shop through retailer links on our site, we may earn affiliate commissions. 100% of the fees we collect are used to support our nonprofit mission. Learn more.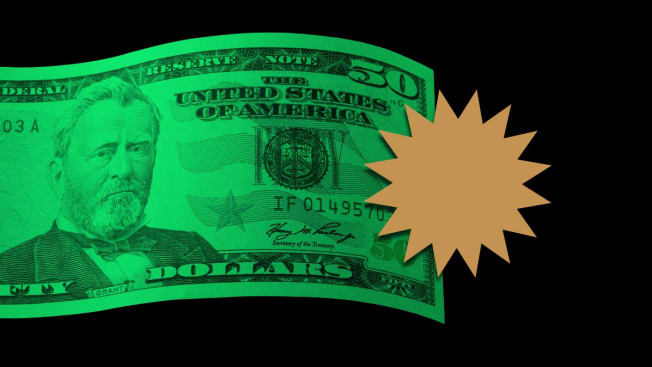 While Black Friday and Cyber Monday are officially over, there are still sales going on this week. And while you don't need to look far to find deals priced at less than $50, it's not always easy to know if that Cyber Week discount is a real deal on a good product or just more junk.
That's why we went searching through low-cost options looking for the most promising deals on items, including headphones, smart speakers, and streaming devices. Plus, we're tracking everything that's still on sale for under $100, if you want to expand your search.
We've been tracking all the best deals in the weeks leading up to Black Friday and Cyber Monday and will continue to search for great prices on quality products through Cyber Week. You can check out more discounts on TVs, laptops, headphones, other tech, mattresses, vacuums, and plenty of home and kitchen products.
Keep in mind that these prices were accurate at the time of publication, but some deals may sell out and prices can change.
Some folks are hunting for the best headphones money can buy, but other people just want a dependable pair that won't break the bank. For those in the later camp, the 1MORE Piston Buds are a great choice. They don't have the bells and whistles of flagship models from companies like Sony and Bose, but the Piston Buds will get the job done, and they'll do it well. These earbuds have better than average sound quality and a cable-free, true wireless design. The advertised battery life is on the low side at 3.5 hours, but their charging/carrying case is marked to power the headphones for almost 4 full charges before you need to plug it in again. Clip the on-page coupon to get the full savings. Make sure to check the coupon box for the additional $20 off.
CR's test results: 1MORE Piston Buds
Even at full price, these earphones deliver great value. They have impressive sound quality, beating competitors that cost more than three times as much and earning a spot in CR's picks for the best true wireless headphones of 2021. When you find them on sale at more than 20 percent off, they're even more compelling.
The JBuds Air have an advertised 3.5-hour battery life and come with a carrying case that will recharge the earphones for an additional two cycles. Other features include support for various digital assistants, three switchable EQ modes to change the tonal balance of the sound, and according to JLab, water resistance. (We don't test that feature or battery life.)
CR's test results: JLab Audio JBuds Air true wireless earbuds
For more discounts: Best Cyber Monday Deals on Headphones
This unassuming, inexpensive drip coffee maker might be easy to miss, but it can brew a mean cup of joe at a fantastic price. It's not terribly flashy with a basic black plastic finish, but it has the essentials. It's programmable, as its name says, and has auto-shutoff—and it offers solid brewing performance, making a fresh pot in just 10 minutes. This model even earns an above-average score for convenience. At just over $30, this simple model will get the job done.
CR's test results: Hamilton Beach 12-cup Programmable 49465R
For more discounts: Best Cyber Monday Deals on Small Kitchen Appliances
Is there someone on your gift list that prefers iced coffee over hot coffee? If so, this Primula cold brew coffee maker is both a great gift and a great deal. Simply put, it's one of the best cold brewers in our ratings, receiving high scores in our tests for convenience and ease of cleaning. Walmart is selling it for just $14, netting you a savings of 20 percent off its already affordable $18 list price.
CR's test results: Primula Burke Cold Brew Coffee Maker PBPBK-5101
The Dot's smart speaker functionality rates right up there with Amazon's best options, because the processing of Alexa voice commands is done on the company's cloud-based servers. But the model's sound leaves a lot to be desired. This is not a bad choice, though, as a) a stocking stuffer; b) a speaker for podcasts and other less-than-demanding content; or c) a way to add smart speaker functionality to a higher-quality Bluetooth speaker.
CR's test results: Amazon Echo Dot (3rd gen.)
The Show 5 is Amazon's smallest smart screen, which makes it flexible in terms of where and how you position it. But our testers report that the sound is kind of unpleasant; grainy, hazy, smeared, and sizzly are some of the terms they use to describe it. So unless you're very tight on money or space, you may want to spring for the larger and better-sounding Show 8.
CR's test results: Amazon Echo Show 5 (2nd gen.)
The Nest Mini is the least expensive way to get Google Assistant into your life. But the sound quality is marginal at best, neither loud nor particularly clear. The Nest Mini is, however, a solid option if you want to add smart speaker functionality to another speaker.
CR's test results: Google Nest Mini (2nd gen.)
For more discounts: Best Cyber Monday Deals on Bluetooth and Smart Speakers
This is a highly rated high-definition model, a stick-style streamer that pops into your TV's HDMI port. The newest version has been updated with a faster processor for quicker app starts. It comes with an Alexa remote, which has TV power and volume controls.
CR's test results: Amazon Fire TV Stick (third-generation)
This 4K stick-style player has a nice array of content and features for the price, including voice control and Dolby Vision HDR. You can control it from Alexa-enabled devices such as the Echo and Dot, and use the included remote to control power and volume on many TVs and sound bar speakers. The Kohl's deal starts November 21.
Note that this is an updated version of an existing player, which has an Alexa remote control with dedicated buttons for Amazon, Disney+, Hulu, and Netflix. Target is selling an earlier version of the same streaming player, which is the one we tested in our labs.
CR's test results: Amazon Fire TV Stick 4K
This updated version of Google's disc-shaped Chromecast, an HD (1080p) model, no longer comes in a choice of colors; you're now limited to black or white. And unlike the new 4K Chromecast With Google TV, there's no remote. Instead, you use your smartphone or tablet to select the programs you want to watch, and then send—or "cast," in Google's parlance—content to the TV.
CR's test results: Google Chromecast (third-generation)
This is an exclusive model made only for Best Buy. It has all the features of the Stick+ but with additional features. It comes with an enhanced voice remote that includes a headphone jack and Roku headphones for private listening. And it costs just a bit more money.
CR's test results: Roku Streaming Stick+ Headphone Edition
This streaming device, from the company famous for DVRs, runs on the Google Android platform. It supports 4K videos with HDR10, Dolby Vision, or HLG HDR formats and also Dolby Atmos sound. It comes with a tiny peanut-shaped TiVo remote, but you can use voice commands, too, with the built-in Google Assistant. The model supports most popular streaming services, from Netflix and Hulu to Sling TV and Peacock, but not Apple TV+.
CR's test results: TiVo Stream 4K streaming device
For more discounts: Best Cyber Monday Deals on Streaming Devices
Chamberlain MyQ Smart Garage Control
Do you often forget to close your garage door? If so, you might want to consider giving it an upgrade with a Chamberlain MyQ Smart Garage Control. This affordable little gadget connects to your garage door motor and allows you to remotely open and close your door, see its open/close status, and schedule it to automatically close if it's left open. The device also works with the Amazon Key in-garage delivery service, which allows Amazon drivers to leave packages in your garage to keep them safe from porch pirates. The service is free for Amazon Prime members. In our evaluation, both the Chamberlain device and the Amazon Key service worked flawlessly. The Chamberlain MyQ Smart Garage Control is currently $5 off, and Amazon gives you a $30 store credit toward your first Key delivery, essentially making the device free.
CR's review: Amazon Key and Chamberlain MyQ Smart Garage Control
Onn 32-Inch Basic Sound Bar
We don't know very much about this smaller sound bar from Onn, Walmart's house brand, but can't imagine a sound bar at a lower price. We haven't tested this model, so we can't say it offers any improvement over a TV's built-in sound, but hey, it costs less than most replacement remote controls.
TCL 2.0-Channel Roku-Ready Sound Bar
This deal is on a fairly basic TCL all-in-one sound bar without a separate subwoofer. However, this model, the TCL TS6, is "Roku ready," so it will be easy to set up and use with most Roku TVs, and you can use the Roku TV remote to control the sound bar.
TP-Link WiFi Range Extender
A WiFi range extender can help you send the signal from your router into a dead zone in the far reaches of your home. This one delivers dual-band WiFi up to a manufacturer-claimed maximum of 750 megabits per second. Features include a mobile app for help with setup and network management; a signal-strength light that helps you find the best place for installation; and an Ethernet port, which lets you create a wireless access point or connect a game console, Blu-ray player, smart TV, or streaming player to your WiFi network.