Frozen Breaded, Stuffed Chicken Recalled Due to Salmonella Outbreak
28 people in eight states became ill after eating different brands, USDA says Almost 60,000 pounds of raw, frozen, breaded, stuffed chicken broccoli and cheese or chicken cordon bleu sold under three brands—Dutch Farms, Milford Farms, and Kirkwood—were recalled Monday after the Department of Agriculture's Food Safety and Inspection Service said they had been linked to 28 cases of Salmonella enteritidis in eight states. Eleven people have been hospitalized.
The recalled products were shipped nationwide, have "best if used by" dates of Feb. 24 and 25, 2023, and bear the establishment number P-2375 inside the USDA mark of inspection. Images of the recalled products are below.
The Centers for Disease Control and Prevention says the states where cases were reported are Arizona, Connecticut, Illinois, Indiana, Michigan, Minnesota, Nevada, and New York. The CDC says that the true number of illnesses is probably higher, and that more states may be involved, because people may have recovered without needing medical care or being tested, so their illnesses were not reported.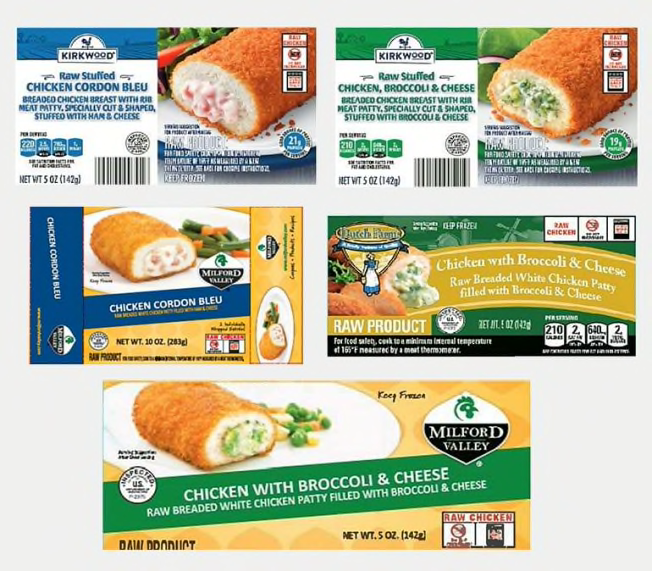 How to Cook Chicken Safely
Frozen breaded chicken products that are packaged raw, as the ones involved in this outbreak are, pose a unique food safety challenge. The chicken may look brown because of the breading, making it appear cooked to some consumers. The USDA says that some of the people who became ill didn't follow the cooking instructions on the product package. For example, the instructions specify that the products be cooked in an oven, but some said they cooked it in a microwave or an air fryer.
Consumers should read the package labels—the products will be marked raw or uncooked—and follow all cooking instructions. All chicken should be cooked to an internal temperature of 165° F. Confirm the temperature of the chicken before you eat it by inserting a food thermometer into the center and the thickest part of the chicken.
"You can't tell whether chicken is cooked enough by checking to see if the juices run clear or that the meat shows no signs of pink," says James E. Rogers, PhD, director of food safety research and testing at Consumer Reports.
Importantly, the CDC says you should not use a microwave or an air fryer to cook raw frozen breaded stuffed chicken. That's because these appliances won't always reliably cook these products all the way through.
In addition, even though these products are frozen, they are raw; treat them the way you would any raw meat or poultry. Keep them separate from other raw foods, and wash your hands, all utensils, and surfaces that come into contact with the chicken. Be sure to refrigerate any leftovers within 2 hours of removing from the oven. Once the chicken cools off, the temperature may drop into what's known as the "danger zone"—between 40° F and 140° F—where bacteria can grow rapidly.
Salmonella causes diarrhea, fever, and stomach cramps anywhere from 6 hours to six days after exposure, according to the CDC. The illness usually lasts four to seven days and resolves without treatment. However, some people may become so ill that they require hospitalization. Call a doctor if you have a fever higher than 102° F, if diarrhea doesn't improve in three days, or if you have bloody stools. Dehydration is also possible and should be assessed by a doctor. Signs of dehydration include dry mouth and throat, dizziness when standing, and making very little urine.