When you shop through retailer links on our site, we may earn affiliate commissions. 100% of the fees we collect are used to support our nonprofit mission.
Learn more.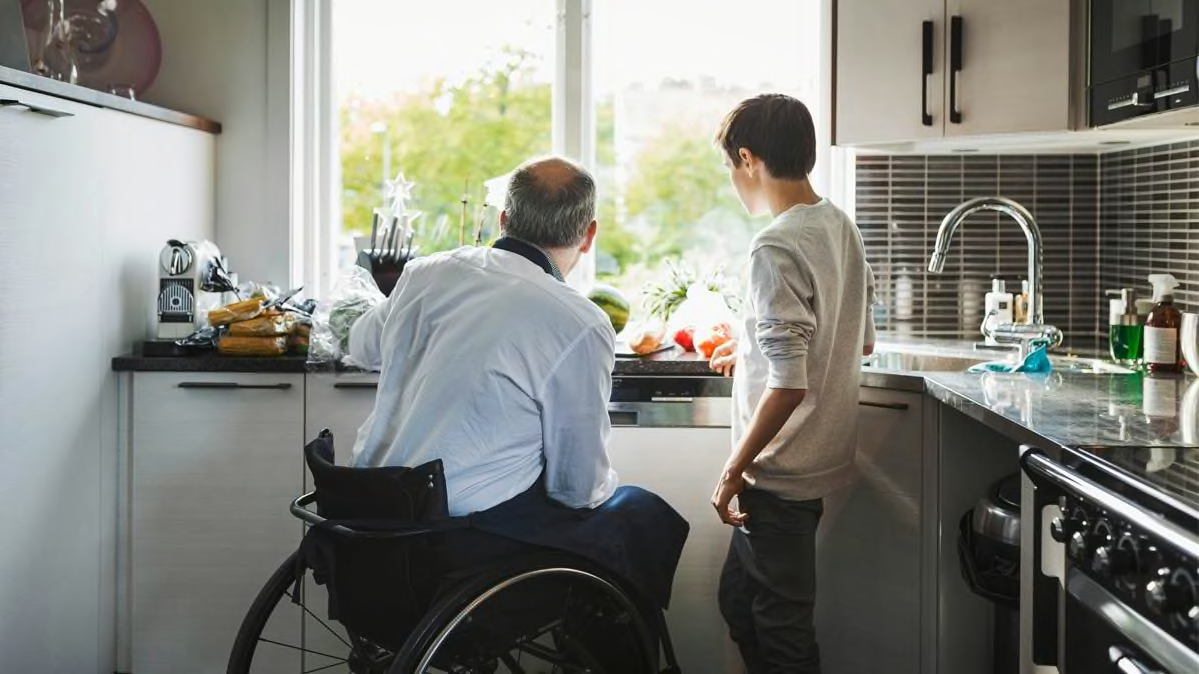 People with disabilities face huge financial challenges. Yet for years, they could not save money, or even work part-time, without endangering their Supplemental Security Income (SSI) or other means-tested benefits.
Enter the Achieving a Better Life Experience (ABLE) account, a low-cost, easy-to-access plan that began rolling out in 2016 and is now available nationwide. Modeled after 529 college savings programs and offered by individual states, these accounts let children or adults with disabilities incurred before age 26 accumulate savings tax-free—for most, you can save as much as $100,000—without endangering such benefits. Anyone, including the beneficiary, can contribute to these accounts, up the limit.
But some people may be permitted to put even more away in ABLE plans, thanks to changes in the 2017 tax law. Eligible individuals with disabilities who work can make up to $12,140 in earned income without endangering benefits, as long as they put it in their ABLE account. And those with a 529 college savings plan can roll that money over into an ABLE account. (For more on these and other changes, keep reading.)
"These are helpful improvements," says Michael Morris, executive director of the National Disability Institute (NDI), a nonprofit group. "But the biggest challenge is making more eligible individuals aware of the advantages of these accounts."
Without access to an ABLE account, an individual with disabilities who has more than $2,000 in savings might lose out on essential benefits, such as SSI and Medicaid. (Special needs trusts also allow those with disabilities or their families to put money away without risking benefits, but they are expensive to set up.)
There are about 8 million disabled individuals who are eligible to save in an ABLE account, research by NDI shows. As of the end of 2018, there were nearly 35,000 ABLE accounts, which held more than $170 million in assets, according to recent data from Paul Curley, director of college savings research at Strategic Insight, a financial services research firm.
The Basics of ABLE Accounts
ABLE accounts do have a major drawback—as noted above, you must have incurred the disability before age 26. But for many people with disabilities, these plans offer much-needed financial flexibility. To figure out whether an account is right for your needs, here are answers to five key questions:
Do I Qualify?
You must have had the disability officially diagnosed before turning 26. Since 2016, bills have been introduced in Congress—including new legislation now in the House and Senate—that would raise the qualifying age to 46. But it's not clear whether this amendment will gain enough support to pass this year.
If you had an early diagnosis and you're already receiving SSI or Social Security Disability Insurance (SSDI), you automatically qualify. If you aren't receiving those benefits but your disability fits Social Security's criteria, most plans let you "self-certify" by providing a doctor's note and date of diagnosis.
"You may not have to provide documentation when you open the account, but you may be asked to do so later, so make sure you have it ready," says attorney Katherine Barr, past president of the Special Needs Alliance, a nonprofit group of attorneys who practice special needs planning.
How Do I Sign Up?
You don't have to live in a state with an ABLE program to open an account. Just as with 529 college savings plans, you can sign up online with any state plan that is available nationwide—there are now more than 40, and only a few are limited to state residents. Parents, guardians, or those with power of attorney can open an account on behalf of a minor or someone who needs assistance.
You can find information about individual state plans at the ABLE National Resource Center. Unlike 529 plans, however, only one ABLE account can be opened per eligible individual.
How Much Can I Save?
The maximum amount from all contributors is $15,000 per year, which matches the annual amount you can give an individual without incurring a gift tax. That amount will rise with inflation in future years.
The total ABLE account balance can grow to $100,000 without triggering SSI benefit losses, but that amount will not be adjusted for inflation. If that cap is exceeded, the individual's SSI payments will be suspended until the account falls below the limit. This will not necessarily affect Medicaid medical benefits because higher limits exist. For those who are not receiving SSI benefits, you can save up to the 529 plan limit for that state, which is usually $350,000 or more.
The 2017 tax law revised the rules to allow an account owner to contribute all of his or her earned income, up to $12,140 per year ($13,960 in Hawaii, $15,180 in Alaska), in addition to the $15,000 contribution limit.
ABLE account owners who are 18 or older, not a full-time student or claimed as a dependent, and contributing to their plan may qualify for the Saver's Credit. The amount will be based on your income and how much you put away. For details, see these IRS rules.
For ABLE account beneficiaries who also have a 529 college savings plan in their name, you can roll over funds from the 529 into your account. But under IRS rules, the amount you can roll over is capped at $15,000 per tax year. (That assumes no other contributions have been made during that period.)
If the beneficiary received Medicaid, some or all of the savings in an ABLE account can be claimed as repayment by the state after death.
Which Expenses Are Allowed?
"Qualifying expenses can be things that enhance the person's health, well-being, and independence," says Mary Morris, head of Virginia's ABLEnow plan. In addition to basic living expenses, these accounts can be used to pay the cost of transportation, education, career training, and assistive technology.
How Do I Choose an Account?
First, find out whether your state plan offers tax breaks on contributions to ABLE accounts. For 2019, Oregon offers a $2,435 deduction per single filer or $4,865 for joint filers; the contributions must be for a beneficiary younger than 21. Nebraska offers up to a $10,000 break ($5,000 if married, filing separately). If that's the case, you'll probably do best to stay in-state; otherwise feel free to shop around.
Be sure to look at the costs. Most plans charge annual fees, typically $45 per year. The investment expenses vary but are generally low. Ohio's plan charges 0.19 percent to 0.33 percent for residents, and Michigan's fees range from 0.50 percent to 0.78 percent.
Consider, too, how easy it will be for the beneficiary to withdraw money and manage the account, says Stephen Dale, a special needs planning attorney in Pacheco, Calif.
"Some plans have debit cards, while others don't," Dale says. And in some cases, a family member may want to manage or monitor the account on behalf of the beneficiary, so check the plan's rules for becoming a designated representative.