When you shop through retailer links on our site, we may earn affiliate commissions. 100% of the fees we collect are used to support our nonprofit mission.
Learn more.
The badge may say Scion, but this car is built by Mazda and uses Mazda parts. That's a good thing. A mixed lineage means the 2016 Scion iA represents the Toyota youth brand's principles of value and frugality, but not at the expense of ride comfort and driving enjoyment like past Toyota econoboxes. With the iA, Scion has done away with the bare-bones economy car, delivering something fresh and fun.
Read our complete Scion iA road test.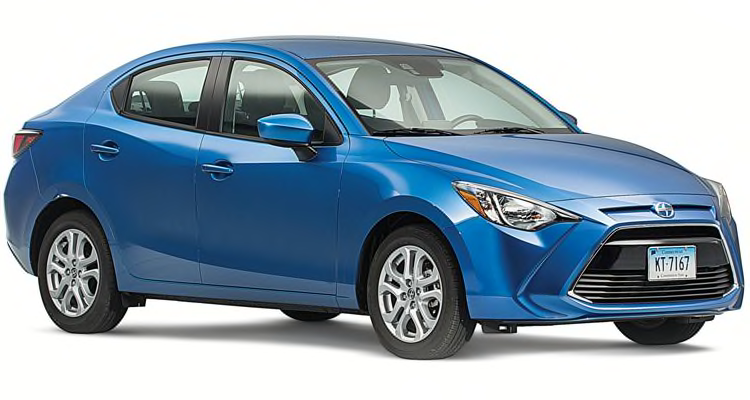 Owning a budget-minded subcompact car is a lesson in sacrifice. Usually crude, underpowered, and noisy, these cheap-and-cheerful econoboxes are stepping-stones to a better automotive experience a few years hence. But with the iA, Scion has rewritten the rulebook. Based on the new Mazda2 sedan that isn't offered in the U.S., the iA is a better budget-priced Toyota than Toyota's own Yaris.
At less than $18,000 nicely equipped, the 2016 Scion iA is an ideal first set of wheels or economical commuter car—one that's light on your fuel budget and a snap to park.
Power comes from a willing 1.5-liter four-cylinder Mazda engine that, while smooth and quiet, isn't brimming with power. Few small cars accelerate quickly, and the iA's 10.3-second zero-to-60 time is hardly a sprint, although comparable to other subcompacts.
The well-matched gearing of the six-speed automatic downshifts promptly, delivering responsive acceleration. The iA's excellent 35 mpg overall is bested in the segment by only two cars—the oddball Smart ForTwo and the gruesome Mitsubishi Mirage—both of which are seriously compromised vehicles.
Unlike almost every other subcompact, the Scion iA doesn't beat you up with a harsh ride. The suspension provides enough compliance to absorb sharp bumps and does a decent job masking rougher sections of road. Highway trips are mostly uneventful. Our biggest complaint about long trips in the Scion iA is that the cabin can get loud, especially with wind noise.
While absorbent, the suspension is also taut, contributing to the iA's sporting character. When you drive it with a bit more spirit, the Mazda DNA is evident in the sedan's unflappable, athletic nature thanks to prompt turn-in response and well-tuned steering.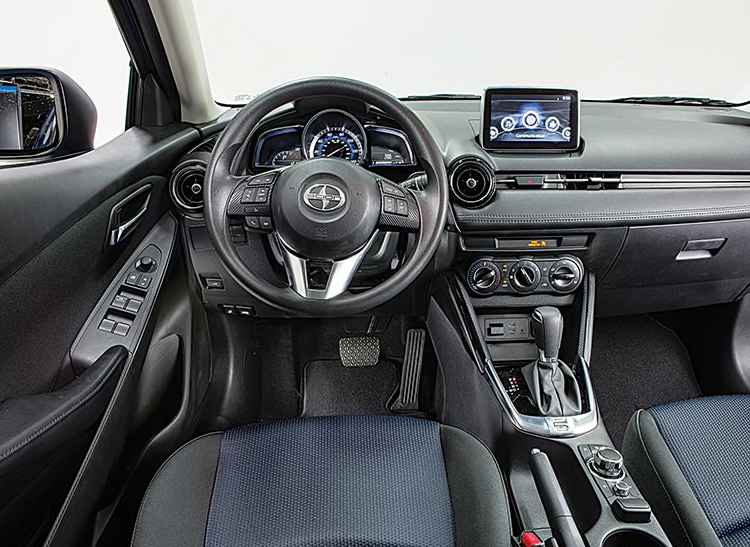 HIGHS: Fuel economy, agility, standard front-collision mitigation, crash results
LOWS: Noise levels, infotainment learning curve, tight rear seat, wet braking
POWERTRAIN: 106-hp, 1.5-liter 4-cyl.; six-speed automatic; front-wheel drive
FUEL: 35 mpg
PRICE: $16,495-$17,595
Also, the Scion iA is the rare subcompact with a standard low-speed forward-collision mitigation system. At speeds below 12 miles per hour, the car can apply the brakes to bring itself to a stop if the driver isn't paying attention to what is in front of him.
One letdown is the iA's stopping distances. The brake pedal felt firm, but overall braking performance was just average, with rather long stops, particularly on wet pavement.
Once you squeeze in through the narrow doors, you'll find plentiful front-seat headroom. But the small seats are narrow and short on lower-back support, and there isn't much room to stretch out. Testers also consistently complained about the lack of reach from the tilt-and-telescoping steering wheel.
Rear-seat space is very tight, with limited knee and leg room, and scant headroom for tall adults. Unless it's a short jaunt, don't try to fit grown-ups back there—especially in the center seat—or you'll make fast enemies. There's a decent trunk, though it's bare-bones in terms of fit and finish.
On the infotainment front, the Scion iA reaps the benefits of its Mazda roots. The system is quick to respond, with a prominent screen and a center control knob for most functions. It takes some getting used to, but this comprehensive system has a clear screen with large fonts.
As befits a budget car, much of the cabin is covered in hard plastic, though none is cringe-worthy. Because of some soft-touch materials with stitched details and glossy piano-black or faux carbon-fiber panels, the interior feels richer than the iA's price point.
In the end, the Scion is a worthy starter sedan. It lacks the versatility of hatchback competitors like the Honda Fit and Nissan Versa Note, but it's easy on the wallet and offers a dash of fun and a measure of civility.