When you shop through retailer links on our site, we may earn affiliate commissions. 100% of the fees we collect are used to support our nonprofit mission.
Learn more.
When Toyota created its Scion brand 15 years ago as a way to reach out to millennials, it sold two urban-minded small hatchbacks. Both vehicles played off the brand's value of reliable but basic transportation, wrapped in minimalist exteriors that could be personalized to the buyer's whim. But fun to drive, they were not. After almost a decade without updating its core hatchbacks, Scion is trying a ­different recipe. For those who crave Euro-styled economy-car practicality with a whiff of nimble handling, the iM is calling you. (Read the complete Scion iM road test.)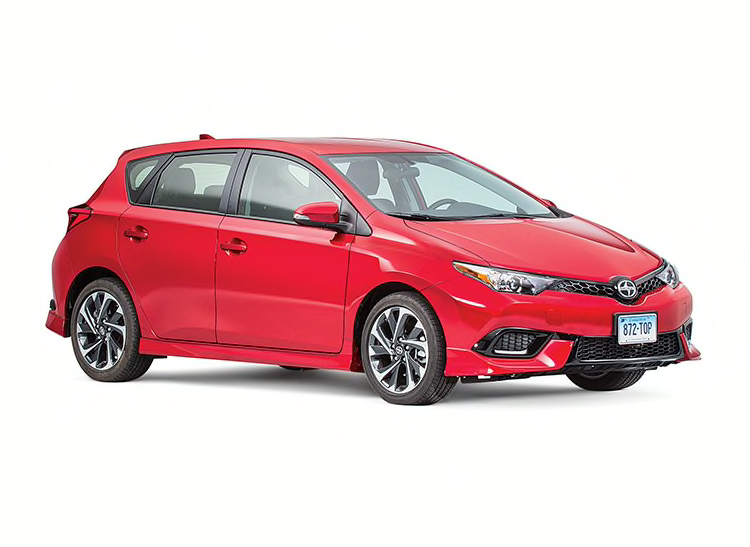 The youth-targeted 2016 Scion iM hatchback looks cool, swallows a fair amount of bulky cargo, and is zippy on corners. But this derivative of the utilitarian Toyota Corolla is also saddled with an underwhelming four-cylinder engine that delivers lackluster acceleration. Its 0-to-60-mph time of 10 seconds is 1.5 ticks slower than the ­Mazda3's. It left us wishing for the 20 or 30 more horsepower offered by competitors.
The driving experience isn't helped by a continuously variable transmission—which uses belts and pulleys rather than gears—that attempts to mimic a regular automatic with artificial "shift" points. When asking for more power, you get more engine noise than forward thrust. One would expect great fuel economy as a trade-off. However, its 31 mpg overall is merely respectable and hardly a standout in this class.
But don't write off the 2016 Scion iM just yet.
Handling is a strong point. Though the American-­market Corolla has a solid-axle rear suspension—it won't win any slalom contests—the iM boasts an independent double-wishbone setup normally seen in race cars. When done right, that more elegant system can provide a crisp response to steering inputs and can result in a settled ride, especially over bumpy curves.
In the iM's case, the car turns in with alacrity and stays unflappable. But ride comfort isn't stellar, with road jolts that intrude noticeably. The car is unsettled on uneven pavement.
And though hatchback versatility gives you the ability to haul bulky stuff through a wide opening and a folding rear seat, the suspension's architecture and mounting points intrude on the cargo area. And because the iM's wheelbase is 4 inches shorter than the Corolla's, don't expect as much rear-seat room for passengers as in the Toyota.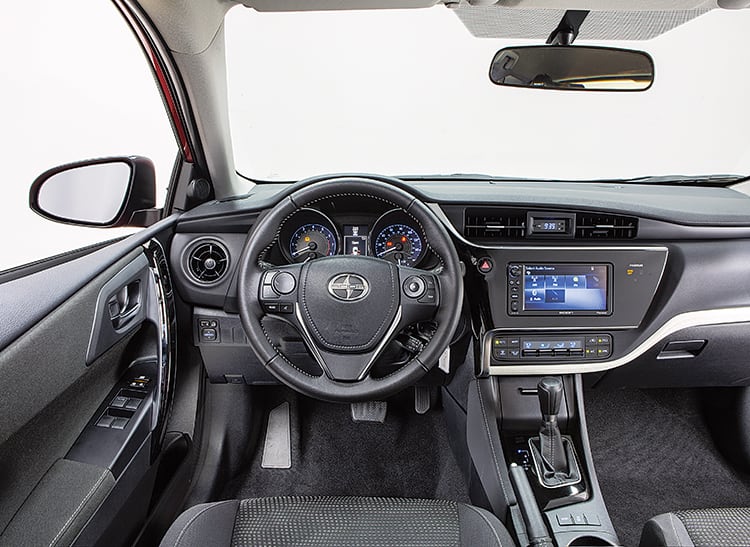 HIGHS: Agility, fuel economy, hatchback versatility, well-equipped for price
LOWS: Acceleration, engine noise, rear seat, rear visibility, lacks common options
POWERTRAIN: 137-hp, 1.8-liter 4-cylinder engine; continuously variable transmission; front-wheel drive
FUEL: 31 mpg
PRICE: $19,255-$19,995
The 2016 Scion iM's cabin exhibits a youthful ambience, with patterned black-and-white seat fabric and stitches in visible spots. But the rest of the décor is rather basic. Bolstered front seats lack a lumbar-support adjustment. Getting in and out of the low-slung seats can be an effort for some. The steering wheel has limited telescoping range, which compromises an ideal driving position.
For its relatively affordable price, the 2016 Scion iM comes nicely equipped with standard automatic climate control, connectivity features such as Bluetooth and voice commands, and a rearview camera. But options are limited. For instance, a sunroof is not available, nor are any advanced electronic safety features such as blind-spot warning or rear cross-traffic alert.
As for infotainment, the touch-screen interface lacks a tuning knob for audio, and it suffers from small buttons. Certain phones had Bluetooth connection difficulties, and streaming audio often error-coded back to the phone's first song. That's great if you like Aaliyah, but you can get sick of resetting the system.
Ultimately, the 2016 Scion iM makes for a stylish and versatile first car or urban runabout. Being a Toyota, it's likely to be reliable and keep owners headache-free. Though it might be a fun corner-carver, don't expect straight-line thrills when you step on the gas.