When you shop through retailer links on our site, we may earn affiliate commissions. 100% of the fees we collect are used to support our nonprofit mission.
Learn more.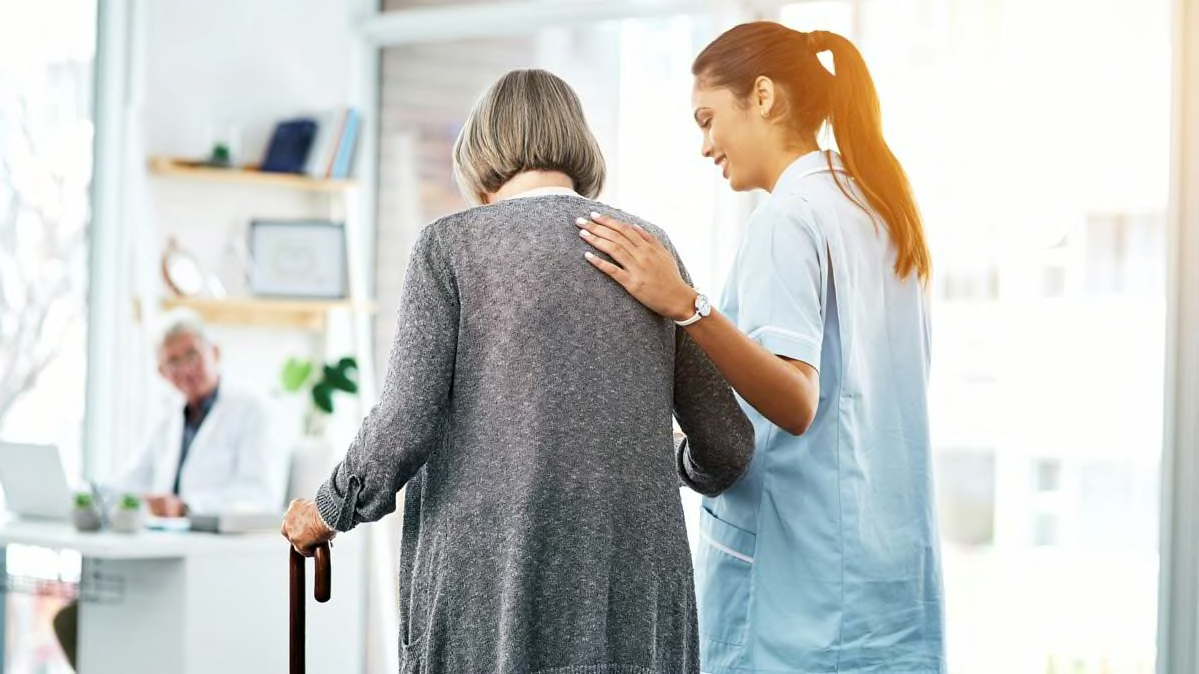 If you're 65 or older, you may need more than a regular primary care physician can provide. About a third of people in this age group would be better off seeing a geriatrician—a physician who has extra training in the health problems of older adults, according to the American Geriatrics Society (AGS).
Older adults who use a geriatrician are less likely to end up in the hospital, research suggests, possibly because those doctors pay more attention to health concerns that matter most as you age, such as staying strong, maintaining a healthy appetite, and avoiding potentially risky medications.
But finding a geriatrician isn't easy. There are now roughly 7,300 geriatricians in the U.S., though nearly 35,000 will be needed by 2025, according to the AGS.
"There aren't enough of us to go around, so our efforts need to be toward training all health professionals to have the skill set they need for older adults," says Annette Medina-Walpole, M.D., chief of the division of geriatrics and aging at the University of Rochester School of Medicine and Dentistry in New York.
To that end, some researchers are exploring new ways of caring for older adults. A program at the University of Rochester allows primary care physicians to consult with geriatricians online about, for example, how to care for dementia patients. And the hospital at Oregon Health & Science University in Portland now has a system that automatically adjusts the medication dosage for patients older than 75.
If you're searching for senior-friendly care for yourself or someone else, consider these questions.
Do you need a geriatrician? Not all older adults do. They are most useful for people 75 and older who take several drugs and have multiple health problems. Another sign: if caregivers are feeling considerable stress and strain.
How can you find a geriatrician? Ask your regular doctor for a referral, check with Medicare or your private insurer for geriatricians in your network, or search by state at HealthinAging.org, which is run by the AGS.
What if you can't find, or don't really need, a geriatrician? It's still important to have a provider who is sensitive to elder-care concerns, so talk with current—or prospective—doctors about their familiarity with caring for older people. It's key for them to understand that the kind of care you want may change as you age.
While mammograms and screening for colon cancer, for example, are recommended until age 75, a frail 70-year-old may opt to skip them and a healthy 78-year-old may want to continue, says Elizabeth Eckstrom, M.D., in the division of general internal medicine and geriatrics at the Oregon Health & Science University School of Medicine. You'll want someone who's not just pushing you toward aggressive care "but rather helping you focus on quality of life and what matters to you," she adds.
Your doctor should also bring up topics such as memory concerns, incontinence, and fall prevention.
Where else can you find help? You may be able to get a one-time geriatric consultation at an academic health center in your area. Or contact the Administration on Aging (800-677-1116) to find a geriatric care manager, often a social worker or nurse with experience in senior issues, who can help you unearth senior-appropriate healthcare options and put together a care plan.
And remember, Eckstrom says, that the best care comes when everyone on your health team, "whether it's your pharmacist, nurse, even an ER doctor, has a good understanding of older adults."
Editor's Note: This article also appeared in the May 2020 issue of Consumer Reports magazine.