At-Home Review: Package Delivery Boxes to Deter Porch Pirates
These dedicated drop boxes could prevent package theft—if delivery drivers were to use them. CR evaluated models from Danby, Keter, and Yale. Every holiday season we see news reports of porch pirates snatching packages off the stoops and thresholds of unsuspecting shoppers.
And not surprisingly, we've also seen new developments to deter these thieves: Video doorbells have emerged as a popular way to guard against package theft, but while the devices can record parcel predators in the act, they can't actually stop them. Amazon offers an in-garage delivery service, Amazon Key, but it's a viable option only if you have a garage and do all your shopping on Amazon.
Recently, a third option for deterring porch pirates emerged: package delivery boxes. These boxes typically work just like a FedEx, UPS, or U.S. Postal Service drop box, with an opening at the top for couriers to deposit packages that fall into a secure compartment at the bottom. They can even be bolted to your porch or weighed down with sand or weights. Some models also connect to the internet, allowing you to receive alerts when there is a package and lock or unlock the box's secure compartment from your smartphone.
To see if these boxes are a viable option, I purchased four package delivery boxes to try out at home: The Danby Parcel Guard, $399; the Keter Delivery Box, $200; the Porch Pod, $239; and the Yale Smart Delivery Box, $230.
I was genuinely excited to try out these boxes. But in what was likely a sign of things to come, the Porch Pod never arrived. I attempted to contact the company to find out what happened and request a refund, but I never heard back. Ultimately, I had to dispute the purchase with my credit card company to receive a refund.
I did receive the other three boxes, and I stationed them on my home's front porch one at a time over the course of three months.
But the experience of using these boxes quickly went in a direction I would have never expected.
My (Lack of) Experience With the Package Delivery Boxes
As boxes go, all the ones I selected were designed well. They are made of sturdy plastic and feature doors that can accommodate small to midsized packages.
There was just one problem: My delivery people didn't use them.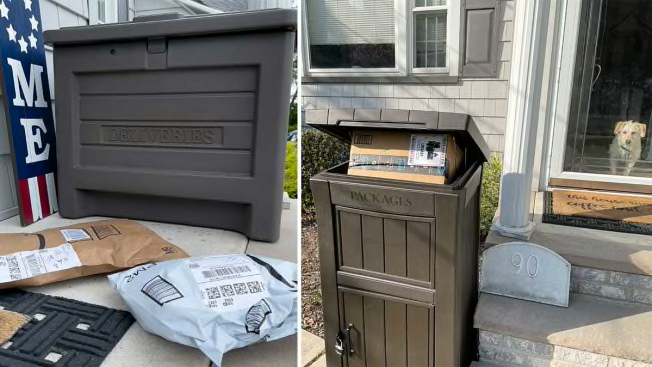 Given my experience, I think package boxes may be a worthwhile solution only if you live in an area where your delivery driver for each carrier is the same person. That way, you might be able to talk to them and get them to put your packages in the box.
It's worth noting that I live in a very suburban area of New Jersey where homes are packed closely together. Due to the volume of deliveries in my area, my delivery drivers for Amazon, FedEx, and UPS are almost always different each time they come. My parents, by contrast, live in a more rural area, and they've had the same UPS driver for about 30 years. They might have more luck getting their delivery people to use these boxes.
Americans living in urban areas are more likely to have a package stolen—at 16 percent—than those living in rural (8 percent) and suburban (9 percent) areas, according to a September 2021 Consumer Reports nationally representative survey (PDF) of 2,341 adults.
The Boxes Lack Curb (and Spouse) Appeal
Aside from the difficulty with receiving packages, there's aesthetics to consider. Big and bulky, these boxes look comically large on my small front porch. And they come in dark colors like gray and brown. My wife, Sarah, takes pride in the curb appeal of our home, so she could only turn a blind eye for so long. A few weeks into the project, she made her feelings clear.
"I would never buy one. They just don't work," she said. But then she revealed her real objection—that the boxes are an eyesore. "I'm pretty sure this experiment upset our neighbors. One family across the street even left for a few months." I reminded her that our neighbors left because their home was being renovated, but she'd made her point.
For the sake of my marriage, I had to end the delivery box experiment after three months despite my paltry number of successful deliveries. My advice to you, dear reader, is to make sure your significant other is onboard with the idea of using a package delivery box before you buy one. 
Still interested? Here are my takeaways on each of the three boxes I tried.
The Best Package Delivery Box: Keter Delivery Box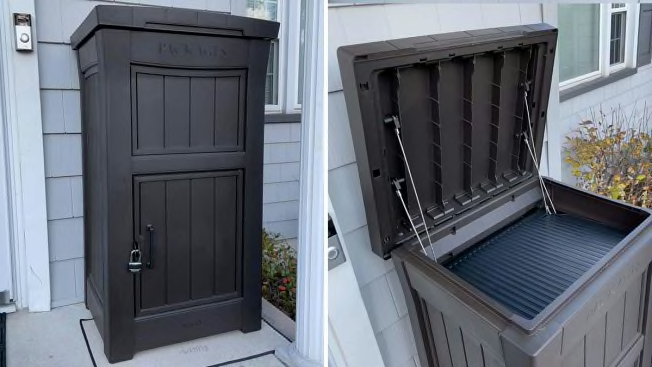 Price: $200
Available at: Amazon, Walmart
If you think you can get your delivery drivers and your significant other onboard, I would go for the simplest model you can get. While smart alerts and remote locking features might delight the techies among us, the extra functionality isn't necessary and can drive up the cost. Of the three models I tried, your best option would be the Keter Delivery Box.
It's big, bulky, and available only in dark brown, so if the exterior of your home is not a neutral or dark color, expect it to stand out. It's not obvious that the top of the box is a hinged lid, which might explain why my delivery drivers barely used the box. But lifting the lid up reveals a large compartment for couriers to deposit packages. The packages then fall into a compartment below that can be secured with a padlock (sold separately). The box can't be bolted to the ground, but it has another compartment in the bottom that can be filled with sand to weigh it down. The box comes unassembled and the assembly instructions aren't included in the box. However, you can find the instructions here.
The Overachieving, Underperforming Box: Danby Parcel Guard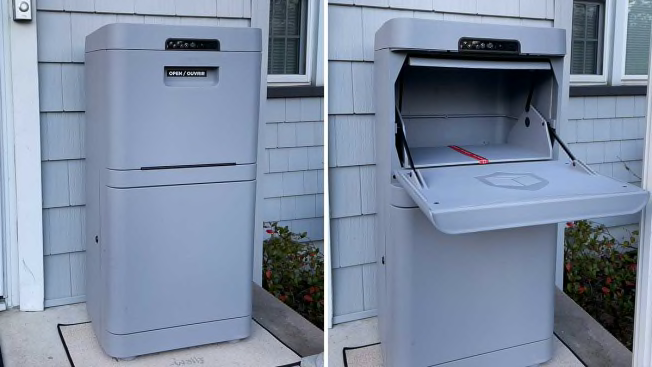 Price: $399
Available at: Amazon, Appliances Connection, Danby, Home Depot, Wayfair
The Danby Parcel Guard is the technological opposite of the Keter. It's a smart package delivery box that connects to your smartphone and pulls double duty as a security camera, but frankly, it feels too complex for its own good. The app can be used to unlock the secure compartment, track deliveries, and set up pickups for returns. But the latter two features require you to manually enter delivery and pickup information for each shipment—and then rely on your delivery people to actually use the box. These features could be far more effective if they were somehow integrated with the carriers' systems. 
As for the built-in security camera, it's one of the worst I've ever reviewed or used. The video is fuzzy and washed out, with a narrow field of view that makes it hard to see much of what's going on outside. Aside from two-way audio, the camera lacks many features you'd expect from a security camera, such as monitoring zones and person detection. 
Then there's the box's appearance. While the other two boxes try to mimic the appearance of wood, the Danby looks like a light gray monolith sitting on your porch. The only pros? It's easier to spot, and its package door is much more obvious. Simply put, this box tries to do too much, does little of it well, and lacks the curb appeal to make it worth leaving by your front door.
The Finicky Box: Yale Smart Delivery Box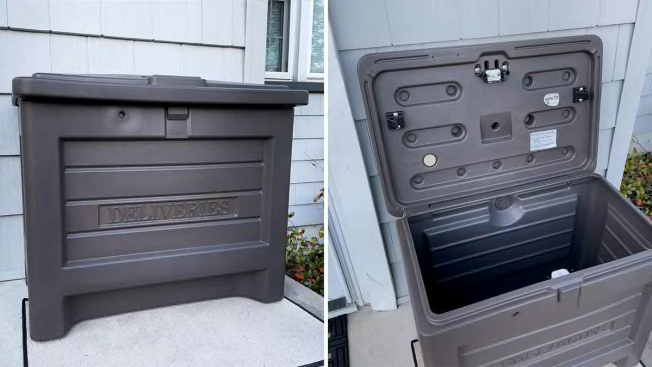 Price: $230
Available at: Amazon, Yale Home
The Yale Smart Delivery Box differs from the others in that it doesn't have two separate doors for depositing and retrieving packages. Instead, the lid of the box is one big door, and the box relies on a built-in smart lock and sensors to tell when the box is opened and closed. The idea is that it remains unlocked until a courier opens it, drops in a package, and closes it. The box will then lock until you open the Yale Access app and tap the unlock button so you can retrieve the package.
The benefit of this design is that it allows the box to be much smaller than its competitors, so it's a bit, shall we say, quieter on your home's exterior. It's also easy to tell that the top of the box is a lid you open to leave and retrieve packages, something that's not as obvious with the Keter, above.
There are a few problems with this system, though. First, the box doesn't have sensors that can tell whether a package was actually placed inside. That means if someone mistakenly opens it, it will lock until you manually unlock it again. Second, the box's lock doesn't always successfully register that it has been opened and closed, which means a delivery could be made and it might not be kept secure. And third, if you're expecting deliveries from multiple carriers on a given day, you need to remember to unlock the box prior to each delivery, assuming you know when your deliveries will arrive.
If all that wasn't enough to dissuade you, the Yale Smart Delivery Box's setup process was convoluted, especially when it came to setting up the box's WiFi bridge. And even once I got it up and running, the experience seemed buggy, with the app having issues controlling the box lock and the WiFi bridge randomly going offline. For the money, you're better off considering other options.
In theory, package delivery boxes are a great solution to the porch pirate problem. But the reality is that delivery workers don't use them enough to make the boxes practical. Until carriers embrace these products and create more education and training resources to aid drivers in using them, you might be better off with another solution, such as a video doorbell or floodlight camera. For more tips on dealing with porch pirates, see our guide to preventing package theft.
When you shop through retailer links on our site, we may earn affiliate commissions. 100% of the fees we collect are used to support our nonprofit mission. Learn more.