When you shop through retailer links on our site, we may earn affiliate commissions. 100% of the fees we collect are used to support our nonprofit mission.
Learn more.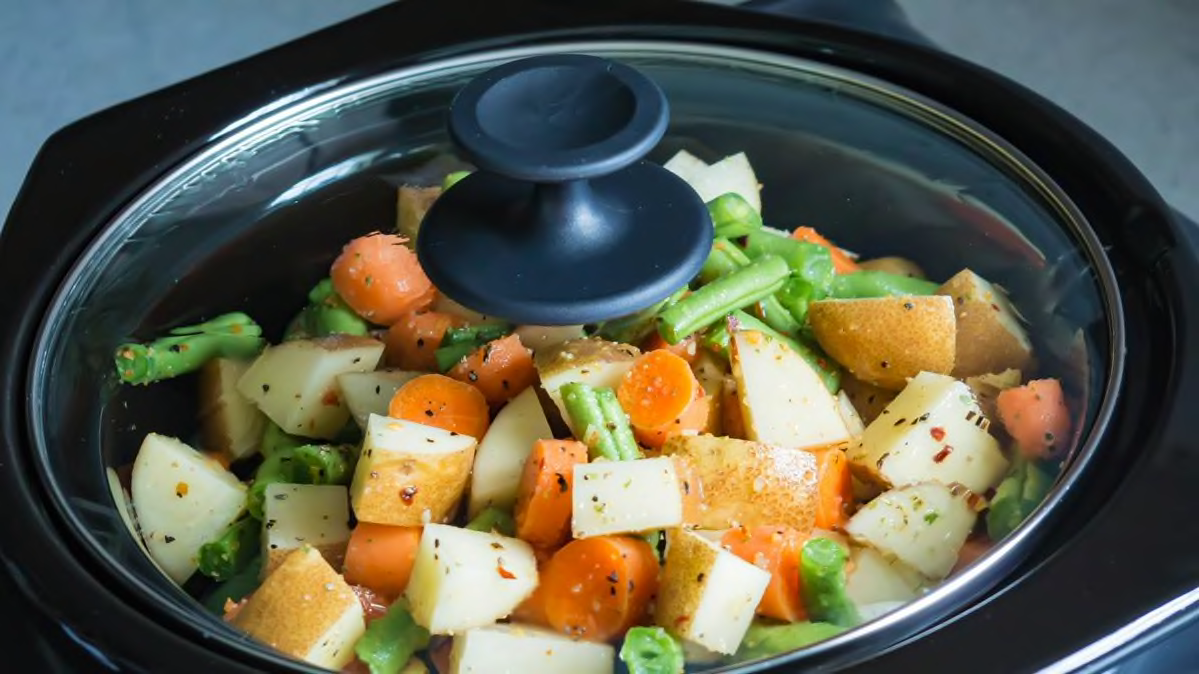 what it can do
Slow-Cook / Stew / Keep Foods Warm
What to cook
Stew / Soup / Chili / Stock / Ribs / Oatmeal
A slow cooker requires little more than chopping and browning ingredients in the morning. Then you can set it and can practically forget it for the rest of the day—and come home to a hot, ready-to-serve dinner. Designed to simmer foods at a low temperature for hours, this countertop appliance is perfect for soups, stews, and tough cuts of meat.
More on Countertop Appliances
There are usually just two settings—high and low heat—so a slow cooker can't get any easier to use. Compare that with the control panel on a multi-cooker, which can have upwards of 15 preprogrammed functions and 20 buttons altogether. Plus, a clear glass lid lets you peek at your meal's progress without interrupting the cooking process.
The slow cooker is limited, though, to wet cooking methods, so there's less variety in the types of meals you can prepare. But most of the models in our tests still perform much better than multi-cookers can on the slow-cook setting. And while it requires generous counter—or storage—space, it's often the only small appliance that can fit a large roast.
In our lab, we slow-cook beef stew and assess how tender and flavorful the meat, potatoes, and carrots get after 5 hours on high heat. Then we cook the same dish on low heat for 8 hours.
"There's quite a difference in performance among the models we test," says Ginny Lui, CR's lead tester for slow cookers. "So buying a slow cooker that rates well in our tests is the first step in getting successful results."
The next step? Applying the following rules of thumb to set your slow cooker up for success.
Smart Slow Cooking
Thaw frozen meat or poultry first. If you forgot to grab tonight's meat out of the freezer before going to bed, it's tempting to throw it into the slow cooker with the rest of the recipe—it cooks for hours anyway, right? But if you place it in the appliance frozen, it might not have time to fully cook or get up to a safe temperature.
Wait to add vegetables. To avoid overcooked vegetables, add delicate ones near the end of the cooking cycle, when there's about an hour left to go. And don't use canned or frozen vegetables, because they'll cook too quickly.
Select the appropriate setting. When converting recipes for a slow cooker, set sauces and dips on the high setting for 1 to 2 hours. Roasts, and large or tough cuts of meat, need the low-and-slow treatment for at least 7 hours.
Don't add too much liquid. Condensation during cooking will produce plenty, and very little is lost to evaporation. The lid works like a baster, continually keeping food moist. Excess liquid will result in a watered-down dish.
Drain fatty meats. Prevent a greasy end product by using the sauté function (if your cooker has it) to render the fat from ground beef and bacon. Then drain the grease before adding the remaining ingredients. You can do the same thing in a skillet on the stove before adding the drained meats to the slow cooker.
Add dairy products last. Dairy breaks down during extended cooking, so add milk, cream, or cheese during the last 15 to 30 minutes of cooking.
Slow Cookers That Impress
You'll see 14 models in our slow cooker ratings. Here's a quick look at three that performed well in our tests, producing tender beef stew every time. They appear in alphabetical order.