First Look: Eufy Smart Lock Touch & WiFi
This $250 lock lets you control your door with a touch, tap, passcode, key, or voice command You might not think of door locks when you hear the name Eufy: The company is most well-known for its robotic vacuums, though it makes a growing array of smart home gear.
But its new Eufy Smart Lock Touch & WiFi stands out for two reasons: First, there's its versatility, in terms of all the ways you can lock and unlock it. You can use its keypad, the Eufy Security smartphone app, its built-in fingerprint scanner, a digital assistant, or a good old-fashioned key. Second, it's one of a small, but growing, number of smart locks with an integrated WiFi radio (no hubs or bridges required).
More established lock brands Kwikset and Schlage were first to release WiFi models, with the Kwikset Halo, $229, and Schlage Encode, $250. The new Eufy lock is comparable in price, but it has a fingerprint scanner, which these models lack. The only other major WiFi smart lock with a fingerprint scanner is the recently launched Kwikset Halo Touch, but that model gives up the keypad.
The one downside I can see to the new Eufy lock might be its size. It's rather large compared with other smart locks, making it very noticeable on your door. The exterior side with the keypad is about 6 inches tall, 3 inches wide, and 1 inch deep. The interior side is even bigger, at about 8 inches tall, 3 inches wide, and 1 inch deep.
Installing the Eufy Smart Lock Touch & WiFi
I've installed half a dozen smart locks over the past few years, but this was the first one with a rechargeable battery (most use AA batteries). On one hand, a rechargeable battery is great from a sustainability perspective. On the other hand, it also means you can't pop in a few batteries and get going immediately.
So keep in mind: You have to give the battery an initial 6-hour charge before you install the lock. I was pretty eager to try it right out of the box, so it was a bit frustrating to learn that I had to wait 6 hours. But it's not unreasonable, of course, with a rechargeable battery.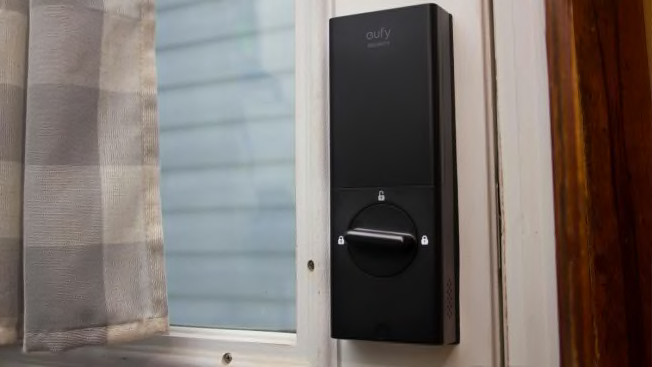 With the battery charged, I was able to install the lock in under 30 minutes. The only tools I needed were a Phillips screwdriver and a tape measure. The process was straightforward, and I didn't run into any problems. Eufy also provides plenty of instructions. There's a print installation manual included in the box, plus an installation video and written instructions in the Eufy Security app.
One more thing to keep in mind regarding the rechargeable battery: Your lock will only work with a physical key while you recharge it. Your only other option is connecting a portable battery pack to temporarily power the lock while the battery recharges. (Eufy's sister brand, Anker, happens to sell a variety of portable battery packs.) Eufy says it will offer spare batteries soon, so owning two would allow you to swap in a charged battery while you recharge the spent one.
Setting Up the Eufy Smart Lock Touch & WiFi
Using the Eufy Security App
It took me only a few minutes to set up the lock. All you do is open the Eufy Security app and add a new device. I own a Eufy security camera, so I already have a Eufy account. But even if you don't, it shouldn't take very long to create one. Once I selected the lock from the list of possible devices to add, the app immediately found and connected to it, allowing me to name it and create a PIN code.
Adding Fingerprints
The fun part: If you've ever set your fingerprint on a smartphone, you know the drill. Eufy's fingerprint reader will prompt you to keep tapping your finger (or thumb) on the sensor, varying how you touch it so that it captures more and more of your print. After a few taps, your Eufy lock will be able to recognize your fingerprint. You can register more than one fingerprint for the same user (say, one from each hand for when you're carrying something). The lock can store a total of 50 fingerprints from multiple users.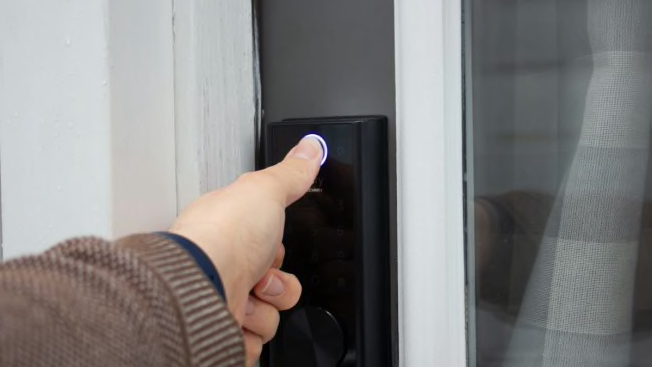 Connecting to Digital Assistants
Since my personal Eufy security camera is already connected to Amazon Alexa and Google Assistant, the Eufy lock was automatically added to both assistants. Note that the Eufy lock supports only these two assistants; there's no support for Apple HomeKit/Siri.
Connecting the lock to both assistants is relatively easy, though. You simply provide your Eufy Security username and password and link your account to the assistant. For help connecting devices to these assistants, see our guides to controlling your smart home with Amazon Alexa and Google Assistant.
I did encounter minor problems with each assistant. I tried to control the lock from the Amazon Alexa app and received an error message that the lock needed a firmware update, so I had to go back to the Eufy Security app and run the update. Once I did, the lock worked flawlessly with Alexa.
As for the Google Assistant, it kept asking me for a PIN code, but I never created one with Google, and the code I created in the Eufy app didn't work, either. I ended up having to relink my Eufy Security account to Google Assistant, and during that process it asked me to create a PIN. After that, Google had no problem controlling the lock. If you don't already own other Eufy Security products, you probably won't encounter this problem.
Part of what makes a smart lock "smart" is all the extra features that it brings to the table, and this model is no exception. In addition to all the ways you can lock and unlock it, the Eufy lock includes these features.
Auto-lock: The lock will automatically lock the door after a set amount of time, giving you peace of mind. But it does not offer an auto-unlock feature to unlock the door when it sees that you've come home based on your phone's location data, which is handy if your hands are full.
Access log: This is a time-stamped log of every time the lock is locked and unlocked, whether it's done manually or by a specific user. It's not as detailed as those from competitors, though—it doesn't tell you whether a user locked or unlocked the door via a passcode, a fingerprint, the app, or a digital assistant (in case it's helpful for you to know).
Lock and unlock notifications: You can set up smartphone notifications to let you know anytime the lock is locked or unlocked. But you can't customize them to alert you only about certain users or at certain times of day—say, only when your kids get home from school.
Voice control via digital assistants: You can ask Alexa or Google Assistant to lock and unlock the door. (Again, the Eufy lock doesn't work with Apple HomeKit/Siri.)
Eufy's "wrong-try protection": This feature prevents someone from attempting to unlock the door for a certain amount of time after so many failed attempts.
There are a couple of features that the Eufy doesn't include that would be nice to have, such as a door sensor (to know if it's open or closed in addition to being locked) and a tamper alarm to know if someone is trying to break in.
A word about Eufy's physical keys: The Eufy lock has an unusual curved keyhole and uses special curved keys (see below). Eufy says you can't easily copy these keys at your local Home Depot. Instead, you'll need to call a locksmith. Still, the company does provide you with five keys, which is much more generous than the usual two that you receive with other locks.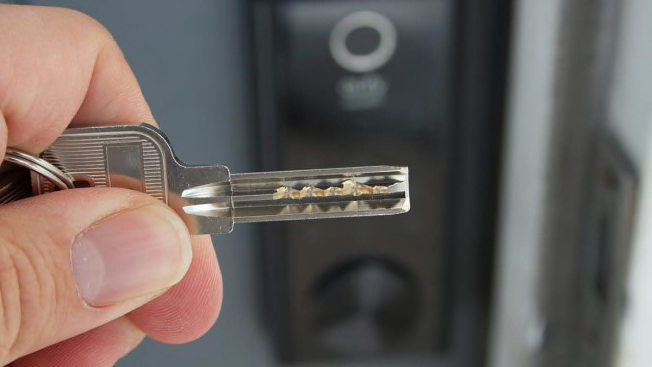 In general, the Eufy Smart Lock Touch & WiFi worked quite well for me, locking and unlocking quickly whether I used the app, a passcode, Amazon Alexa, or Google Assistant. Its speed seems on a par with the smart lock I've used for a few years, and one of CR's top-rated models, the Yale Assure YRD256-CBA-619.
But I did encounter a problem with the fingerprint reader. It often took a couple tries for the reader to successfully read my fingerprint. I wondered if I hadn't done a good job registering my fingerprint (or maybe I have weird fingers?), so I added a second one, but the problem persisted. On Eufy's website, the company claims that the fingerprint reader's recognition rate will improve over time through its "built-in self-learning AI chip." So, in theory, the more I use it, the better it should work.
Despite that problem, the fingerprint reader was still much faster and more convenient than punching in a PIN code, pulling out my smartphone and opening the app, or digging in my pocket for my keys. The fingerprint reader even worked with a dirty finger (I was just curious): I dipped my finger in cornstarch to see whether it would affect performance, and as long as my fingerprint wasn't completely caked in the cornstarch, the reader worked fine.
As for how the lock will hold up to brute force attacks, such as kick-ins, drilling, and lock picking, we'll have to get it into our test lab to find out. But the lock looks similar to the CR-tested Eufy Smart Lock Touch (which does not have WiFi), so it's possible that it will receive similar test results. That model performed exceptionally well in our kick-in and lock picking tests, helping it become one of the top-scoring models in our door lock ratings.
As its name implies, the Eufy Smart Lock Touch & WiFi sidesteps the biggest flaw of its Bluetooth-only predecessor—the lack of internet connection—to add key features such as remote control, voice control, and notifications, making it a worthy rival to smart locks from more established brands.
It was easy to install, set up, and use, and very fast at locking and unlocking. No more fumbling for keys or even remembering a keypad code. It felt like a premium lock, despite Eufy being mainly associated with budget-friendly robotic vacuums. As for whether this new lock can earn a top spot in our ratings like its sibling, we'll have to buy it and get it into our door lock test lab to find out.