When you shop through retailer links on our site, we may earn affiliate commissions. 100% of the fees we collect are used to support our nonprofit mission.
Learn more.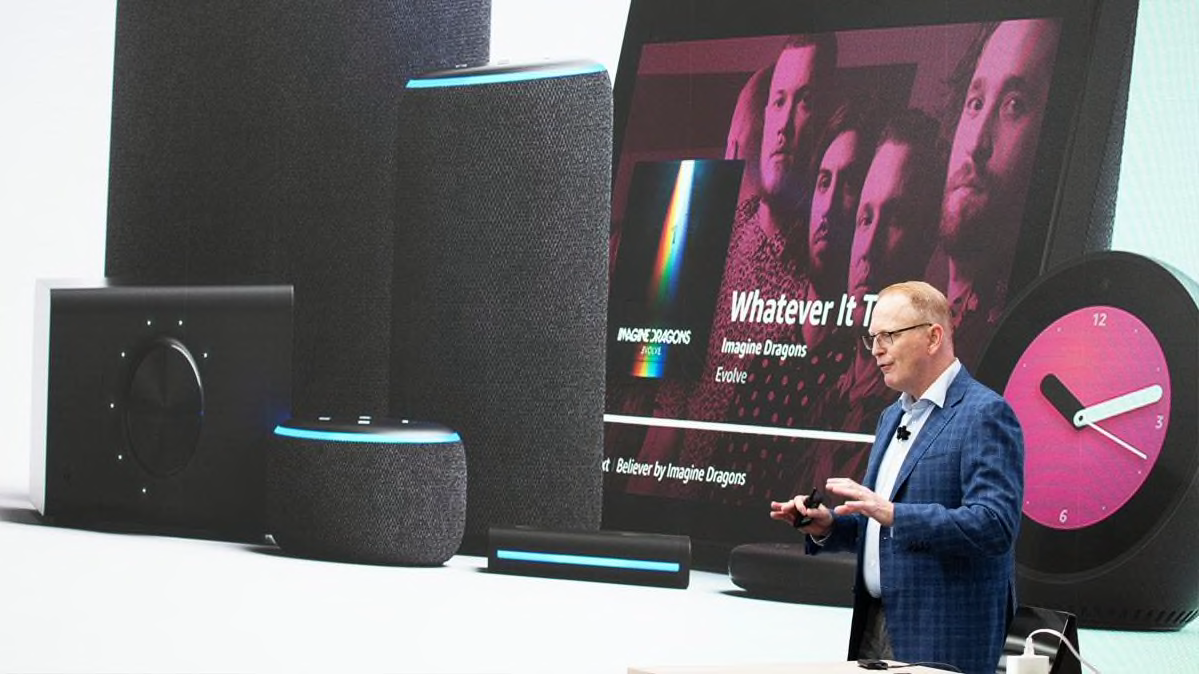 Amazon is expanding its lineup of Echo smart speakers, adding new products for the car and kitchen, and making Alexa a more versatile digital assistant.
The company is a smart speaker juggernaut—with legions of Echos in consumers' homes and a long list of compatible smart devices, from locks to light fixtures. But Amazon has trailed competitors in one key area: audio quality. Premium-priced smart speakers, including the Google Home Max, the Sonos One, and the Apple HomePod, have made much better listening companions than any of the Echo products—and as a result they've fared better in Consumer Reports' testing.
Some of the new Alexa-powered speakers could help Amazon catch up.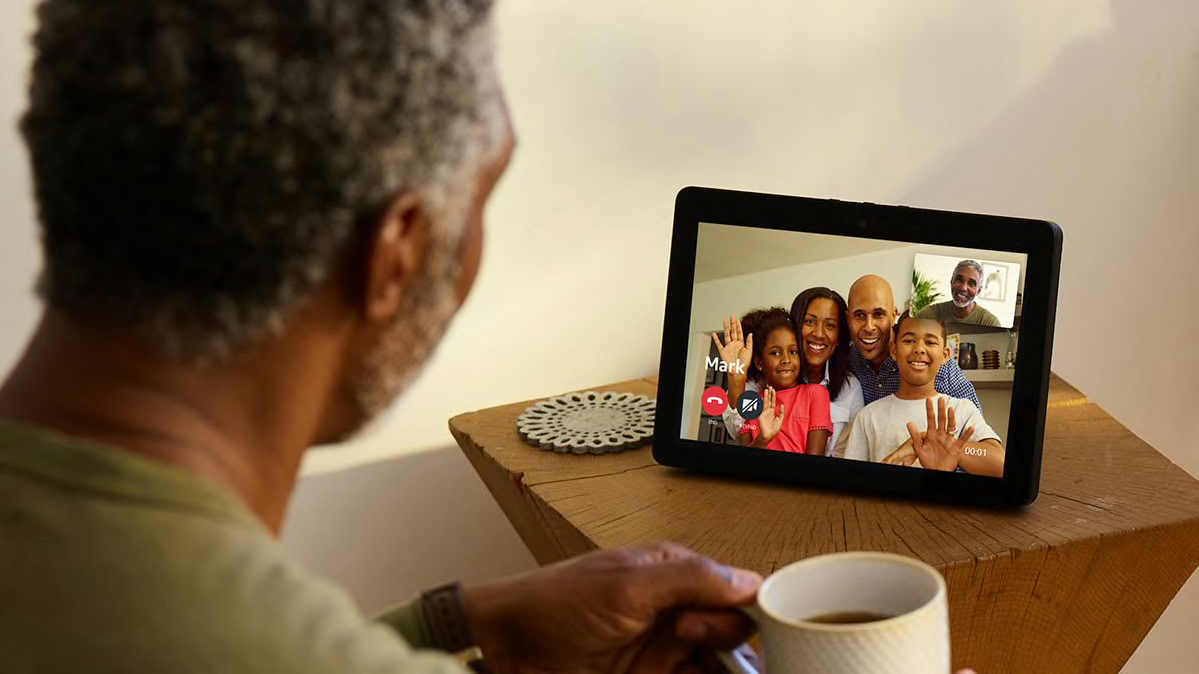 Expanded Audio Lineup
Amazon's new audio products include both redesigned stalwarts such as the tiny Echo Dot and entirely new entries that expand the Echo stable.
To start, the redesigned Amazon Echo Plus, $149, has a large, 3-inch woofer that's supposed to deliver stronger bass as well as clearer midrange and high tones. Our testers found the current Echo Plus to have only decent sound, noting shortcomings throughout the frequency range.

The new Echo Plus also includes an upgraded smart home hub that is supposed to make it easier to connect and control smart home devices through the Zigbee wireless networking standard. It also has a built-in temperature sensor that will allow you do things like have a smart fan turn on when the temperature gets high enough.
Amazon introduced a revamped Echo Show with a 10-inch HD touch screen and a built-in smart home hub for $229. It has dual, side-firing 2-inch drivers and a passive bass radiator, all in the service of superior sound quality.
The previous Echo Show, which has a 7-inch screen, is the top-rated Echo in CR's smart speaker ratings—with mediocre sound but very good versatility, thanks largely to the display.
And there's a new, third-generation Dot as well. The company claims the $50 device has an improved speaker, and it comes with a fabric covering available in three tones of gray. (The second-generation Dot is at the bottom of CR's smart speaker ratings because of its lackluster sound—but don't hold that against it. The speaker is meant as a conduit to Alexa, not as anyone's primary music-playing device.)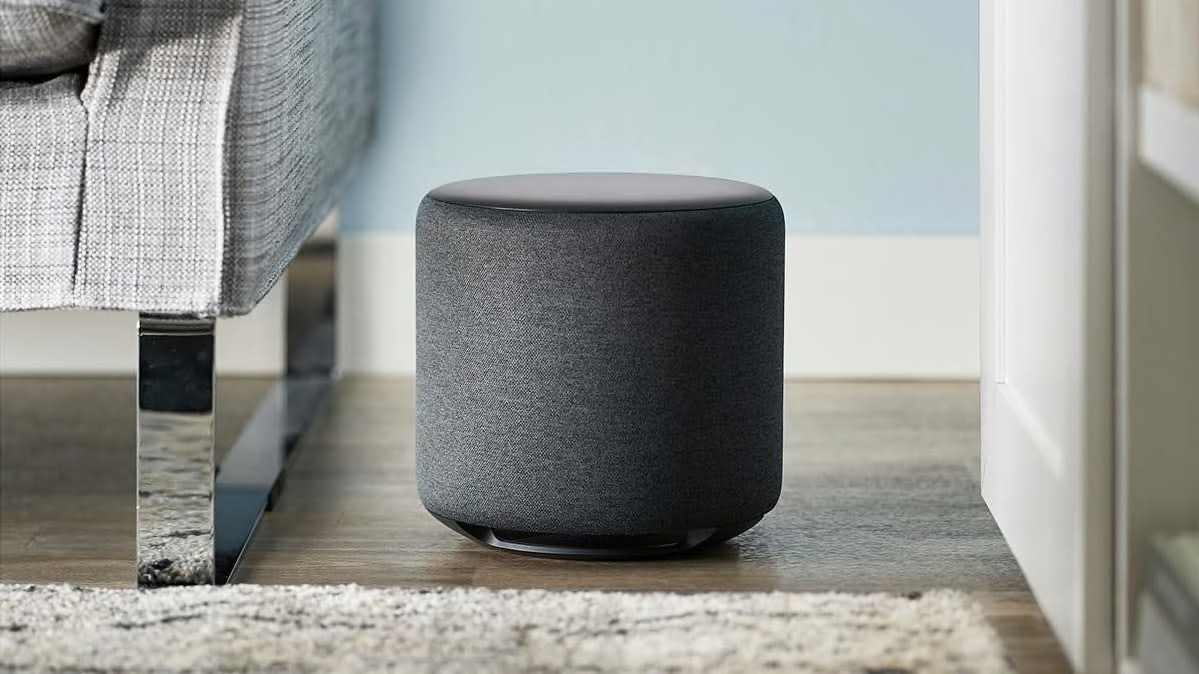 Now for the new stuff.
Amazon expanded its Echo line with the Input, which allows music listeners to add smart speaker functionality to an existing speaker, in much the same way that some savvy music listeners have already been using the Echo Dot to pair with their favorite speaker. The Input, which costs $35, is smaller and sleeker than the Dot and it lacks a built-in speaker, instead routing all content to your wireless speaker.
The Echo Sub, $130, is a subwoofer that adds deep bass—and probably some additional volume—to a single or stereo pair of Echo speakers. That could enhance the listening experience, because none of the Echo speakers up to now have had exceptional bass. The Sub also features an equalizer with voice control, so if you want to blast David Guetta's "Titanium," you can just say "Alexa, more bass."
The Echo Link connects to any existing home stereo for high-quality music streaming with Alexa voice control. Aiming to be a Swiss Army knife for the audiophile, the Link, $199, boasts a wide variety of connections, including analog, optical, and coax inputs, plus analog, optical, coax, headphone, 3.5mm, and subwoofer line-outs, along with a single beefy volume knob on the front face.
For $100 more, the larger Echo Link Amp has a 60-watt, two-channel amp, which can be used with any powered or passive speakers.
And Amazon also has a new audio product meant to expand the hegemony of Alexa-powered music beyond the confines of consumers' homes.
The Echo Auto brings Alexa capabilities to the car. The device, which is similar in size to a portable cell-phone charger, can link to a car's entertainment system via a 3.5mm plug or Bluetooth and is powered via the car's 12V system.
It connects to Alexa and the internet through your phone, and uses your car's existing speakers to play music, provide the news, and perform other familiar Echo functions. The microphone array is said to be optimized to hear commands over music or road noise in a car's noisy environment. It's available by invitation only, the company says, for $25.
In the Kitchen, on the Road
Amazon has aggressively signed up hardware partners to make sure smart-home-loving consumers could use Alexa to do everything from turning up the heat to turning down the lights. Because the battle over the future voice-controlled digital assistants extends far beyond music. Amazon is introducing a couple of new products in that technology race—and, more critically, new capabilities for Alexa.
The new Echo Wall Clock, $30, connects to an Echo device to provide visual, and even animated, reminders of multiple alarms, reminders, and timers. And there's a new Alexa-enabled, AmazonBasics microwave, $59, that can start cooking via voice command.
Also new: Amazon Smart Plugs, $25, which let you use an Echo to control lots of existing non-smart devices, from coffee makers to standing lamps. You insert the Smart Plug into the outlet, plug the device into the Smart Plug, and—voila, instant voice control. (A number of smart plugs already on the market are compatible with Alexa, as well as Apple's Siri and Google Assistant.)

And the list of new Alexa features is expansive.

For instance, Alexa Guard is a suite of skills coming "later this year," according to the company, that will enlist certain Echo speakers—yet to be named—as part of a home security system. When you activate the system by saying "Alexa, I'm leaving," your speakers can listen for the sound of breaking glass, or the distinct tones of your smoke or carbon monoxide detectors, then send out alerts. It can also integrate with Ring and ADT alarm systems, according to Amazon.

Other new promised features will let Alexa learn your preferences and anticipate your needs, provide consumers with a voice-controlled method for connecting new devices to their WiFi networks, and allow for location-based reminders—such as asking Alexa to remind you to preheat the oven once you arrive home.
There will also be new support for multistep requests. As examples, Amazon says you'll be able to add a number of separate items to a grocery list with a single statement or turn on the music and adjust the volume with one command, by saying "Alexa, play Pandora at volume 8."

Amazon says that the Echo Dot, Echo Plus, and Echo Sub are available for preorder starting today and will start shipping next month. Echo Auto is available by invitation and will start shipping later this year.
The Echo Input and Echo Link will be available later this year, and the Echo Link Amp should be available in early 2019.
Editor's Note: An earlier version of this article included an incorrect price for the new, third-generation Amazon Dot. The device costs $50.