When you shop through retailer links on our site, we may earn affiliate commissions. 100% of the fees we collect are used to support our nonprofit mission.
Learn more.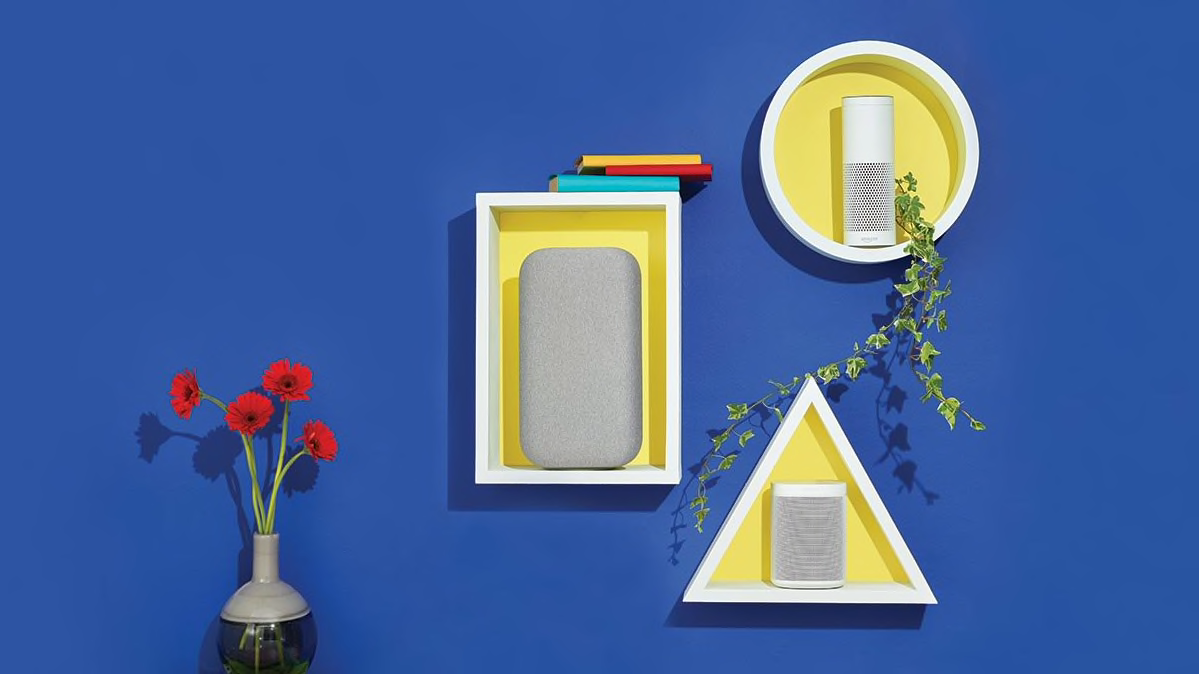 Within the past few years, smart—or internet-connected—devices and appliances have made it possible to have your washer alert you by phone when the spin cycle is done, adjust the thermostat before you get home, and unlock your front door from anywhere in the world.
And many people are finding that the best way to step into the world of the connected home is to invest in a smart speaker, such as the Amazon Echo, Apple HomePod Mini, or Google Nest.
According to a 2020 report by the Consumer Technology Association, smart speaker sales continue to rise, with 39 percent of American households owning a device, up by 8 percent from the year before.
What Smart Speakers Can Do
Smart speakers connect to the internet, and like a smartphone, they also have a personal digital assistant (Amazon Alexa, Apple Siri, or Google Assistant) that responds to verbal commands.
Smart speakers can tell you the weather forecast, provide driving directions, and answer simple questions. ("Alexa, who was the seventh president of the United States?") You can ask a smart speaker any question you'd type into a search bar on a computer, which makes the devices convenient for a wide cross-section of users, from older adults who have trouble typing to cooks who need a hands-free way to mute the Mozart while they're up to their elbows in raw chicken.
Smart speaker owners can also tap into thousands of free or inexpensive applications that range from amusing but frivolous (a Shakespearean Insult Generator) to potentially life-saving.
For instance, Ask My Buddy will call and send a text to alert a family member or another contact when the user needs help but is unable to call on their own.
"The smart speakers we've tested ranged in versatility from good to excellent," says Elias Arias, who heads CR's smart speaker testing program. "But new users do have to navigate a learning curve."
While "natural language" commands typically work well, some apps require you to use specific phrases. Users must also begin their command or question with a keyword or a phrase, such as "Alexa" or "Hey, Google" for the device to respond.
Of course, smart speakers can also play music, and 68 percent of the people who own one use it to do that. But a majority of smart speakers tested by Consumer Reports don't sound great.
If audio quality is important to you, you can pay a premium for a smart speaker that sounds good on its own, such as the Sonos One or the Amazon Echo Studio.
Or, as an alternative, you can pair an inexpensive smart speaker like the Amazon Echo Dot or the Google Home Mini to a speaker you already own, or to one of the high-scoring nonsmart speakers in our ratings. Some of these smart speakers are very affordable; for $50, the Amazon Echo Dot doesn't provide great audio quality but delivers Alexa functionality just as well as more expensive models.
Either way, when you tell your digital assistant to play some Johnny Cash, the Man in Black will sound the way he should.
Smart Speaker as Smart Home Hub
Smart speakers are useful on their own, but they can also control other smart-home devices. For instance, you can pair your smart speaker with a video doorbell and use it to talk to arriving guests or pair it with a smart lock. You can also use your voice to turn lights on or off without having to leave your couch or bed.
Those capabilities can be appealing to many consumers, and they can make daily tasks much easier for people with limited mobility.
Linking your smart devices to one another can enable them to do even more. You could, for instance, have your smart front-door lock automatically send a message to your smart thermostat to turn down the heat each time you leave home to save money on your energy bill.
To guide members in their purchase decisions in this rapidly growing category of products, Consumer Reports now tests smart-home devices, including speakers, video doorbells, and door locks.
"We look at how they perform their primary function but also whether the smart functionality actually improves the overall user experience," says CR's Bernie Deitrick, the engineer who oversees our home security camera testing.
To control those devices through your smart speaker, each component you add needs to be compatible with your personal digital assistant. Many smart products work with multiple digital assistants, but Amazon's Alexa has a sizable lead over the competition; it can control more than 145,000 smart-home devices. Google Assistant, by contrast, works with more than 50,000 smart-home products, while Apple says that Siri controls "hundreds" of devices.
Editor's Note: This article has been updated since it first appeared in the October 2018 issue of Consumer Reports magazine.