Which Amazon Echo Smart Speaker Should You Buy?
From the Echo Dot to the Echo Show 10, here's how to choose the model with the right sound and features for your home
When you shop through retailer links on our site, we may earn affiliate commissions. 100% of the fees we collect are used to support our nonprofit mission. Learn more.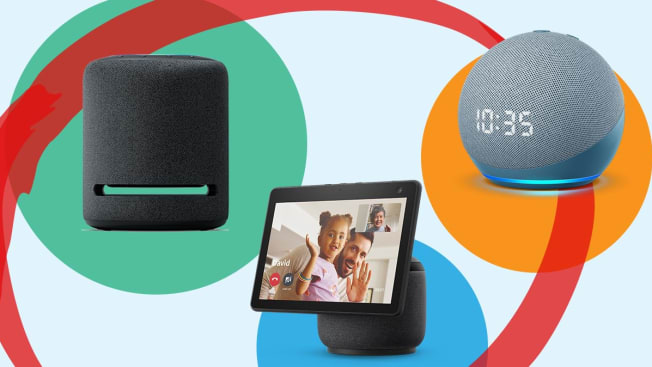 Unlike last year when Amazon significantly revamped the look of its Echo smart speakers, the updates the company made this time around were mostly minor. The one major addition to the line is the Echo Show 15, a large flat-screen model designed to be mounted on a wall as a family organizer.

With that device, which we'll test and report on later this fall when it's available for purchase, Amazon now has more than a dozen Echo smart speakers, with a wide range of features and prices, on the market. Whether you're looking to upgrade or choose your first-ever Amazon smart speaker, the choices can be confusing.
The first thing to know is that despite the varied looks and price points, one model won't perform much differently than another when it comes to smart speaker functionality. Ask Alexa to set a timer, turn off the lights, or order a pizza, and any of the devices can do the job. That's because most of the artificial intelligence grunt work is outsourced to the company's servers, not carried out in the speaker sitting on your kitchen counter.

(Although for privacy reasons, the company's new higher-end speakers, including the Show 10, Show 15, and the latest generation Echo, will now be able to process voice recordings—though not the commands generated by them—on the device itself.)
What's new: The Studio remains Amazon's best performing—and most expensive—audio-only smart speaker.
What's to like: It's all about the sound. Though previous Amazon speakers have delivered less than great sonics, the Studio delivers deep and powerful bass, clean midrange, and smooth trebles. That makes it a viable competitor to the best-sounding smart speakers, like the Sonos One. Our testers report that when playing Dolby Atmos and 3D audio content, the Studio provides a spacious sound that can fill a room.
What's not to like: The speaker defaults to a Stereo Spacial Enhancement setting, which makes the sound worse, our testers find, adding a bit of an echo. This questionable feature can be turned off, and if you buy a Studio you'll want to do just that. If you're thinking about buying two studios to use as a pair, note that our testers experienced glitchy performance with stereo pairing. They reported problems when changing the volume and some minor sync problems between the left and right speakers.
Who should buy it: Anyone who's not on a super-tight budget and is planning to listen to music frequently on a new smart speaker.
What's new: The shape . . . and everything else. Gone is the cylindrical shape of the previous versions, replaced by a new spherical look. Under the exterior, the model features new and improved speaker drivers. It also includes a Zigbee smart home hub that allows it to link directly to many Zigbee-compatible devices—think Philips Hue smart bulbs, some Yale smart locks, and certain Honeywell thermostats—without requiring an app.
What's to like: The latest Echo is pretty much better in every way. The sound quality is improved with strong but slightly boomy bass and enough volume to fill a medium-sized room. Our testers found that two Echos sound great when paired in stereo, with a significant you-are-there appeal. The new Zigbee hub is an upgrade that used to be exclusive to the Echo Plus. With these upgrades and a price of $100, this Echo represents a strong value.
What's not to like: While the sound quality is better than the earlier Echos, it still can't compete with the best-sounding models from other companies or, for that matter, Amazon's own Echo Studio.
Who should buy it: Anyone with $100 who wants an Alexa-powered smart speaker. The Echo's sound is more than good enough for casual music listening, and the better smart home integration is a substantial improvement.
Echo Dot (4th Generation)
What's new: The newest Dot really is all new. The old hockey puck shape of previous-gen Dots gives way to an elegant spherical look that's a shrunken version of the full-sized Echo. With a list price of $50, the Dot remains the cheapest way into the Amazon smart speaker world.
What's to like: Despite its small size and low price, the Dot offers the same smart speaker functionality as its far more expensive brethren. The Dot can also serve as an inexpensive way to add additional smart speakers throughout your home as part of an Alexa-based multiroom system. That allows you to listen to content or ask Alexa to perform smart speaker functions throughout your home. You can even pair an Echo to a Bluetooth speaker you already own to give it smart speaker functionality.
What's not to like: The Dot's sound quality still isn't great, but with somewhat stronger bass and more extended trebles it's a little better than the older versions, which sounded like a bad telephone connection. The Dot doesn't play loudly except in a very small room. It may be fine for listening to podcasts, but if you're going to play music you might consider the full-sized Echo.
Who should buy it: If you're looking for a cheap but cool gift, the Dot fits the bill. And if you're not sure about whether you want to invite Alexa into your home, the Dot also provides an inexpensive way to test the smart speaker waters.
What's new: The Show 10, which has a motorized 10-inch touch screen that pivots to follow you around the room, supplants the well-regarded second-generation Echo Show 10 at the top of Amazon's smart screen line.
What's to like: The voice-enabled touch screen is a handy way to view recipes or make video calls without having to touch a laptop, tablet, or smartphone with your messy fingers. While the Show 10 falls short of the previous generation Show in terms of audio quality–a slight distortion in the midrange is the most significant flaw–it still sounds quite good. Our testers also report that the Show 10 is a breeze to set up; you just follow the directions on the touch screen.
What's not to like: The Show 10's moving screen could pose a problem in some kitchens. To set it up safely, Amazon advises you to dedicate an area 15 inches in diameter (roughly the size of a beach ball) on your countertop and keep it clear. If items—like a metal travel mug or a bottle of cooking oil—are placed too close to the Show 10's screen, the powerful motor can knock them over, which could pose a safety hazard. As for that motorized screen that follows you as you move about the room, some users like the feature, while others find it unnerving.
Who should buy it: Anyone with a large, neat kitchen, and well-behaved kids and pets. The Show 10 sounds good, and the large moving touch screen enhances its versatility, but it also demands a decent amount of clear counter space.
What's new: With its horizontal footprint and 8-inch HD touch screen, the latest Show 8 is fundamentally similar to its predecessor. It does add an improved 13 megapixel camera as well as the ability to "track" you (though not with a moving screen, like the Show 10 above), so you remain in frame and in focus if you're moving while you're on a video call.
What's to like: The Show 8 delivers a lot of device for the money. It's only a few dollars more than the audio-only Echo, and the voice-enabled touch screen can be useful in a kitchen when you want to follow a recipe while your hands are messy. The Show 8's footprint is also much smaller than that of the Show 10, which needs a beach-ball-sized space on the countertop to provide clearance for its rotating screen.
What's not to like: The sound quality on the Show 8 has flaws—our testers found the treble strident and heard echoes in the all-important midrange. That puts it a step below the better-sounding Echo Show 10 in our ratings. The Show 8 also lacks the Zigbee smart home hub found on its larger sibling and on the latest generation Echo.
Who should buy it: Fans of the old Echo Show. The non-rotating screen of the latest Show 8 makes it more practical than the Show 10 for many users.
What's new: Not a lot. The newest Show 5 has a camera with slightly better resolution (up to 2MP from 1MP), no aux jack, and a blue color option.
What's to like: The size and price. The Show 5 is Amazon's smallest smart screen, which makes it flexible in terms of where and how you can place it. And it costs slightly less than the audio-only Echo.
What's not to like: The sound really leaves a lot to be desired. Our testers found a variety of distortions: grainy, hazy, smeared, and sizzly were among the less-than-complimentary adjectives they used to describe the sound.
Who should buy it: Someone with a really tight living space and/or a really tight budget. The Show 8 is a much better performing device than the Show 5 and the improvement in sound quality makes it well worth a look.