When you shop through retailer links on our site, we may earn affiliate commissions. 100% of the fees we collect are used to support our nonprofit mission.
Learn more.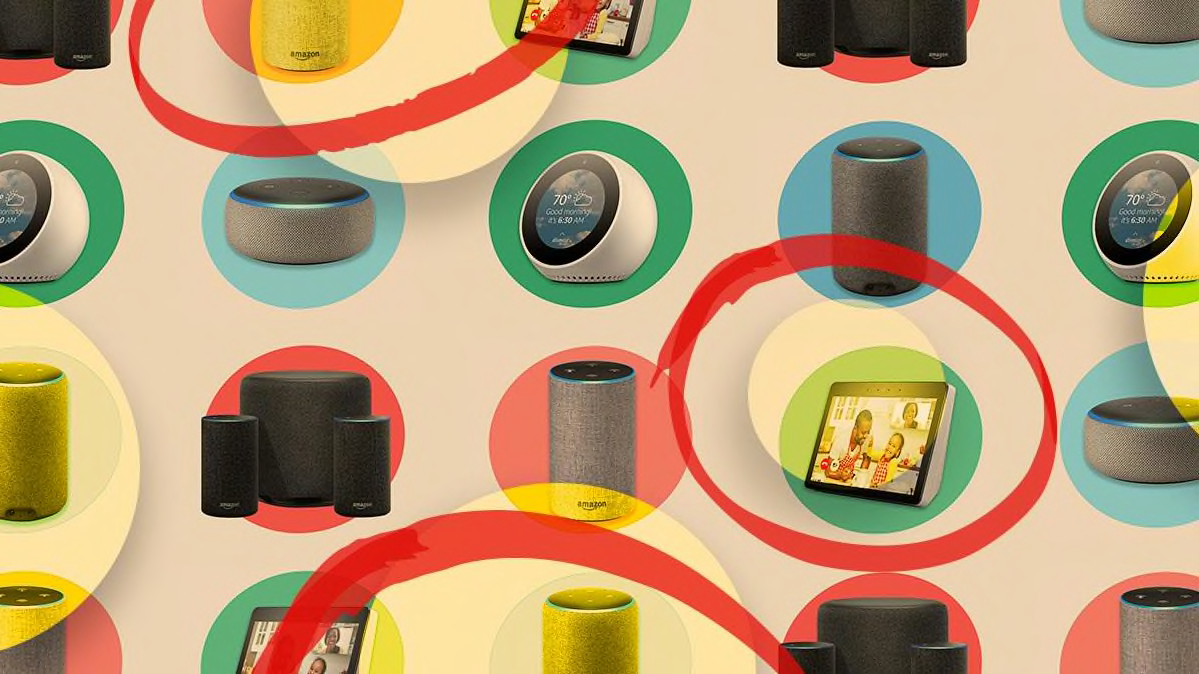 So you've decided to buy an Amazon Echo smart speaker? Before you can begin giving Alexa orders, you have to select a specific model from Amazon's wide range of offerings.
That daunting task has gotten even harder because the company has introduced a variety of new and significantly updated models.
Consumer Reports is here to help. We've put most of these speakers through our smart speaker testing program, and our testers report some real improvements.

Until now, Amazon Echo speakers haven't performed all that well in our labs. For all their innovative technology, Amazon's previous models simply didn't sound very good. And that's important because surveys show that listening to music remains the most popular use for smart speakers.
More on Smart Speakers & Wireless Speakers
The sound gap between Amazon and its competitors widened when Google introduced the high-end Home Max in 2017 with great sound. Recent models like the Sonos Move and Apple Home Pod have also upped the sonics ante for smart speakers.
However, Amazon's new models deliver much better sound quality. The new Echo Studio, in particular, is one of the best-sounding smart speakers on the market.
Here's a buyer's guide to the current Amazon models.
Echo Studio
What's new: The Studio is a brand new model, and it's Amazon's most expensive—and best performing—stand-alone smart speaker.
What's to like: It's all about the sound. Though previous Amazon speakers have delivered less-than-great sonics, the Studio totally breaks that mold. With deep and powerful bass, clean midrange, and smooth trebles, the Studio is a viable competitor to the best-sounding smart speakers, the Google Home Max and the Sonos Move. Our testers also report that when playing Dolby Atmos and 3D audio content, the Studio provides a spacious soundfield that can fill a room. They also found it to be very easy to use and exceptionally versatile.
What's not to like: The speaker defaults to a "Stereo Spacial Enhancement" setting, which—according to our testers—makes the sound worse, adding a bit of an echo to the presentation. This questionable feature, however, can be defeated after a firmware update, and if you buy a Studio, you'll want to do just that. If you're thinking about buying two studios, note that our testers experienced glitchy performance with stereo pairing, with problems when changing the volume and some minor sync problems between the left and right speakers.
Who should buy it: Anyone who's not on a super-tight budget and is planning on listening to music on a smart speaker.
Echo (2nd Generation) Plus Subwoofer
What's new: Two things—you can turn two Echos into a stereo pair (a trick some competitors have been doing for a while), and you can add a subwoofer, which can be bought alone or in a bundle with a pair of the latest generation Echos.

What's to like: The two-satellites-and-a-subwoofer system is a little old school, but there's a reason why audiophiles love this kind of setup. The subwoofer makes the bass both deeper and more powerful. And having a stereo pair of satellite speakers allows for better stereo—the illusion that you can pinpoint a singer or an instrumentalist in the room.
What's not to like: Our testers found the subwoofer system difficult to set up. You have to run through the setup process with each speaker, then again with the subwoofer to achieve full 2.1 integration. Taking three laps through the cumbersome process was tedious. And once it was set up, the subwoofer system wasn't completely bug-free. Our testers noted that the speakers were sometimes slightly out of sync. One speaker would start just a fraction of a second after the other (but in time with the music), or one speaker or the subwoofer would keep playing while you're requesting the next song.
Who should buy it: If you have a couple of 2nd Gen. Echos around the house, the subwoofer provides a way to transform them into a better-sounding compact stereo system for $130. If you're considering the whole $250 system, the new Echo Studio (above) sounds better but costs less.
Echo Show (2nd Generation)
What's new: The new Echo Show was a pleasant surprise in our smart speaker testing. The $230 speaker, which features a 10-inch HD touch screen and a Zigbee smart home hub, sits near the top of our smart speaker rankings, while the old Show with a 7-inch screen was a middling performer.

What's to like: The sound quality. The previous Show sounded okay, but the new model takes a substantial step forward, featuring robust bass and smooth trebles. Most of all, it delivers effective imaging—the sense that the instruments and voices extend beyond the speaker's physical enclosure, as though the music is being performed in the same room with you. That's rare among relatively small single box speakers. (Listen to Pink Floyd's "Dark Side of the Moon" on a decent sound system for a vivid example.) Our testers also found that the Show was exceptionally easy to set up—you just follow the directions on the touch screen.
What's not to like: Are you a YouTube addict? If so, you might want to stick to your laptop for those videos. The Show doesn't offer voice commands for the popular video service, which is owned by Google (which has its own smart speakers). It accesses YouTube through the Firefox browser, which means video searching through the onscreen keyboard. Amazon Prime Video, unsurprisingly, can be accessed through voice commands.
Who should buy it: Anyone with two eyeballs who wants a smart speaker? The Show sounds really good, and its large touch screen enhances its versatility. If you're tight on space or cash, you might consider one of the cheaper models, but for most consumers the Show offers a lot of value for the smart speaker buck.
Echo Plus (2nd Generation)
What's new: The restyled Echo Plus is quite different in size and shape from the previous generation model, but it still includes the Zigbee smart home hub that allows it to integrate with a wide variety of smart home devices. Two Echo Plus speakers can be stereo-paired with each other and with Amazon's new subwoofer (see above).
What's to like: The new Echo Plus pulls off a pretty neat trick. It's smaller than its predecessor. But in a smart speaker world where bigger generally equals better in terms of sound quality, the more petite Plus sounds much better. Some of the sonic improvement can be attributed to the new tone controls that allow you to tweak the speaker to match your listening room. But even if you're a set-it-and-forget-it type, the Echo Plus is enjoyable to listen to.
What's not to like: Though the new Plus represents a big step forward in sound quality, it still lags behind top performers like the Google Home Max and the Sonos Move.
Who should buy it: The previous generation Plus was aimed at smart home aficionados—our testers found the sound quality very similar to the standard Echo's. Not so this time around. The Echo Plus is a real step up in sound from the standard Echo. If you're planning to listen to music—and most smart speaker owners do—the extra money buys you a worthwhile bump in sound quality.
Spot
What's new: Nothing. This is a first-generation model that hasn't changed since its introduction in 2017. The Spot is kind of a video version of the Dot (below), with a round touch screen that's 2.5 inches in diameter.
What's to like: The Spot is compact, cute, and elegant. It's right at home on a nightstand, fulfilling the functions of an alarm clock and then some.
What's not to like: The Spot is a kind of throwback to the less-than-great-sounding speakers of Amazon's past. Our testers gave it lower sound quality scores than even the entry-level 3rd Generation Dot. In addition, they found the tiny touch screen to be limited in its utility, because you have to be quite close to read it.
Who should buy it: Unless you're very short on space or totally infatuated with the Spot's shape and size, anyone who wants an Echo with a screen is better off spending their money on the Show.
Echo (2nd Generation)
What's new: It's not new—it's iconic. Though the original Echo defined the look and functionality of the smart speaker genre, it was this 2nd Gen. Echo that made the smart speaker ubiquitous.
What's to like: When you see this speaker in a museum someday, you can tell your grandkids that you used to own one. But your current model is hardly a museum piece—it can run the latest skills and can be updated with new functionality, such as stereo pairing and tone controls.
What's not to like: The sound quality is a little better than the original Echo's, but it can't compete with the best current offerings from other companies, or Amazon itself.
Who should buy it: The 2nd Gen. Echo seems like it's stuck in limbo. If you want a smart speaker for playing music, the newer Echo Studio or Echo Plus sounds much better. If you don't care about music at all, the newest Dot (below) is significantly smaller and cheaper, with sound that's good enough for podcasts.
Dot (3rd Generation)
What's new: The latest Dot is smaller and sleeker than its predecessor, with a fashionable fabric covering, and, more important, significantly better sound. With a list price of $50, which is frequently discounted, the tiny Dot remains the cheapest way into the Amazon ecosystem.
What's to like: Despite its small size and low price, the Dot offers the same smart speaker functionality as its far-more-expensive brethren because Alexa's brain resides on Amazon's servers. The Dot can also serve as an inexpensive way to add additional smart speakers throughout your home—or to add smart functionality to a Bluetooth speaker you already own.
What's not to like: The sound quality still isn't great, but our testers found it much improved—it no longer sounds like a bad telephone connection. If you're planning on using the Dot as a way to add smart speaker functionality to any good-sounding wireless speaker, note that Amazon has introduced the Input (which we haven't tested), a smaller, sleeker, and similarly priced device without any speaker at all, which is designed specifically to fulfill this function.
Who should buy it: If you're looking for a cheap but cool gift, the Dot fits the bill. And if you're not sure about whether you want to invite Alexa into your home, the Dot also provides an inexpensive way to test the smart speaker waters.