When you shop through retailer links on our site, we may earn affiliate commissions. 100% of the fees we collect are used to support our nonprofit mission.
Learn more.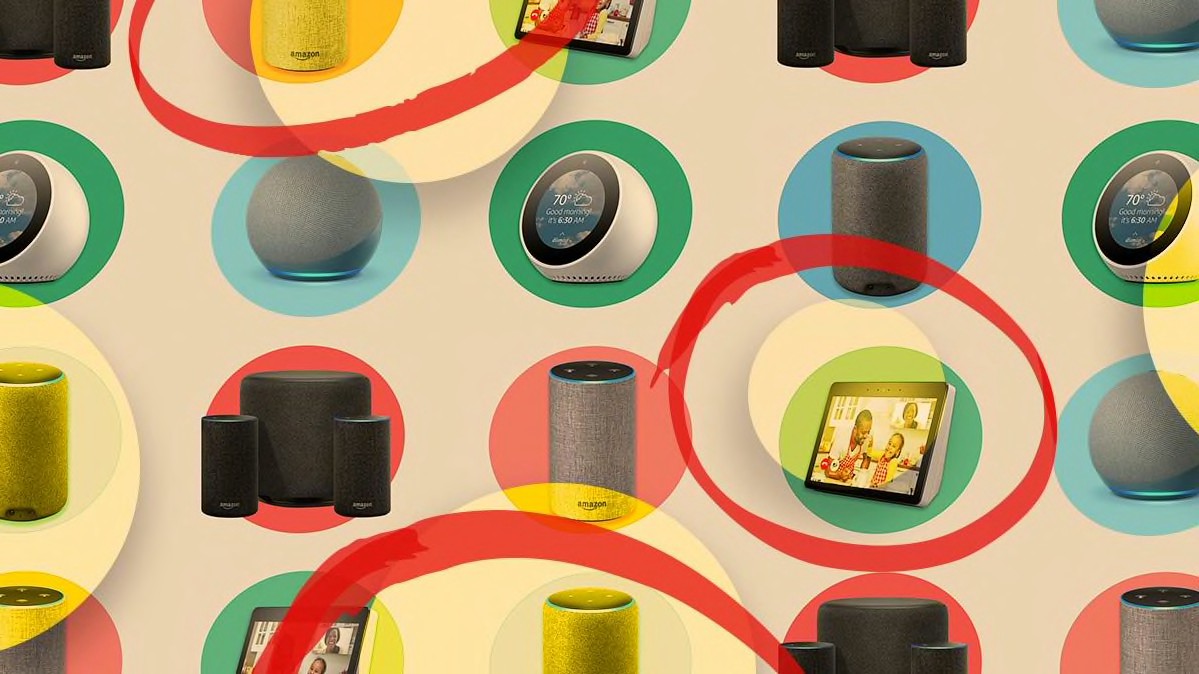 This fall Amazon revamped the look of its Echo smart speakers more significantly than at any time since they were introduced in 2014. Gone is the the now iconic cylindrical shape, replaced by spherical styling. The changes are more subtle under the hood, but Amazon is delivering some technical upgrades, from new smart home capabilities to upgraded speaker drivers.
Counting these new models and some older ones that are still available, there are now more than a dozen Amazon Echo smart speakers on the market, with a wide variety of features and a broad range of prices. Whether you're looking to upgrade or choose your first-ever Amazon smart speaker, the choices have become confusing.
The first thing to know is that despite their different look, the new models won't perform much differently from the older ones—or from each other—in their smart speaker functionality. Ask Alexa to set a timer, turn off the lights, or order a pizza, and any of these devices can do the job. That's because most of the artificial intelligence gruntwork is outsourced to the company's servers, not carried out in the speaker sitting on your kitchen counter.
More on Smart Speakers & Wireless Speakers
But the models differ in other ways. That includes sound quality, and Consumer Reports surveys show that most consumers use smart speakers for listening to music, among other things. Early Amazon Echos suffered from subpar sound quality, but that's improved, at least for some models. The Amazon Studio, in particular, can compete on sound quality with top-ranked smart speakers including the Google Home Max and the Sonos Move.
As you consider these new orblike Echos, Consumer Reports is here with test results from our labs, detailed below. As always, we bought the test samples through the regular retail channels where you'd buy yours. No freebies or special treatment for us.
Echo Studio
What's new: Introduced last year, the Studio remains Amazon's best performing—and most expensive—smart speaker.
What's to like: It's all about the sound. Though previous Amazon speakers have delivered less than great sonics, the Studio delivers deep and powerful bass, clean midrange, and smooth trebles. That makes it a viable competitor to the best-sounding smart speakers, the Google Home Max and the Sonos Move. Our testers report that when playing Dolby Atmos and 3D audio content, the Studio provides a spacious sound that can fill a room.
What's not to like: The speaker defaults to a Stereo Spacial Enhancement setting, which makes the sound worse, our testers find, adding a bit of an echo. This questionable feature can be turned off, and if you buy a Studio you'll want to do just that. If you're thinking about buying two studios to use as a pair, note that our testers experienced glitchy performance with stereo pairing. They reported problems when changing the volume and some minor sync problems between the left and right speakers.
Who should buy it: Anyone who's not on a super-tight budget and is planning to listen to music frequently on a new smart speaker.
Echo (4th Generation)
What's new: The shape ... and everything else. Gone is the cylindrical shape of the previous versions of the Echo, replaced by a new spherical look. Under the new exterior, it features new and improved speaker drivers. The fourth-generation Echo also includes a Zigbee smart home hub that allows the speaker to talk directly to many Zigbee-compatible devices, such as Philips Hue smart bulbs and some Yale smart locks and Honeywell thermostats, without using an app.
What's to like: The latest Echo is pretty much better in every way. The sound quality is improved with strong but slightly boomy bass and enough volume to fill a medium-sized room. Our testers found that two Echos sound great when paired in stereo, with a significant you-are-there appeal. The new Zigbee hub is an upgrade that used to be exclusive to the Echo Plus. With these upgrades and a price of $100, this Echo represents a strong value.
What's not to like: While the sound quality is better than the earlier Echos', it still can't compete with the best-sounding models from other companies like the Google Home Max or the Sonos One, or, for that matter, Amazon's own Echo Studio.
Who should buy it: Anyone with $100 who wants an Alexa-powered smart speaker. The Echo's sound is more than good enough for casual music listening, and its better smart home integration is a substantial improvement.
Echo Plus (2nd Generation)
What's new: The Echo Plus has largely been superseded by the latest generation Echo, which has the Zigbee smart home hub that allows it to integrate with a variety of smart home devices, a main reason to buy the Echo Plus.
What's to like: On its own, the Echo Plus remains a useful device, especially if you're a fan of smart home devices, and it has enjoyable, if not stellar, sound quality.
What's not to like: It's currently significantly more expensive than the similar performing latest-gen Echo.
Who should buy it: Fans of verticality? If you like the older cylindrical shape of Echos past, the Echo Plus might be worth considering. But unless you find the older Echo on deep discount as it's phased out, you're better off with the newest Echo.
Echo (2nd Generation) Plus Subwoofer
What's new: This three-part bundle has a subwoofer and two previous-generation Echos. You might still be able to find this package, but it's on its way out. That's fine though, because you can also pair the subwoofer (which costs $130 as a stand-alone device) with the Studio and the latest generation Echos.
What's to like: The two-satellites-and-a-subwoofer system is a little old school, but there's a reason audiophiles love this kind of setup. The subwoofer makes the bass deeper and more powerful. And having a pair of satellite speakers allows for superior stereo, which creates the illusion that you can pinpoint a singer or an instrumentalist in the room.
What's not to like: We tested the original bundle when it was introduced. Our testers found the subwoofer system difficult to set up. You had to run through the setup process with each speaker, then again with the subwoofer to achieve full 2.1 integration. Taking three laps through the cumbersome process was tedious. And once it was set up, the subwoofer system wasn't completely bug-free. Our testers noted that the speakers were sometimes slightly out of sync. One speaker would start just a fraction of a second after the other (but in time with the music), or one speaker or the subwoofer would keep playing while the user requested the next song.
Who should buy it: If you have a couple of previous-generation Echos around the house, the subwoofer provides an easy upgrade that will transform them into a better-sounding compact stereo system for $130. But if you're thinking about starting from scratch, a single Echo Studio (above) will sound better and cost less.
Echo Dot (4th Generation)
What's new: The newest Dot really is all new. The old hockey puck shape of the previous-gen Dots gives way to an elegant spherical look that's a shrunken version of the full-sized Echo. With a list price of $50, the Dot remains the cheapest way into the Amazon smart speaker world.
What's to like: Despite its small size and low price, the Dot offers the same smart speaker functionality as its far more expensive brethren. The Dot can also serve as an inexpensive way to add additional smart speakers throughout your home as part of an Alexa-based multiroom system. That allows you to listen to content or ask Alexa to perform smart speaker functions throughout your home. You can even pair an Echo to Bluetooth speaker you already own to give it smart speaker functionality.
What's not to like: The Dot's sound quality still isn't great, but with somewhat stronger bass and more extended trebles it's a little better than the older versions, which sounded like a bad telephone connection. The Dot doesn't play loudly except in a very small room. It may be fine for listening to podcasts, but if you're going to play music you might consider the full-sized Echo.

Who should buy it: If you're looking for a cheap but cool gift, the Dot fits the bill. And if you're not sure about whether you want to invite Alexa into your home, the Dot also provides an inexpensive way to test the smart speaker waters.
Echo Show (2nd Generation)
What's new: Amazon is replacing the Echo Show with a similarly sized new model, the Show 10, which has a motorized screen that pivots to follow you around a room. The Show 10 isn't available yet, so we haven't tested it.
The second-generation Echo Show, which you can still buy, features a 10-inch HD touch screen and a Zigbee smart home hub. It sits near the top of our smart speaker rankings.

What's to like: The sound quality. The second-gen Show features robust bass and smooth trebles. Most of all, it delivers effective imaging, the sense that the instruments and voices extend beyond the speaker's physical enclosure, as though the music is being performed in the same room with you. That's rare among relatively small single-box speakers. (Listen to Pink Floyd's "Dark Side of the Moon" on a decent sound system for a vivid example.) Our testers report that the Show is exceptionally easy to set up—you just follow the directions on the touch screen.
What's not to like: Are you a YouTube addict? If so, you'll need stick to your phone or laptop for those videos. The Show doesn't offer voice commands for the popular video service, which is owned by Google (and sells its own smart speakers). The Show accesses YouTube through a Firefox browser, which means you have to search for videos through the onscreen keyboard. Amazon Prime Video, unsurprisingly, can be accessed through voice commands.
Who should buy it: Anyone with two eyeballs who wants a smart speaker with a screen? The Show sounds really good, and its large touch screen enhances its versatility. It's likely to be discounted when the Show 10 is introduced, and when the price drops the second-gen Show will offer a lot of value for your smart speaker buck.
Echo Show 8
What's new: With its horizontal footprint and slightly smaller 8-inch HD touch screen, the Show 8 is essentially the smaller sibling of the second-generation Show.
What's to like: It offers a lot of device for the money. It's only a few dollars more than the audio-only Echo, and it adds a high quality touch screen.
What's not to like: The sound quality on the Show 8 has flaws—our testers found the treble strident and heard echoes in the all-important midrange. That puts it a step below the better-sounding Echo Show in our ratings. The Show 8 also lacks the Zigbee smart home hub that's found on its larger sibling and on the latest generation Echo.
Who should buy it: A consumer who's either tight on space or cash. The previous-gen Echo Show is likely to be discounted quite heavily once the Show 10 is introduced. (But if you have the room and the money, the larger Show should be a more versatile and potentially more satisfying product.)
Echo Spot
What's new: Nothing. This is a first-generation model that hasn't changed since its introduction in 2017. The Spot is kind of a video version of the Dot, with a round touch screen that's 2.5 inches in diameter.
What's to like: The Spot is compact, cute, and elegant. It's right at home on a nightstand, fulfilling the functions of an alarm clock and then some.
What's not to like: The Spot is a kind of throwback to the less-than-great-sounding speakers of Amazon's past. Our testers gave it lower sound-quality scores than even the entry-level third-generation Dot. In addition, they found the tiny touch screen to be limited in its utility, because a user has to be quite close to read it.
Who should buy it: Unless you're very short on space or totally infatuated with the Spot's shape and size, anyone who wants an Echo with a screen is better off spending money on the Show 8.