When you shop through retailer links on our site, we may earn affiliate commissions. 100% of the fees we collect are used to support our nonprofit mission.
Learn more.
Tooling around in a Smart car is like owning a puppy: Everyone wants to see it, touch it, and ask lots of questions. But not everyone wants to deal with the headaches. With its elevated seating position, amazing maneuverability, and comparatively microscopic dimensions, the 2016 Smart ForTwo should make for an excellent city car. But the harsh ride and jet-blast noise levels will probably drive you crazy. And its 36 mpg overall isn't great compared with cars that boast more room and comfort.
Read our complete Smart ForTwo road test.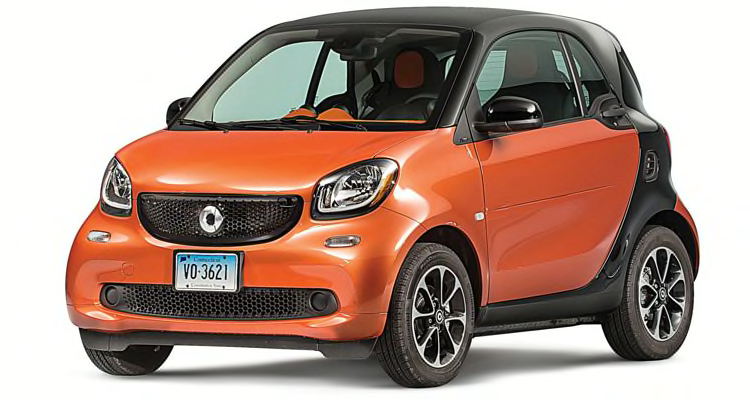 This oddly named car is pitched as the perfect urban vehicle for city folks, but the overall package raises some difficult questions.
The redesigned 2016 Smart ForTwo no longer resembles a Little Tikes Cozy Coupe. But it's still a mediocre, compromise-laden vehicle with a suspension that delivers a stiff, buckboardlike ride, and a tiny engine that hesitates from a standstill.
In its favor, the two-seat Smart is a snap to park. It has one of the tightest turning circles we've ever measured.
At higher speeds, the Smart doesn't instill a whole lot of handling confidence. In corners, the 2016 Smart ForTwo displays more willingness to change directions than its clumsy predecessor. But its tall and narrow stance magnifies the feeling that the car's body is listing more than it actually is.
The Smart's 89-hp, 0.9-liter turbocharged three-cylinder engine is mated to a six-speed automatic transmission with the innards of a manual gearbox. It hesitates initially, and delivers a pokey 11.2-second 0-60 mph jog. There's enough punch to get around town and keep up on the highway, but once you get up to speed, there isn't much oomph left over for passing other cars and trucks. And the engine idle that shudders through the floor and seat is reminiscent of an old combine tractor.
At just 8.7 gallons, the fuel tank is puny, but its 36 mpg overall gives the Smart a cruising range of more than 300 miles. Those fill ups are pricey because the engine requires premium fuel.
You wouldn't want to venture that far in the Smart anyway. The real deal breaker is the brutal ride. Bumps slam hard through the stiff suspension, and every uneven nuance of road texture tattoos your backside. Thanks to its short wheelbase, the Smart feels as if it's a hobby horse, rocking from bump to bump.
Smart saved its most creative engineering for the inside of the ForTwo. Whimsical and distinctive, the funky cabin is a crazy-quilt of colors, surfaces, and textures. The climate-control vents look like giant bug eyes. The tachometer—oddly mounted on the dash to the driver's left—appears as if growing on a stalk. The fabric trim covering our test car's doors and dashboard was an orange color reminiscent of a Sunkist soda can.
Getting into the 2016 Smart ForTwo is a breeze. It seems like the entire side of the Smart opens to let you in, with wide, tall doors revealing chair-height seats that don't require ducking to drop into.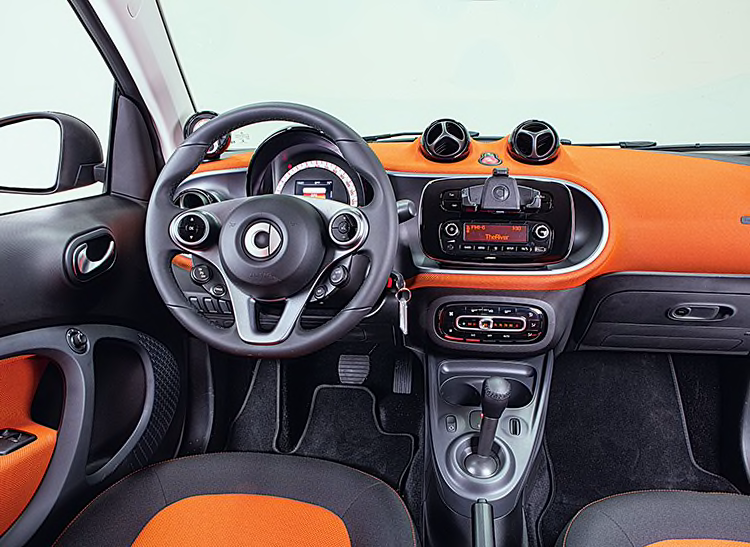 The interior has several design flaws. Adjusting the automatic climate control involves sliding a tiny magnifying lens atop the temperature gauge. But the numbers are actually easier to read without it. The big front and side windows make it feel like you can see everything around you, but the thick roof pillars create some big blind spots.
Also, a city-focused car like the 2016 Smart ForTwo should be available with such safety features as forward-collision warning or a low-speed automatic braking system—but you can't get either. And while the Smart encourages you to squeeze into the last inch of a parallel parking spot, a rear-view camera would be helpful but isn't available.
The wee 2016 Smart ForTwo doesn't excel in most of its proposed urban duties. And no amount of wacky accessories and cheery furnishings can compensate for its shortcomings.