When you shop through retailer links on our site, we may earn affiliate commissions. 100% of the fees we collect are used to support our nonprofit mission.
Learn more.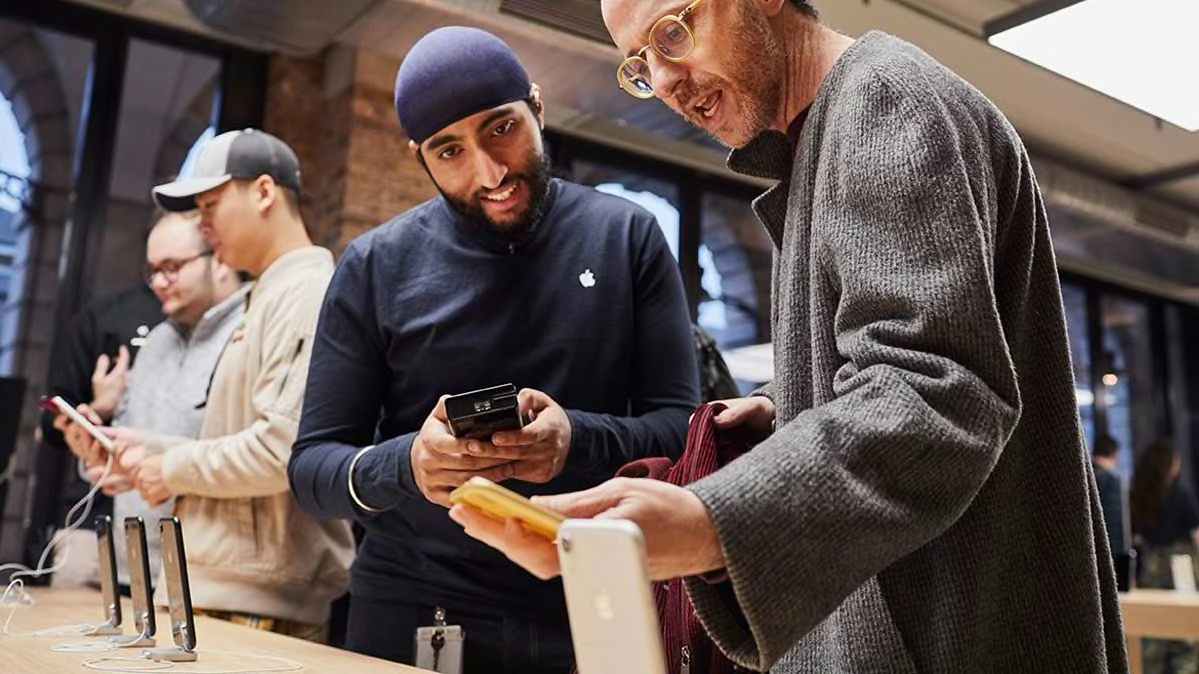 It's notoriously hard to catch a price break on anything Apple. From MacBooks to iPhones, the stuff hardly ever seems to go on sale—until Black Friday.
But at this time of year, Best Buy and other retailers do mark down iPhones, iPads, and laptops in sales that stretch through Black Friday weekend. Most of the deals outlined below aren't for the latest version of a product—you'll find discounts on last year's Apple Watch but not this year's—but these are high-quality devices that continue to rank high in our ratings.
Want even more Apple deals? Here are two more suggestions. For iPhones, check out deals being offered by cellular carriers—but be sure to read the fine print. You may see prices promoted that you can get only if you're trading in an older phone and/or activating a new line.
Second, consider refurbished products. Apple sells refurbished items direct to consumers, or you can go through a retailer such as Gazelle.com, which is having a sitewide 10 percent off sale all Black Friday weekend, along with 25 percent discounts on refurbished iPhone X smartphones and 30 percent discounts on select MacBook Pro laptops.
iPhone Deals
iPhone 6S Plus, $299 at Walmart
Walmart will have the three-year-old iPhone 6s Plus at this sale price (about $100 less than you'd normally find it) beginning the day before Thanksgiving, online, at 10 p.m. ET. If you prefer to shop in-store, the sale price will kick off at 6 p.m. local time on Thanksgiving Day. Think through how you plan to use the phone: If your needs are minimal, like sending text messages, using turn-by-turn navigation apps, or, yes, making phone calls, a three-year-old iPhone has more than enough power to spare. It also runs iOS 12, the latest version of Apple's software that powers the iPhone and iPad. The camera is no longer best in class, but it's still more than adequate for Snapchatting. If you're not wedded to the idea of having a newer phone, this may be a good deal.
iPhone X, up to $200 off at Best Buy (with activation)
The iPhone X is a year old, but saving between $50 and $200 could make it an attractive option. To get this deal, which is live now, you may need to trade in your old smartphone. As you might expect, the iPhone X did very well in our ratings last year, with our testers calling out only minor issues, like the lack of a memory card slot. Today there are higher-scoring smartphones (including the newer iPhone XS, iPhone XR, and Samsung Galaxy Note 9), but the iPhone X is still one of the best phones you can buy.
iPad Deals
iPad (32GB, WiFi-only), $249 at Jet.com, Walmart, and Target
This deal is available at three retailers (Jet.com is owned by Walmart, if you're keeping count at home), and you're saving about $80 compared with the regular price. The Jet.com deal goes live at 10:15 p.m. ET on the day before Thanksgiving, and the Walmart deal goes live online at that same time and in-store on Thanksgiving Day at 6 p.m. local time. Target's deal goes live at 5 p.m. on Thanksgiving. The deal covers the entry-level iPad (the one simply called "iPad"), which earlier this year gained the ability to use Apple's bespoke stylus, the Apple Pencil. The stylus is sold separately for $100. This iPad is among the highest-rated tablets in our ratings, bested by only a handful of tablets from Samsung and Apple's own iPad Pro series. Our testers had only minor quibbles, including the lack of dedicated profiles for children and the lack of a memory card reader. You might find the 32GB of storage to be on the small side if you plan on storing lots of apps, photos, and videos. If so, the use of a cloud storage solution like iCloud could make things easier for you.
iPad Pro (10.5 inches), save up to $150 at Best Buy
This deal from Best Buy goes lives at 5 p.m. on Thanksgiving Day, both in-store and online. It applies to previous-generation iPad Pro models. Best Buy hasn't yet said which models the deal applies to, but the entry-level one (64GB, WiFi-only) typically retails for $650. Like most Apple tablets, this model did quite well in our ratings, with our testers finding no major issues other than the lack of dedicated children's profiles and the lack of a built-in memory card reader. Compared with the non-Pro iPad, these models have slightly bigger and better displays and a physical connector to attach keyboards.
iPad Mini 4 (128GB, Wifi), $250 at Target
This deal goes live at Target at 5 p.m. on Thanksgiving Day. And it is a deal because Apple still charges $400 for the aging iPad Mini 4, which came out in 2015. But if you're in the market for a small tablet, this one is hard to beat, with our testers really only finding fault with the lack of a built-in memory card reader. The deal is on the capacious 128GB version, so it's unlikely that you'd need to heavily rely on cloud storage.
Laptop Deals
13-inch MacBook Air, $800 at Best Buy
You're saving about $200 with this deal from Best Buy, which goes live Thanksgiving Day at 5 p.m. (in-store and online). As we've mentioned in other Black Friday articles, this is not the brand-new MacBook Air that's just hitting retail stores now, but it's still a good computer. With an Intel Core i5 processor, 8GB of memory, and 128GB of solid state storage, it has more than enough juice to power you through everyday tasks like browsing the web or editing documents with apps like Microsoft Office and Google Docs. Our testers gave great marks to this laptop, though its sub-Full HD display is no longer particularly impressive.
Best Buy will also have older models of the MacBook Pro at up to $250 off the regular price, but we don't know yet which models are included. The entry-level model of this laptop starts at $1,300, so the sale could bring the price down to just more than $1,000. This model does not have the Touch Bar—the strip of glass the replaces the row of F1, F2, etc. keys—but we didn't find this to be a crucial addition to the MacBook Pro anyway.
More Apple Deals
Apple Watch
We've seen at least two retailers, Target and Best Buy, advertising the GPS-only version of 2017's Apple Watch Series 3—the one without its own cellular connection—for around $250 for Black Friday. That's down from the $280 you'd normally pay for it. (For the sake of comparison, the new Apple Watch Series 4 starts at $399.) The watch was highly rated by CR and a good value at full retail. The battery life of about 18 hours isn't great, however.
HomePod smart speaker, $250 at Best Buy
Yet another deal from Best Buy is the Apple HomePod for $250, a full $100 off the regular price on a highly rated smart speaker. A quick "Hey Siri, play Bob Dylan" will have you listening to songs such as "Like a Rolling Stone," "Tangled Up in Blue," and "The Times They Are A-Changin'." It can also be used to control select connected devices, like lights, thermostats, and security cameras. Our testers were impressed with the HomePod, though it lacks the versatility of speakers that tap into the Amazon Alexa or Google Assistant ecosystem of apps (or skills), streaming services, and smart home products.
AirPods, $149 at eBay
You'll save about $10 with this AirPods deal, which is available right now at eBay. Our testers didn't give Apple's true wireless headphones high marks, noting merely acceptable sound quality. But they do function as a microphone for taking calls and can easily pair with your other Apple devices (such as a MacBook laptop) over Bluetooth.