When you shop through retailer links on our site, we may earn affiliate commissions. 100% of the fees we collect are used to support our nonprofit mission.
Learn more.
Phone makers Huawei and Asus have been doing a pretty good job of introducing relatively affordable models with features and design cues based on premium-priced smartphones from Apple, Samsung and other more-established players. But at CES 2016, the big electronics show, both companies have introduced models with innovations that may signal their ascendance from technology implementers to innovation leaders.

Huawei Mate 8
Huawei's Mate 8 smartphone is a big smartphone, measuring 6.19 inches x 3.17 inches x 0.31 inches. It's about the same height and width of an iPhone 6 Plus, though a little thicker. But its dazzling 6-inch 1080 x 1920 HD is a full half inch bigger and comes extremely close to the edges of the phone, which gives it an impressively sleek appearance. The rear edges of the phone's sleek, aluminum unibody case are slightly curved, which makes this whopper relatively comfortable to grip.
The phone is not slated currently slated for the U.S., but it—or one just like it—should reach our shores before year's end.
The Mate 8 comes with a 16-megapixel camera with an optical image stabilizer (OIS). Phones in our tests with OIS tend to take better still pictures under lowlight or unsteady conditions. The selfie camera has 8 megapixels of resolution. But some camera features seem, well, knuckleheaded. You can edit still-pictures and videos by pressing your knuckles against the display: One knuckle for capturing and croping still images; two knuckles for cropping videos. Thankfully, you can still edit media captured with the camera with other conventional smartphone tools and menu options.
Huawei says the phone's 4000 mAh battery will keep the Mate 8 working for up to two days between charges. And when the battery does die you can bring it back to 60 percent capacity in about 30 minutes using the included 9-Volt USB charger, which Huwei says is sufficient for a full day's work.
The phone has a 2.3 GHz octo-core processor, which Huawei says contributes to the phone's energy efficiency. Plus, it says it incorporates a six-layer thermal mechanics technology to keep the phone from running hot when its processors are cranking.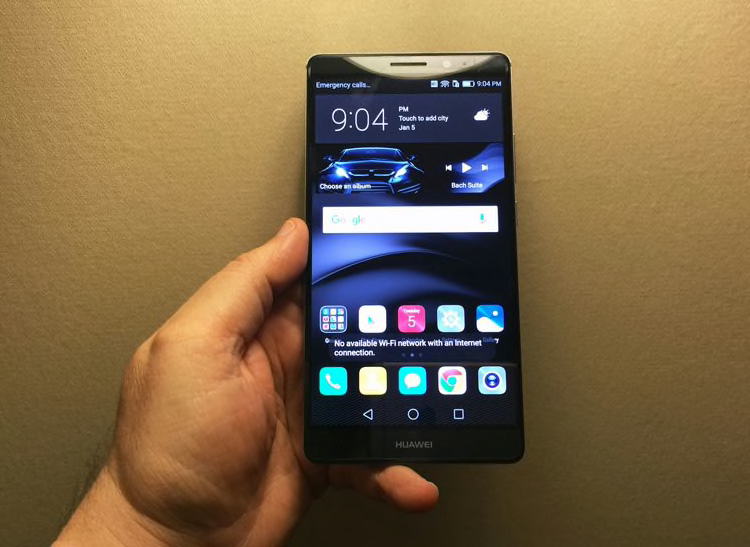 The Mate 8 comes with the radios and other hardware necessary for handling the voice and high-speed LTE data services of various cell providers. It also includes dual SIM-card slots that allow you to add a second phone account. This includes support for cellular data connections for e-mail, Web browsing, and other Internet-dependent functions from two different providers. Alas, to install the secondary SIM card you have to remove the phone's microSD memory card.
One cool thing about traveling abroad with the Mate 8: It automatically inserts the correct international dialing prefix of your home country.
The Mate 8 should also sound good wherever you take it, at least as a speakerphone. The phone's 120-degree microphone has a 3-meter range and employs a proprietary noise-suppression technology to minimize background noise.
On the security side, the Mate 8 has a fingerprint scanner that can capture the unique ridges of you fingertip with the highest level of detail (level 3)—at least on an Android phone, according to Huawei. But it's in the back of the phone, under the camera, which we found isn't the most convenient place for frequently used controls. You can use the fingerprint scanner to answer the phone, too. Again, not as convenient as the gesture controls on flagship Samsung and LG phones, which can accept a call when you put the phone to your ear. Huwwei says its built-in internal and external drive encryption is more secure than the third-party schemes available on Android phones.
Asus ZenFone Zoom
When it comes to photographing distant objects, optical zoom lenses generally produce better images than digital-zoom schemes, which only magnify what may not have been all that great in the first place. Too bad bulky, telescoping optical zoom lenses have been a poor fit smartphones, which strive to be slim for for portability and comfort.
Not anymore. Asus' ZenFone Zoom comes with a 3x optical-zoom by 28-84mm focal length that seems to have solved the problems of telescoping bulk. The lenses do move, but only on the inside of the phone, which is about 0.5 around the camera and about 0.2 inches along the edges. Instead of projecting outward, as most zoom lenses do, the lenses of this Zenfone move vertically, like a periscope, within the phone.
Overall, the phone is attractive, with slim metallic unibody with a removable rear leather panel for accessing the removable battery, swapping SIM cards, and upgrading storage via the mico SD memory card slot (up to 128 GB).
Asus claims the Zoom's laser auto-focus snap a picture with complete clarity in just 0.03 seconds. The phone also has dedicated buttons for still shots, zoom, and video recording that can save time by overriding screen locks.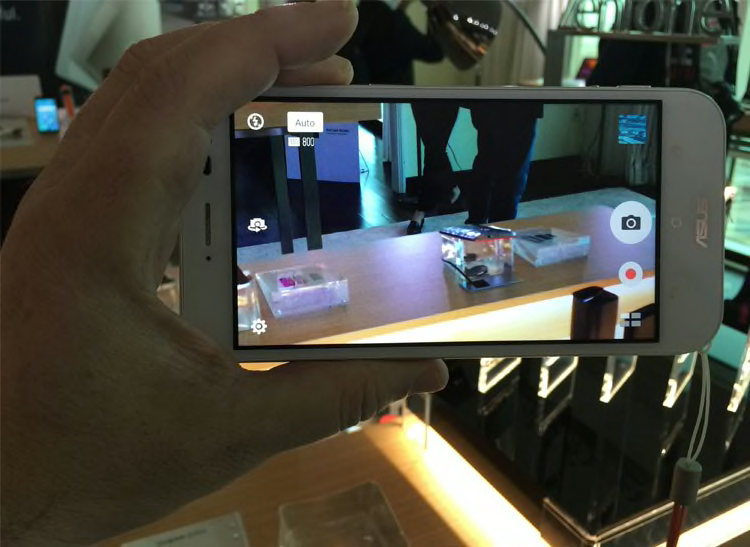 The camera's image sensor is 13 megapixels, which puts it within the range of other smartphones in our Ratings with high-performing cameras. Asus claims its Super Resolution mode captures and combines four 13-megapixel photos to create a single image with a resolution equivalent up to 52 megapixels. Our imaging experts will be eager to check out this claim in our labs.
The ZenFone Zoom has a 5.5-inch touchscreen that offers a more-than-decent resolution of 403 pixels per inch, and its protected by Corning's Gorilla Glass 4. The phone's removable 3000mAh battery can deliver a full day's work on a single charge, according to Asus, and a completely drained battery can be replenished to 60 percent capacity in about 40 minutes.
Its powered by an Intel Atom™ Z3590 quad-cores processor and 4GB of RAM—which comes in handy when you're juggling multiple apps at once.
The ZenFone Zoom will launch with Android 5.1 (Lollipop). An update to Android 6.0 (Marshmallow) will be available after launch. U.S. preorders for the $399 64GB model start Jan. 15 and will ship in February. There will also be a 128GB version for an undisclosed price.
Update: The headline of this story has been modified; the previous headline implied that both companies were based in China; Asus manufactures in China, and is based in Taiwan.