When you shop through retailer links on our site, we may earn affiliate commissions. 100% of the fees we collect are used to support our nonprofit mission.
Learn more.
I love using my phone not only to listen to music but also to create my own music using a variety of inexpensive, easy-to-use apps.
These tools might not be quite as powerful as full-blown music-production software running on a desktop or laptop computer. But unless you're recording an album for major label release, today's music apps should have more than enough capability.
And a smartphone with the right apps certainly beats a conventional setup when it comes to affordability and portability. Some of the very best apps are free, and most of the rest are cheap. Recording on your phone allows you to work on a music project almost anywhere—and it's convenient to take your pocket studio along when you head out to meet your musical collaborators.
Pick the Right Music-Creation App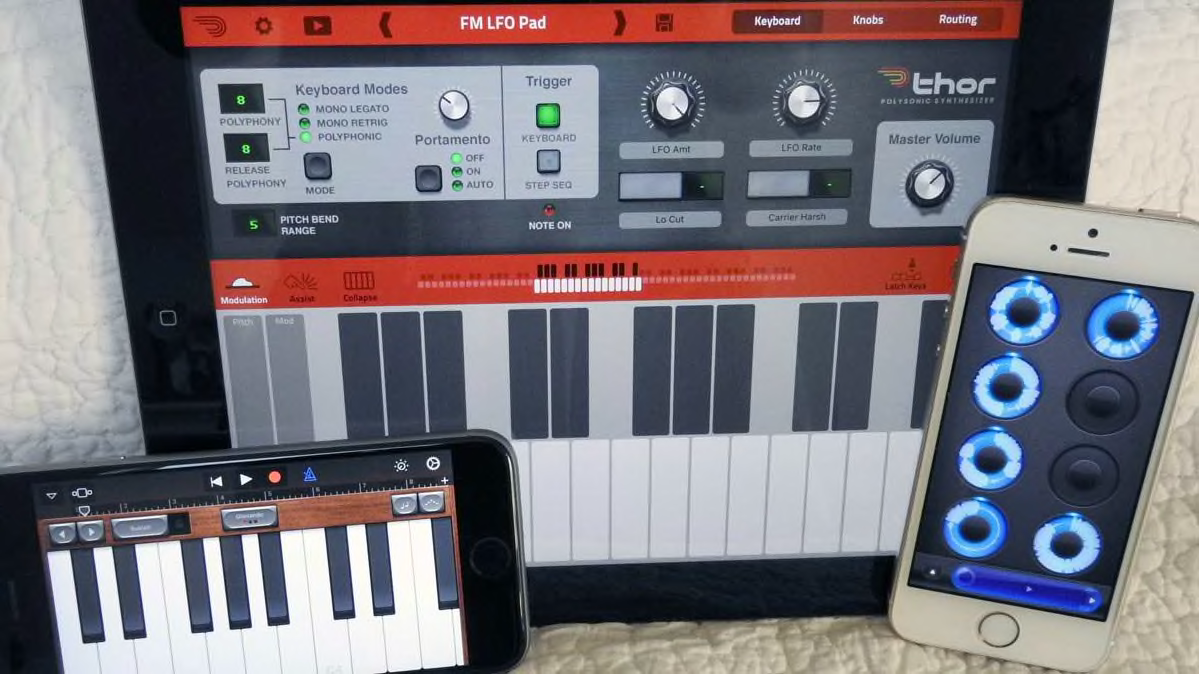 I've been recording my own music since the mid-1980s, when I bought an $800 Tascam PortaOne four-track deck that recorded onto a standard audio cassette, but I actually like my phone better than any other system I've owned.
Compared to my original dinosaur deck, my phone is not only cheaper but also more flexible, and the end result—all digital—is vastly higher in quality. I first wrote about this six years ago, and since that time it has only gotten easier to create music using mobile devices.
On the iPhone, the best place for a musician to start is with GarageBand, an app that comes installed free on new phones—it's an app I use all the time. GarageBand isn't available for Android devices, but that platform does have its own good music-creation apps.
GarageBand is a great way to familiarize yourself with the basics of music creation. It works a bit like a real studio, with each individual instrument assigned to its own "channel," where it can be tweaked before all the tracks are ultimately combined into a song.
To start, you'll probably want to experiment with the built-in music synthesizer that does a great job mimicking instruments such as drums, bass, piano, and guitar as well as exotic options like an Erhu or Chinese drums.
If you're not much of a musician, the smart instrument feature allows you to produce sophisticated sounds, like strumming patterns on a guitar or simple riffs on a piano. (I'll discuss the details of working with live recordings below.)
Once you're happy with an individual track, you can shift to the digital audio workstation (DAW) portion of the app, where you actually build the song. You might start by laying down a drum track, followed by a bass, then layer in rhythm and lead guitars, and finish it off with lead and backing vocals. The app's built-in click track—a kind of digital metronome—helps keep everything in sync.
GarageBand will allow you to come up with something that sounds polished in less than an hour. But if you're more skilled and ambitious, GarageBand can keep up. You can use the app's built-in loops or import your own, which works well with a DJ-inspired Live Loops interface.
You can also "bounce" tracks like a 1970s rock producer. If you're working on your own version of Queen's "Bohemian Rhapsody" with 20 separate harmony parts, you can consolidate them onto a single track, freeing up space on the other 19 tracks.
Another app that's extremely useful is Audiobus, which allows you to chain various apps together. You can begin with a freestanding synthesizer app, tweak the tone with a separate effects app, and ultimately add that synth track to a song in GarageBand or another DAW app.
There are quite a few other apps on the market that are similar to GarageBand. Here are a few to check out: FL Studio (Android and iOS), a mobile DAW that functions much like GarageBand; Loopy HD (iOS), a live looping app; Propellerhead Figure (iOS), a very simple music-creation tool; and Native Instruments iMaschine 2 (iOS), which has a 16-pad, drum-machine-like interface for creating beats and other sounds.
Add Live Instruments With Digital Interfaces and MIDI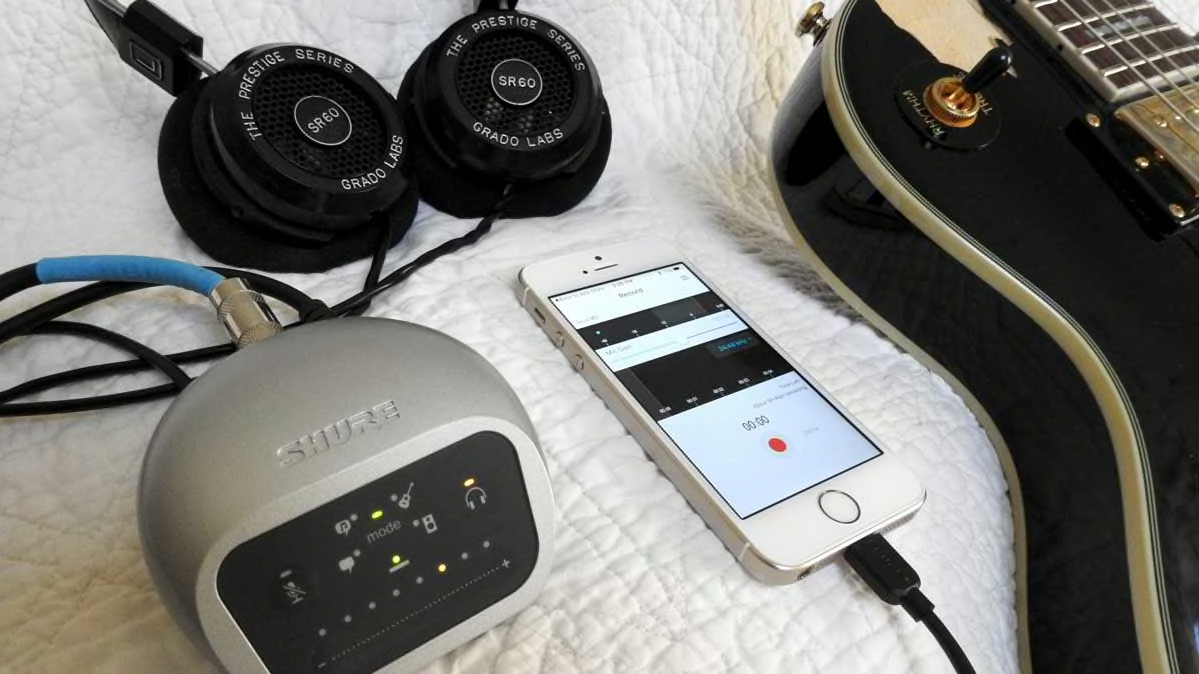 Although the digital instruments on a smartphone are quite powerful, many musicians, including me, want to use traditional instruments.
A cheap, easy, and lo-fi way of doing this is with Apple's own Music Memos app, which allows you to record music using the phone's internal mic, then drop the resulting track into GarageBand.
If you want higher quality audio, a step up is to add a digital audio interface (DAI), like Shure's MVi (compatible with all iOS devices), an adapter that lets you plug an instrument or a microphone directly into your phone.
An electric instrument, like a guitar or a keyboard, can be plugged straight into the DAI; acoustic instruments will need a mic. These can range from a rugged, stage-ready model like a Shure SM57 for $100 to exotic Neumann condenser mics that cost as much as a used car.
Digital audio interfaces also run the gamut in terms of prices, and they vary in their number of inputs, their flexibility, and their ability to power sophisticated condenser microphones.
Sometimes it's not the sound of a traditional instrument, but the feel that a musician's after. That's why MIDI keyboards, controllers and other devices are also popular among home recordists. A device like the IK Multimedia iRig MIDI 2 allows you to hook up an actual MIDI keyboard to your phone. You can then translate the result into a track in GarageBand or another music app.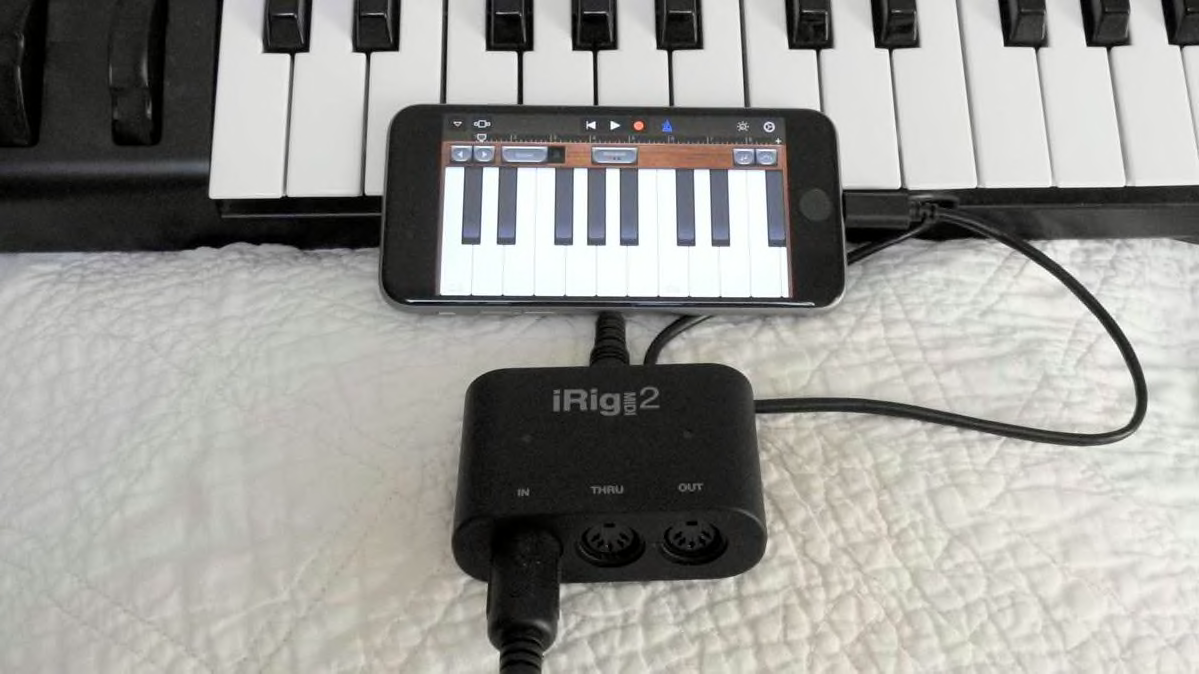 Monitor Your Sessions With the Right Headphones
When you're recording or creating music with your iPhone, you'll want a good pair of headphones. If you think you might record vocals or acoustic instruments with a mic, you'll want to opt for a pair of headphones with a closed design, which will isolate the audio and keep it from being picked up by your microphone.
(Remember, if you have a new Apple iPhone 7, you'll either need wireless headphones, or a way to plug your wired headphones into the phone's lightning port.)
As you delve more deeply into music recording, you'll find all sorts of accessories—from microphone wind screens to acoustic room treatments—that can help improve your end product.
To shop for more specialized recording gear, you might venture outside the electronics store. Music superstores like Guitar Center or Sam Ash, and online outlets like Musician's Friend and Sweetwater Sound, offer a wider choice of sophisticated accessories, all designed to help you make your phone work even more like a portable version of The Record Plant.