When you shop through retailer links on our site, we may earn affiliate commissions. 100% of the fees we collect are used to support our nonprofit mission.
Learn more.
Smartphone shoppers looking for a deal often watch for the introduction of hot new models, hoping they'll cause the prices on existing phones to dive. But when do prices really start to fall—in the weeks before a new phone is announced, when it reaches stores, or even later?
Erin Scruggs, a 28-year-old marketing professional in Atlanta and an iPhone 6 owner, has been pondering that question, with Apple expected to announce new iPhones on Sept. 12 for rollout in early fall.
"I'm cheap and hate spending money on technology," Scruggs says. "So I'm hoping when the new iPhone comes out, the price of older iPhones will drop."
An analysis of retail data by Gap Intelligence, which tracks in-store and online pricing at major retailers across 22 metropolitan regions each week, indicates that price cuts vary by phone maker.
Essentially, says Gap analyst Scott Peterson, there's Apple and then there's everyone else.
"It's a testament to Apple's identity and aspirational positioning in the market that they are able to maintain full prices" on flagship iPhone models until the next model is announced, Peterson says. Then prices on existing phones tend to drop steeply, and it's easy for consumers to find a great deal.
Gap Intelligence data shows that in 2016 the price of the iPhone 6s remained slightly above $800 through August, in the lead-up to Apple's announcement of the iPhone 7 last September.
Then iPhone 6s prices quickly plunged to $700; the new iPhone 7 models reached consumers Sept. 16. Shoppers who held out longer saw prices for the iPhone 6s decline by an additional $50 over the following two months.
Prices followed a similar pattern the year before, when iPhone 6 prices remained high until the iPhone 6s was unveiled in early September 2015. The price of the iPhone 6 then dropped by about $60.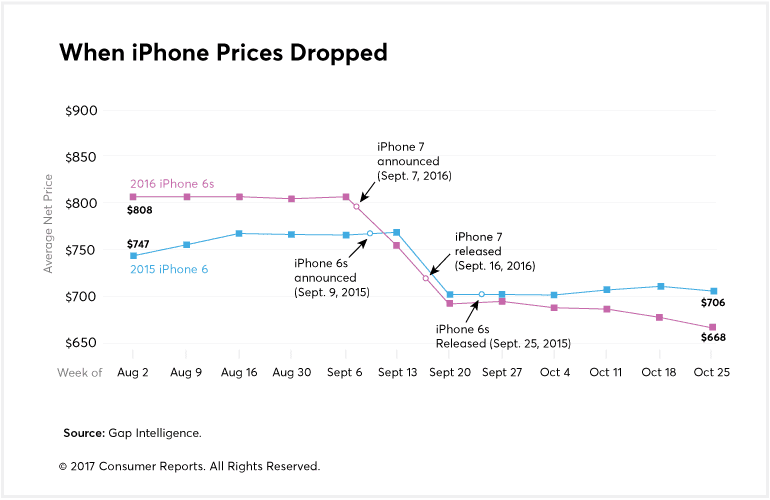 Newest iPhone a Wild Card
If the pattern holds this year, the starting price of $650 for the iPhone 7 could quickly drop to about $550, Peterson says, assuming new phones are announced next week, as expected. (Analysts anticipate at least three new phones being introduced: a freshly designed flagship phone and incrementally upgraded versions of the existing iPhone 7 and 7 Plus.)
One new wrinkle, Peterson says, is that the new phone is expected to represent a big technological upgrade from the iPhone 7, with a minimal bezel, facial recognition, and—most critically—an OLED screen that has been linked to rumors of production delays.
"That's one reason why the price could be spectacularly high, because one way Apple can guarantee that a million people don't want to buy this thing is they make it so expensive," he says. "That'll be like a demand controller."
Analysts have speculated that the newest iPhone's price could top $1,000.
That would make the phone unappealing to consumers such as Noor Kapur, a 24-year-old from Lawrenceville, Ga., who replaced her old Samsung Note 4 with an iPhone 7 Plus this summer. Kapur says she wanted to give Apple a try after years of being an Android user, but didn't need the bells and whistles of the newest model.
"I don't really do anything besides Facebook, text, and make calls," she says. So, she says, there was little reason to wait—or pay—for the newest introduction.
Apple declined to comment on pricing strategy or details of its upcoming phones.
Samsung, the second most popular phone brand in the U.S., normally starts discounting its Galaxy S models earlier than Apple. Price cuts can come weeks and even months before the announcement of a new flagship phone.
In 2017, the average prices of the company's Galaxy S7 and S7 Edge models started to decline gradually three months prior to the April release of the new Galaxy S8 and Galaxy S8+.
Right now, Samsung is selling its Galaxy phones starting at $725 for the S8 and $825 for the S8+. But the company offers up to $300 off for certain trade-ins, and carriers have their own deals. Samsung did not immediately respond to a request for comment on pricing.
Though consumers can sometimes wait for prices to drop before they buy a phone, that's not always possible. Peterson has advice on how to get a good deal any time of year.
Check Big-Box Stores
"Costco's always a strong place to buy iPhones because it gives Costco Cash (Cards)," Peterson says. Target often provides gift cards to smartphone buyers, he says. Additionally, buying a phone from such retailers allows consumers to take advantage of loyalty programs such as Target's Red Card and Best Buy's "My Best Buy" program.
And these retailers sometimes offer special deals on phones. Earlier this year, T-Mobile briefly ran Costco-exclusive instant savings deals on the Apple iPhone 7 and 7 Plus, along with the Samsung Galaxy S8 and S8+.
Look for Bundled Deals
Retailers and electronics makers often bundle their smartphones with other products to entice consumers. For instance, Samsung has offered a free Gear 360 camera or other products with orders of its new Galaxy Note8.
Retailers have also bundled the $130 Google Home smart speaker with the company's Pixel and Pixel XL smartphones.
And Apple often bundles iPhones with other products, such as iPads, discounted Apple Watches, or additional phones to provide savings to consumers without appearing to cut prices.
Go Prepaid
For the absolute best deal on an iPhone, consumers should go prepaid.
"If everybody in the high-end segment already has an iPhone, how do they expand the market?" Peterson asks. The answer, he says, is that Apple makes many older phones available as prepaid phones, in which consumers pay the entire cost of the hardware up front, then pay talk, text, and data access monthly, without a contract.
You can currently find a prepaid iPhone SE for $159, and prepaid iPhone 6 phones as low as $199.
"I would fully expect the iPhone 7 around this same time next year to be that really low price flagship model for the prepaid carriers," Peterson says.