When you shop through retailer links on our site, we may earn affiliate commissions. 100% of the fees we collect are used to support our nonprofit mission.
Learn more.
Apple today announced the iPhone 7 and iPhone 7 Plus, which build on features seen in the iPhone 6s phones already on the market. Rumors in advance of the announcement were largely confirmed: The phone strongly resembles the iPhone 6 generation with an aluminum-and-glass construction. It dispatches with the 3.5-millimeter audio jack that's been ubiquitous in audio equipment for half a century. And it carries a water-resistance claim.
Apple made its announcements at an event at the Bill Graham Civic Auditorium in San Francisco.
The company also briefly discussed iOS 10, which will be available on September 13. (We previewed the mobile operating system in detail in June when it was introduced at Apple's World Wide Developers Conference.) The new Home app will let users set up and control compatible devices; partners include security, garage door, lighting, locks—a total of about 100 products by the end of the year, according to CEO Tim Cook.
Smartphone introductions come with a dizzying array of specs, along with promises of long battery life, stellar photography, and amazing graphics performance. We'll have objective evaluations once we buy the phones at retail—as we do with all products—and get them into our labs.
Key iPhone 7 Features
Goodbye headphone jack. The most frequently repeated rumor about the new phones was proven true: They lack a 3.5-mm headphone jack. That threatens to make oodles of headphones, from nearly disposable models to pricey and beloved ones, less convenient for iPhone fans to use. The new phones will come with earbuds that plug into the iPhone's Lightning port, along with a 3.5 mm-to-Lightning adapter.
But wireless headphones are extra. Apple also introduced in-ear headphones with no cord between them called AirPods; these will cost $159 when they launch in late October. AirPods have IR sensors that trigger the earbuds to play once they're in your ear, and you can use Siri or tapped gestures to control the devices. The company says the earbuds will play for five hours on a charge. And a small carrying case integrates a battery with up to 24 hours of extra charge time; both the case and AirPods can be charged simultaneously through a Lightning connector.
The company said that the AirPods are powered with a new, proprietary W1 chip. Details were few, but Apple says you won't need to go into any menus to choose which Apple device you want to pair the earbuds with.
Two cameras, two perspectives. The iPhone 7 Plus, the larger of the phones, will have dual rear-facing cameras. This lets the Phone offer a 2X optical zoom option (and up to 10x with digital manipulation). We've seen a similar two-camera approach on the LG G5, but this phone has a further digital trick. In addition to zoom, it can allow for a shallow depth-of-field effect thanks to some more digital manipulation.
More details: Both phones have optical image stabilizer—a feature found only the Plus version of the iPhone 6s. The cameras produce wide color gamut images, Live Photos have received tweaks, and you can now capture and access RAW photo files.
In addition, the front-facing FaceTime HD camera is a 7-megapixel camera, a boost from the 5-megapixel cameras in the previous model.
Display claims. Smartphone screens probably can't get all that much better, but Apple did have some announcements to make here. The screen is 25 percent brighter, according to the company. It displays a wider color gamut, something also being discussed in high-end televisions.
Reworked Touch ID. It's impossible to perform any task of consequence on an iPhone without pushing Touch ID/Home button, and now that critical control is a force-sensitive, solid-state device powered by the company's Taptic engine. There's no longer a button but rather a pressure-sensitive surface. This, Apple says, enables users to handle more more functions from that single control, such as replying to a message without abandoning the task in which you're currently engaged.
Water-resistance. You can debate the merits of wireless charging and Lightning ports, but there's really no downside to water-resistance in the age of very expensive smarphones that go everywhere, from poolside to kitchen counters. The new phones conform to the IP67 manufacturing standard, and should be both dust-resistant and capable of surviving a 30-minute dunk in 5 feet of water. (That's already a nice selling point for most Samsung's top-end phones, and a pain point for owners of the Samsung Galaxy S7 Active.)
Faster performance. Processors are always getting faster, on curves so steep it can be hard to determine how much it matters. Having said that, the new A10 Fusion is a quad-core chip that incorporates two high-performance chips (which Apple claims is 40 percent faster than the A9 found in the iPhone 6s), and two high-efficiency cores, which consume only 20 percent of the power of the faster processors. That should also boost battery life. According to the company, the battery life will be much improved over other iPhones'—in our experience, battery life is impossible even to estimate until we get a smartphone into our labs.
More storage. Up until now, base-level iPhones have come with less storage capacity than many top-shelf Android models, which fit Apple's theory that its customers should just store nearly everything in the cloud. The new iPhone 7 and iPhone 7 Plus will be available in 32GB, 128GB, and 256GB storage capacities—but the jet black models won't be available in the smallest sizes. Gone are the 16GB options of previous models.
Pricing and timing. Preorders begin on September 9, shipping on the 16th. The phones come in two black finishes, one glossy (called jet-black), one matte. There's silver, gold, and rose gold, as well. The pricing is $649 for the base iPhone 7 model, and $769 for the base iPhone 7 Plus.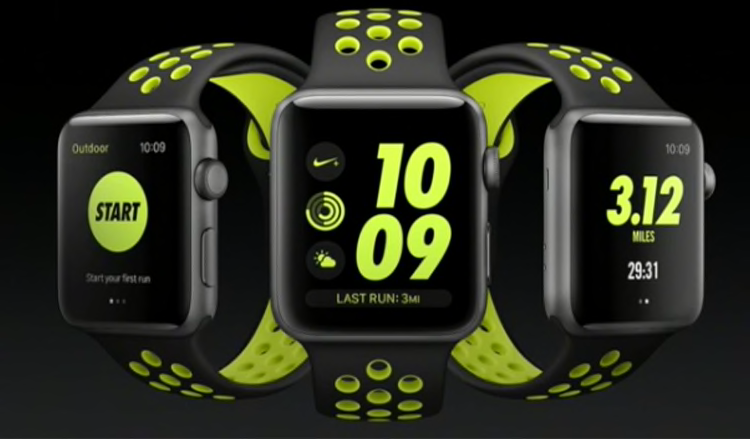 The Watch Reboot
Today, Apple announced the first major update to the Apple Watch, and it looks like the emphasis is on fitness as opposed to productivity, communications, and other phone-like capabilities. The company has a strong incentive to make changes. The Watch has struggled to gain traction since its launch in 2015.
According to just-released data from the IDC Research firm, year-over-year shipments dropped 56.7 percent in the second quarter of 2016, even while the wearables market overall grew, with simpler, cheaper, purely fitness-focused devices continuing to colonize American wrists.
Here's what the company is rolling out in its Apple Watch Series 2.
Swimproof. The Series 2 is rated to 50 meters, said COO Jeff Williams, who presented the new model. One nifty tech trick: The speaker vibrates once the Watch comes out of the pool, to eject any water that's made its way in.
GPS chip. The new Watch has a GPS chip, unlike the original, which makes it far more appealing as a sports watch. This means you can track a run accurately without carrying your phone along. The company showed off a hiking app that shows real-time directions and annotations of a hiking route as you progress—it supposedly will even provide an alert if the hiker strays off-course. And the super-bright screen is meant to be easier to read in the sunlight. (It can hit 1000 nits, which is in top-end TV territory.)
Special watches. There are fashion models built in cooperation with Hermes. There's also a Nike+ version designed for runners, which has built-in social and coaching functions that connect owners to the bigger Nike running community.
WatchOS 3. The new Watch will run on Apple's WatchOS 3, which was showcased at Apple's World Wide Developers Conference in June.
Among other changes, the new OS emphasizes fitness, making it easier to share workout data with family and friends, and letting app developers access the heartrate monitor and gyroscope.
More broadly, the new WatchOS is supposed to make the interface simpler to use. A Dock organizes the user's favorite apps, and apps launch more quickly. And you can use Scribble with a fingertip to write out a message. The most annoying app (to some users) will be the Breathe app, which nags you to have a calming and meditative moments, and the most useful one may be an emergency-call capability.
Pokémon Go. The record-breaking mobile game is coming to the Watch. The best feature for many users will be this: You get credit for a workout if you're walking to hatch an egg.
Pricing and timing. Pre-orders for the Apple Watch Series 2 will begin September 9 and they will ship starting September 16. A ceramic edition is $1,249 and up. The Apple Watch S2 starts at $369, as does the Nike+ model. The original Watch, now called the Series 1, drops to $269 while getting the dual-core processor of the new models.