When you shop through retailer links on our site, we may earn affiliate commissions. 100% of the fees we collect are used to support our nonprofit mission.
Learn more.
At Mobile World Congress 2017 in Barcelona, Spain, LG took the wraps off its latest flagship, the G6 smartphone, which packs a rather large and unusually tall 5.7-inch display into a case that's trim enough to comfortably hold and operate with one hand, yet claims to be tough enough to resist damage from drops, dust, and dunks in water.
The pricing has yet to be announced, but LG says the G6 will be offered by many U.S. cell carriers and providers. There will be only one model, with 32 gigabytes of internal storage, expandable by up to 2 terabytes via optional microSD memory cards.
The G6's display has a screen ratio of 18:9, or 2:1 (vs. the 16:9 ratio of most smartphones and HDTVs). Those elongated proportions, along with an ultrathin bezel, allowed LG to squeeze the display into the case of a smaller-screen phone. Indeed, the G6 measures 5.9 by 2.9 by 0.3 inches—practically the same size as its G5 predecessor, which has a 5.3-inch display.
The G6's all-new glass-backed unibody construction makes the phone look notably sleeker than previous G-series models. The G6, in fact, represents a major course correction from last year's G5, whose modular design promised easy and significant hardware upgrades via user-swappable modules.
LG previewed this impressive new phone for us earlier this week. Here are our first impressions.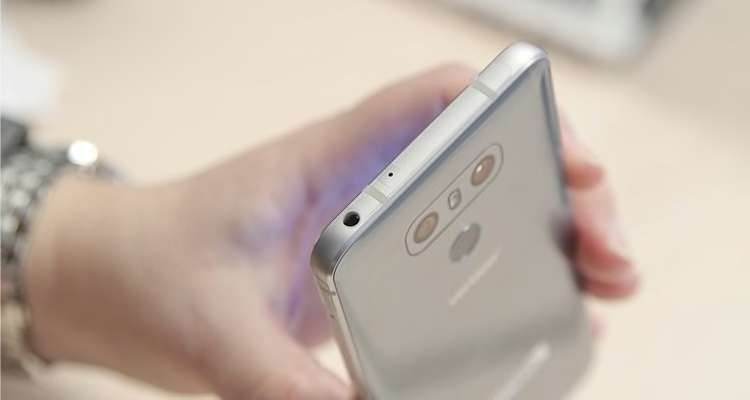 Up Close With the LG G6
Tough construction. The phone is protected front and back by Gorilla Glass 5, which Corning claims will protect your phone from serious harm if dropped from a 1-meter height onto the "real world of streets, sidewalks and parking lots" 80 percent of the time.
Water resistance. LG says the G6 complies with the IP68 manufacturing standard, and will handle immersion in about 5 feet of water for up to 30 minutes—just like Samsung's Galaxy S7 and ill-fated Note7.
Classic headphone jack. Unlike the iPhone 7 models and Moto Z Droid Force, the G6 still has a 3.5mm headphone jack to accommodate the still-popular and affordable headsets many smartphone users enjoy.
Big-screen benefits. Besides increasing screen size without making the phone feel wider in your hand, the display's taller 2:1 screen ratio provides more space to view details of e-mails while in split-screen mode. And when you're using the G6's camera app, there's also room enough for the display to simultaneously split its duties between the viewfinder and a preview of up to four previous photos.
The screen, like other LG smartphone displays, is among the sharpest in the industry, with a resolution of 2880x1440, or 560 pixels per inch. (That's more detail than can probably be picked up by an unaided human eye.)

Wide-angle cameras. Just as on the G5, the G6 has two cameras in the back, one for most shots and the other for wide-angle shots. For the G6, LG gave the sensor of both cameras 13 pixels of resolution—a downshift in resolution from the G5's 16-megapixel main camera, but an improvement from the G5's wide-angle camera, which had only 8 megapixels of resolution.
LG said it licked a G5 issue in which the video image jerked when switching between main and wide-angle cameras. Both cameras shoot at relatively wide angles to cram subjects or scenery into your shots or videos: 71 degrees for the main camera and 125 degrees for the wide-angle camera. The front-facing "selfie" camera shoots wide as well: 100 degrees. This would seem to be helpful for shooting group selfies.
Photo apps and controls. LG added a few nifty tricks to the camera app that leverage its wider screen. Besides splitting the screen between camera viewfinder and photo-gallery previewer, there's a feature called Guide shot that superimposes a translucent image of a photo you select from the gallery over the subject you currently have in the viewfinder. The idea is to have that photo serve as a guide for lining up your next shot. Guide shot could come in handy if you're planning to string several photos together to create a GIF.
To help people share pix of what they're eating across social networks, LG also added a "food" filter to make what's on your plate look more appetizing.

Dueling HDR. The LG G6 is one of the first smartphones to support both Dolby Vision and HDR10, two competing High Dynamic Range (HDR) technologies increasingly found in HDTVs. The technology tries to bring out the details in video scenes where there's a wide range of bright and dark elements. During our preview, LG let us compare a Dolby Vision film clip on an LG V20, which doesn't have that feature, against the G6's presentation of the same clip. The movie presented on the G6 appeared only slightly better, at least to me.
Charging options. The glass unibody design meant the loss of a traditional G-series advantage: A user-replaceable battery. But in return, the company beefed up battery capacity to 3300mAh (from 2800mAh in the G5) and added support for Qualcomm's Quick Charge 3.0 rapid charging standard.
LG says you can bring a near-dead battery to full in about 2 hours using the included charger. The G6 also supports both Qi and PMA wireless charging options, so you don't have to consider compatibility when shopping for a charging pad. However, rapid charging is not available using this method.