When you shop through retailer links on our site, we may earn affiliate commissions. 100% of the fees we collect are used to support our nonprofit mission.
Learn more.
Samsung's latest phablet, the Galaxy Note7, is an advanced smartphone that borrows heavily from a model that's already been on the market for almost 6 months. That's okay because that phone is its sibling, the top-rated Galaxy S7, which is brimming with advanced, high-quality features worth stealing. In fact, that's why Samsung named this phone the Note7 and not the Note6, which would have the logical name for the successor to the Note5.
Note7 features ported over from the S7 include the top-notch 12.2-megapixel camera and its compliance with IP68 manufacturing standard, which means in this case that the Note7 should be able to handle immersion in about 5 feet of water for up to 30 minutes. But the Note7 edges out the S7 with mammoth-sized 5.7-inch display that's better for multitasking, especially when used in conjunction with the phone's S-Pen stylus (which now lets you scribble notes on the phone's screen while under water). The Note7 also adds an iris scanner for unlocking the phone screen with a glance, and a special desktop folder that protects your personal or sensitive info from prying third-party apps or unauthorized eyeballs.
The N7 may be tougher, too, because it's one of the first smartphones to protect its screen with Corning's Gorilla Glass 5, which Corning says can help smartphone screens survive a "1.6-meter, shoulder-height drops onto hard, rough surfaces up to 80 percent of the time."
As you may recall, the Galaxy S7 Active, a hard-bodied version of the S7 sold exclusively by AT&T, flunked our water-resistance tests. Samsung pegged the problem to a flaw in the manufacturing process, which it said was quickly fixed. In any case, we're prepping our pressurized water tank right now to check the phone's water-resistance claims.
Preorders for the Note7, which will be available in black, silver, and blue, begin August 3. In-store availability is August 19. In the meantime, here's a short preview of this talented new phablet, which Samsung showed us last week at its headquarters across from New York City's High Line elevated park.
Key Galaxy Note7 Features
It's svelte. The Note7, which measures 6 inches tall x 2.9 inches wide, is only 0.29 inches thick, easily making it one of the thinnest smartphones on the market—not just among phablets. As with last year's giant Galaxy S6 Edge +, the left and right edges of the display curve away from the viewer.
The curved edges are more subtle than on earlier models, and don't have any special function. But they do help give the Note7 a distinctly refined look. The back of the phone is curved too, away from the palm, which helps this large phone feel comfortable in the hand.
Unlock it with a blink of an eye. Taking a cue from Microsoft's Lumia 950, the Note7 has a novel, nifty iris scanner that will allow users to unlock the phone screen by merely gazing at it. It works like this: When you hold up the front of the phone about two feet from your face, an LED on the top left side of the phone shines an infrared beam at both your eyes, while a special camera on the upper right side of the phone captures the unique patterns in your irises, confirming that it's you.
Samsung says the iris scanner may eventually be used for authorizing app and web purchases, but said that the technology is not quite there yet. Though it worked fine for my colleague in Samsung's well-lit offices, Samsung said that the technology has some weak spots. For instance, it may not work if you're wearing glasses or contacts, or even in dark environments that would cause your pupils to dilate.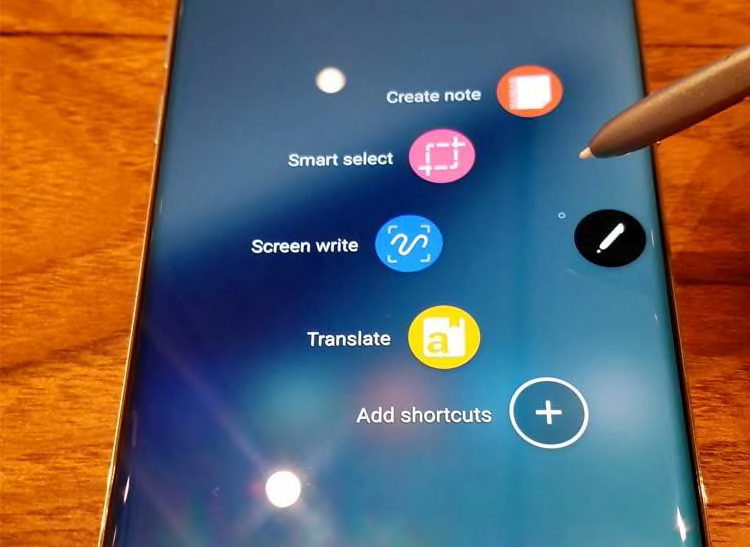 A more skilled S-Pen. Samsung made its S-Pen stylus more sensitive and reduced its point to that of a 0.7mm ballpoint pen for sharper penmanship when scribbling notes and more precision when editing photos and other graphic elements. You can do more with it, too. For instance, the Note7's interface has a new Air Command mode that magnifies whatever part of the screen you hover the pen over. It worked fine in our demo, producing a little magnified square on the screen. This feature, thankfully, is not on by default. You have to activate it using the Air Command Menu that kicks on whenever you pull the S-Pen out of its hole in the bottom of the phone. When you switch to another task, the magnification mode switches off.
The S-Pen can also translate words into another language when you hover it over the word in the document or web page you're reading. You have to pick the language in the settings, and it can only translate one language at a time.
Streaming HDR video. As we said, the display on the Note7 is the same size and has the resolution as the one on last year's Note5. That's excellent because the Note5 display boasts a resolution of 1440 x 2560 (about 500 pixels per inch, or ppi), far more detail than the naked human eye can see. The Note7 display takes things a bit further by being able to present the wider range of bright and dark elements of videos encoded with High Dynamic Range (HDR).
Instant GIFs. With the Note7's Smart Select tool, you'll be able to use the S-Pen to grab any photos or segment of a video—stored locally on the phone or found on the web—and turn it into a 15-second GIF you can share via social networks or email. On-board editing tools will let you further embellish your creation with text and other treatments.
Secure Folder. The Secure Folder on the Note7 will encrypt anything you put in it, such as personal files or the data stored by apps in Secure Folder—including shopping and banking data or your contacts—to prevent third-party apps from accessing them. Using Secure Folder shouldn't impede the operation of those apps or their communication with core phone apps, according to Samsung. For instance, with your contacts encrypted, the on-screen caller ID should work when you get a call, and you should still be able to share a photo via text message.
A bigger battery. Like the recent Samsung models that preceded it, the Note7 comes with a multitude of charging options, supporting both Qi and Powermat wireless charging pads out of the box—as well as quick charging via its own USB Type C charger. But Samsung says you shouldn't need these options very often, thanks to its capacious 3,500mAh battery that should keep the phone humming for more than 40 hours of "mixed" use. (The Note5 has a not-too-shabby 3,000mAh battery that in our tests provided more than 24 hours of talk time.) Samsung also beefed up the number of settings that can be activated automatically or on the fly to stretch battery life even further.
USB Type-C port. The new phone uses a USB Type-C cable that, like the Lightning connector on an iPhone, can be inserted into the phone no matter which way you hold it; there is no "wrong-side up." Other advantages include a potentially larger data transfer rate—up to 10 gigabits per second­—and support for bi-directional power. That means your phone will receive a charge while it's transmitting files to a compatible TV, printer, or other accessory over the same cable.
Promising Camera. Samsung says the Note7 has the same 12.2-megapixel camera that's in the Galaxy S7. That's good news for the Note7 because the Galaxy S7 has one of the best cameras we've ever seen on a phone; it produces very good 1080p videos and ultra-sharp, color-accurate still images. The on-board optical image stabilizer should also improve one's chances of taking better handheld photos under low-light conditions.
A more consolidated, sensible interface. Samsung already has one of the most intuitive interfaces in the smartphone marketplace, smartly laying out critical phone settings in an easy-to-read format. And when you don't immediately see what you're looking for, the phone's search engine is quite good at hunting down lesser-known features and controls. For the Note7, Samsung made things a tad easier by consolidating the list of roughly 30 settings adjustments to about 16, nestling similar features under one umbrella. You'll also have deeper access to app features from the pull-down notifications bar. For instance, in addition to launching the flashlight, you'll also be able to adjust the intensity of its beam.
We'll have more on the Note7 once we can submit the phone to our in-depth lab tests.
Correction: This story originally stated that apps placed in Secure Folder would be encrypted. It has been updated to clarify that only the data stored by the apps will be encrypted. We also indicated that Samsung currently has plans to port Secure Folder to the Galaxy S7. It does not.