Samsung's new Galaxy Note8 smartphone offers a few things that should please longtime fans of the company's Note phones: high-performing cameras; a big, beautiful display; and a sensitive, versatile stylus.
Those features, along with overall strong test results, were enough to lift the Note8 to near the top of Consumer Reports' smartphone rankings. It's up to consumers to decide whether they can erase bad memories of the Note7, which Samsung had to recall last year because of a series of battery fires.
The Note8, which starts at $930, is the most recent in Samsung's line of extra-large phones known as "phablets." Its 6.3-inch screen is one of the biggest you can buy. Combine that screen acreage with the included stylus and you have a phone that feels like an actual notepad, ready for quick handwritten notes or just doodling.
Inside that big package is a big battery—though it's slightly smaller than the one in the Samsung Galaxy S8+—one that provides the phone with 24.5 hours of juice in Consumer Reports testing. That's one of the highest figures for any phone.
"Overall, the Note8 falls near the top of our smartphone ratings and looks to be a solid top performer for Samsung," says Richard Fisco, Consumer Reports' head of smartphone testing.
Here's a more detailed look at what our testing found:
Smart, Capable Camera
The Note8's dual-lens camera marks a first for Samsung, but similar cameras have appeared before, including the iPhone 7 Plus and iPhone 8 Plus, and a handful of high-end Android phones such as the LG G6 and V20.
There are really two cameras—one has a wide-angle lens, and the other has a 2x optical zoom lens. The cameras take wide-angle and close-up shots at the same time, then do some software magic to produce a bokeh effect, in which the subject is in sharp focus while the background is blurred. It's a classic technique of portrait photography.
The camera also features optical image stabilization, an improvement over the digital image stabilization used in most phones, which compensates for camera shake.
To evaluate smartphone cameras, testers take pictures outside on a sunny day and in a lab with bright and low light. The resulting images are evaluated both on a high-quality, 24-inch display and on color laser printouts.
Overall, the Note8's main and front-facing, or selfie, cameras rank among the best you can find in any smartphone.
Long-Lasting Battery
Battery life matters a lot in a device that helps you run your life.
To test smartphone batteries, the lab uses a robotic arm that simulates what a person would do if he or she were using the phone throughout an average day. It surfs the internet, takes pictures, uses the GPS navigation and, of course, makes phone calls.
The Note8's battery is slightly smaller than the ill-fated Note7 battery, and it's also slightly smaller than the one in the S8+. But what really matters isn't a battery's size, but how long it keeps a smartphone running. The Note8's battery clocked in at 24.5 hours in CR testing. That's just below the 26 hours that both Galaxy S8 phones lasted, but the Note8 still has one of the top battery-test results in our ratings.
Tall, Narrow Design
The Samsung Galaxy Note8 is a device for people who like big phones. It's not something you can shove in the front pocket of your jeans—well, unless you have a really big pocket—and it's taller and heavier than most phones on the market.
But, in exchange, you get a screen that's a better fit for watching videos, reading long documents, or making notes with the stylus.
About the stylus: The testers give the thumbs-up to its handwriting-recognition ability. And the tool can also be used for useful tasks such as translating text from one language to another.
The Note8's 6.3-inch screen is just a hair bigger than what you'll find on the S8+ and quite a bit larger than the screen of most other big phones on the market, including the 5.5-inch iPhone 8 Plus. It's even bigger than the one on the upcoming iPhone X.

Like the S8 and S8+, the Note8 has an aspect ratio of 18.5:9, rather than the wider 16:9 that's typical of smartphones. That makes the phone tall and skinny—whether that's visually appealing is up to you, but we can say that it makes the phone easier to hold.
And designers have made other improvements to this big phone's ergonomics. For instance, when the S8 and S8+ came out earlier this year, users complained that placement of its fingerprint sensor next to its rear camera made them accidentally smudge the camera's lens, distorting their photos. With the Note8, Samsung moved the sensor away from the camera, separating the two with the camera's flash.
But the sensor is still high enough on the phone that people with short fingers may have trouble reaching it.
Finally, the Note8's vibrant-looking, high-resolution OLED screen produces "smooth, crisp" images, according to our testers. And the display is easy to read outdoors, thanks to its bright screen and minimal reflective glare.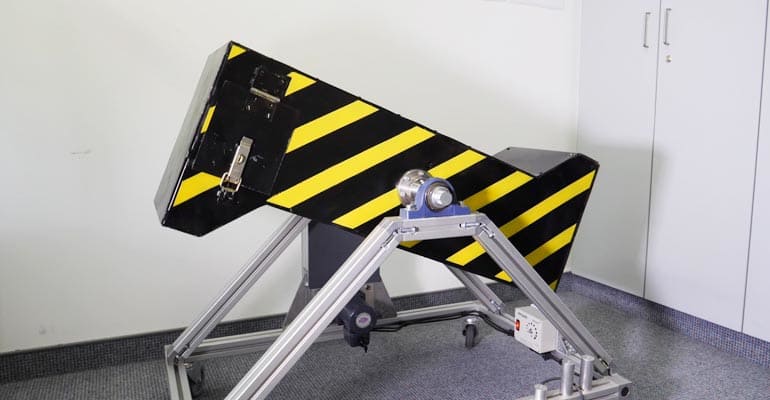 Mixed Results for Toughness
Consumer Reports phone tests include a ride in a specialized tumbler that reveals how much abuse each model can handle. The tumbler drops the phones about 2.5 feet onto a hard surface—then does it 99 more times. The phones are checked for damage after 50 and 100 drops.
In this test, the Note8's nearly frameless front display and all-glass back prove to be an Achilles' heel, Fisco says.
The glass back was broken when testers checked after 50 drops. After 100 drops, the display was broken, too. Other phones fared much better and might be a better bet for the butter-fingered.
But the Note8 does breeze through water-resistance testing, which is designed to check the manufacturers' claims. Testers lowered the phone into a tube of water 5 feet deep and left it there for 30 minutes, the specification that Samsung cites for the phone.
They checked the phone right after it emerged, as well as one, two and three days later, and it continued to function as expected.
Consumer Reports is an independent, non-profit organization dedicated to helping consumers. We make it easy to buy the right product from a variety of retailers. Clicking a retailer link will take you to that retailer's website to shop. When you shop through retailer links on our site, we may earn an affiliate commission – 100% of the fees we collect are used to support our mission.
Learn more.
Our service is unbiased: retailers can't influence placement. All prices are subject to change.