First Look: Samsung Galaxy Z Fold3 5G and Z Flip3 5G
The new foldable phones are lighter, sturdier, and more affordable, Samsung says. Time to buy one? Let's see how they do in our labs.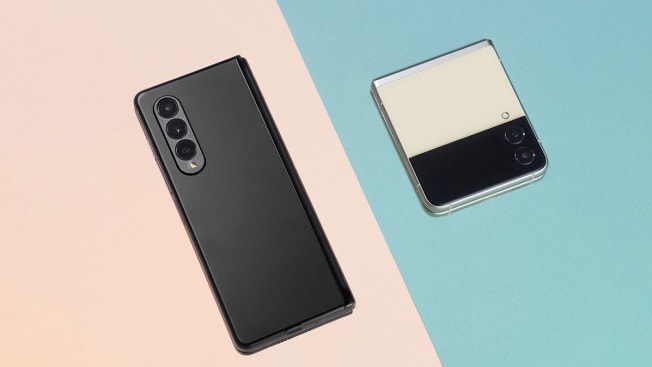 Samsung's new foldable smartphones are slightly lighter and a bit more stylish than last year's models. They're more durable, the company says. And they're about $200 cheaper, too.
So is this the year they finally go mainstream?
Probably not.
Given all that, are the phones worth the price?
To help you decide, I borrowed a prelaunch press sample of each phone from Samsung and used it for several days of work, plus some play, during a cross-country road trip with my family that included a stop at one of America's most legendary amusement parks.
While I'm happy to report that the phones survived my two children and various rides on some of the fastest, tallest roller coasters in the world, I'm not convinced there's enough upside yet to justify the entry fee to the land of folding phones for the average consumer.
Heck, there may not even be enough thrills to draw in the most ardent Android fans.
That doesn't mean they're bad phones. Just that they fall short of being a must-have for the latest-and-greatest crowd.
The Fold3 and Flip3 are both available for preorder now and officially go on sale Aug. 27. We'll have full test results a few weeks after that.
While Consumer Reports writers like me occasionally borrow press samples from manufacturers for First Look reviews, we don't officially test those products until we can purchase one from a retail store, just like you.
In the meantime, here are some things I learned about the user experience for each phone after a few days of looking at what it can do.
The Fold3 is an engineering marvel. One can't help but wonder what it took to create the inner, flexible-glass display, not to mention the hideaway hinge technology that minimizes the empty space between the two halves of the phone when closed.
There is, in fact, a big, bright display on the front of the Fold3 that, in theory, can be used for everything from browsing the internet to shooting photos to playing your favorite games. But in practice, it's the bigger, inner display you're going to use most of the time.
My kids certainly did. "Mommy, it's just like my iPad," my 7-year-old son said while watching way too many YouTube videos during the drive from our home in New York City to my parents' place in Michigan.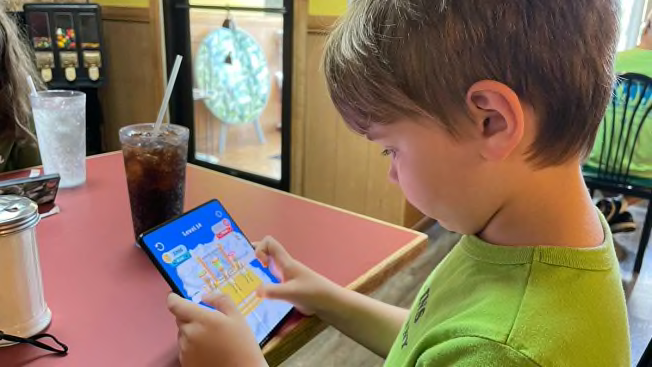 But as much as I loved being able to entertain my easily bored and frequently carsick kid on a two-day, 700-mile road trip, nobody buys a $1,800 phone to keep a child occupied when you can get an Amazon Fire 7 tablet for $50.
That said, it was awfully nice to just close the Fold3 and stick it in my purse when we stopped for lunch.
There are more practical uses for such a spacious tableau, too. Samsung's new Labs setting lets you customize where and how big you want your favorite apps to appear on the Fold3's inner screen. You can place them side by side, allowing you to, say, leave your email open while you edit a separate document or keep an eye on your favorite sports matchup.
Being productive is also easier now that the Fold3 is compatible with Samsung's S Pen stylus. But unlike Samsung's Note phones, which include the stylus in the purchase price, the Fold requires you to pay for your S Pen separately—along with a case that features a place to stow the Pen. There's no built-in storage compartment in the phone.
But one of the neatest things about the Fold3 is the selfie camera now camouflaged within the inner display. When you open the phone and attempt to take a picture, you see the camera encircled in a black pinhole. But the moment you move on to viewing photos or watching a video, it disappears into the background.
You really have to hunt to find it.
That act of wizardry eliminates an annoying distraction for those who enjoy showcasing big bold images or watching full-screen video on the device.
The Fold3 also features wide, ultrawide, and 2x rear cameras, along with the traditional selfie camera built into the front cover. How good are those? We won't know for sure until our testers get their hands on the phone later this month.
The same goes for the metrics related to the Fold3's new processor. The Qualcomm Snapdragon 888 5G also appears in the Flip3 and Samsung's flagship S21 phones, which received top marks for performance from our testers.
And just like the S21 phones, the Fold3 (and Flip3, too) now have a refresh rate of 120 hertz, which should make scrolling with web browsers or apps a bit smoother than before. Samsung says it will also reduce the lag in certain high-level video games.
For what it's worth, the Flip3 is about as compact as you can get when it comes to smartphones these days. It's not quite designed for multitasking or binge-watching like the Fold3 is, but it's one of the few phones I've used that repeatedly gets lost in my purse.
And that's why my husband and I took it with us to the Cedar Point amusement park in Sandusky, Ohio. After dropping our son and daughter off for a few weeks with their grandparents, we were ready for some kid-free fun.
And for us, that means splurging on fast passes and getting on every death-defying ride our kids would be too short—or too scared—to enjoy.
But if you're going to ride roller coasters that spin you around and turn you upside down, you need to leave the giant mom purse behind. The Flip3 fit snugly in my small, cross-body bag. And despite being repeatedly crunched between me and a roller coaster seat or harness, it didn't crack, unlike my favorite pair of sunglasses.
The Flip3 comes with wide and ultrawide rear cameras, as well as a pinhole inner selfie camera. While I missed not having a camera with a telephoto lens, which undoubtedly would have gotten better shots of the rides high above me, I got through my day at Cedar Point with the Flip3's modest camera setup.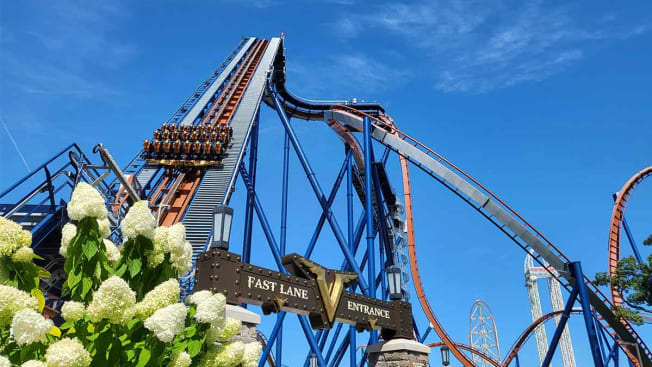 I took nice photos and videos of other people on the rides, as well as a handful of happy kid-free selfies with my husband. The Flip3's ability to fold into a 90-degree angle makes it particularly good for snapping selfies. You can hold it in the palm of your hand to get better headshots or place it on a table angled up, allowing you to pose and snap the shot via the built-in timer without using your hands at all.
It's also worth mentioning that the front display is significantly larger than the one on the previous model. The functionality hasn't really changed: You still get the date, time, and notifications. And you still can use the screen as a viewfinder to shoot photos and videos without opening the phone.
The expanded real estate makes those tasks significantly easier. But you still have to open the phone to do just about everything else.
In the end, these phones are great in certain situations and not so great in others. And that makes them an enticing alternative—for people who have the means to buy a second phone.
Having a huge display is wonderful, until you have to carry it around all day. Conversely, the compact Flip is great on the go but doesn't have the space for multiple cameras, big batteries, and other extras. And with any flexible-screen model, you have to worry about things breaking.
So earlier versions of the Flip have struggled in Consumer Reports' testing, getting subpar scores for cameras, durability, and sound quality. The Flip 5G's battery lasted just 27.5 hours in our labs.
Even the Fold2, which performed significantly better in our testing than the last Flip, trails most premium smartphones in categories like those. The battery lasted a wee bit longer than the Flip 5G's did, logging just 29 hours on a single charge. By comparison, many of the premium phones in CR's ratings, especially those that come closest to the Fold phones in size, power on for closer to 40 hours.
It remains to be seen what—if any—leaps the Fold3 and Flip3 will make beyond their predecessors. So if I were looking to buy, I'd wait until CR's final test results are in. While I like the improved look, feel, and user experience of the two phones, I'd want to know what sort of battery life they offer.
In the meantime, my kid will just have to make do with his iPad on road trips and I'll keep my fingers crossed that my traditional smartphone survives my next theme park adventure.