When you shop through retailer links on our site, we may earn affiliate commissions. 100% of the fees we collect are used to support our nonprofit mission.
Learn more.
Samsung Galaxy S7: Our Champ
The Galaxy S7 is simply one of the best phones on the market, combining a top-notch camera, dazzling 5.1-inch display, and excellent battery life with water resistance, wireless charging, rapid charging, and a number of other conveniences. It also lets you easily and inexpensively increase its storage capacity via a microSD card slot. Its equally impressive sibling, the curve-screened S7 Edge, has the same features as the Galaxy S7 but with a larger 5.5-inch screen that shows frequently used apps, tasks, contacts, news, and other useful items when you swipe its edge.
iPhone 7 Plus: Apple's Modest Upgrade
The iPhone 7 Plus is better than the 6s Plus, though only slightly. It's noteworthy for the convenient features it adds, such as water resistance, as well as for the ones it lost, such as the popular 3.5mm headphone jack. The 2x optical zoom offered by one of the cameras is a step up from the digital zoom on the old model's 1x (nonzoom) camera, though, overall, still and video images are not significantly better than those produced by its predecessor on the 6s Plus. So, if you really want a water-resistant iPhone, you might want to spring for the upgrade. Otherwise, there's little reason to abandon your iPhone 6s or 6s Plus.
Moto Z Force Droid: Cool Attachments
Motorola's Moto Z Force Droid has one of the hottest innovations in smartphone design: add-on hardware to perform different functions. These so-called Moto Mods attach easily to the back of the phone using magnets. Currently there are add-ons to turn your phone into a miniature movie projector or a boom box, or extend battery life by several hours. None of these detract from the phone's sleek look. Other highlights include a grade A camera and ultrafast charging.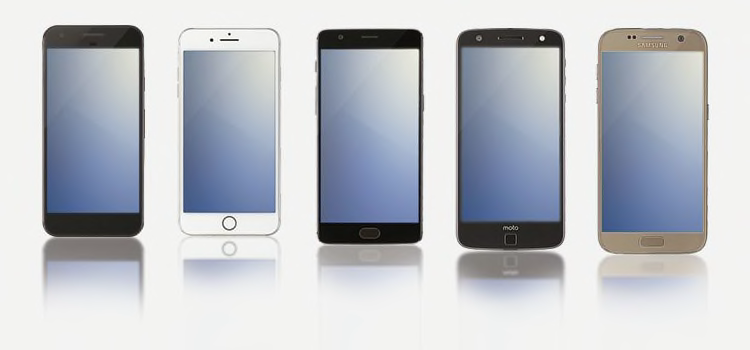 OnePlus 3: One Phone, Two Numbers
The inexpensive OnePlus 3 should please anyone who needs a second smartphone for travel or business but has the budget—or pockets—for only one. This phone can handle two numbers—even from different providers—thanks to its Dual SIM-card slot. We also like the phone's clever gesture controls for quickly launching apps. The long-lasting battery can be recharged rapidly, and the 5.5-inch HD display is among the best. This model has been followed by the OnePlus 3T, which adds a bigger battery and a higher-resolution selfie camera.
Google Pixel: For Android Lovers
If you're looking for a smartphone that can combine Google's artificial intelligence with great hardware, meet Pixel, the first Google-branded phone. Its Google Assistant—the built-in Siri-like voice-activated search tool—responds according to your location, apps you have open or use frequently, and even messages you have sent and received. The 12.3-megapixel rear-facing camera produced some of the best still and video images we've seen. Pixel is also first in line for security patches, home automation, and other futuristic updates.
More on Cell Phones & Services
Editror's Note: This article also appeared in the March 2017 issue of Consumer Reports magazine.