When you shop through retailer links on our site, we may earn affiliate commissions. 100% of the fees we collect are used to support our nonprofit mission.
Learn more.
Just days before Apple begins selling its newest smartwatch, Fitbit is rolling out a competitor packed with fitness features, hoping it will appeal to tech-savvy exercise enthusiasts.
The Fitbit Ionic, which officially launched Tuesday and will reach stores in October, boasts advanced functionality that tracks everything from runs to swimming strokes to weight-lifting workouts. There's also a coaching app that gives you sets of exercises and shows you how to do them, all without the help of a smartphone.
The device tries to bridge the divide between dedicated fitness trackers and smartwatches, such those made by Apple and Samsung, by adding the apps and features that people shopping for smartwatches have come to expect.
But that's where the Ionic, which starts at $299.95, fails to compete with more mainstream smartwatchs. While there are thousands of apps out there for Apple and Android watches, only a handful are available right now for the Ionic, though Fitbit says more are coming soon.
Still, the device's fitness-related apps and features are compelling. So while the Ionic might not be for everyone, at least not yet, it might appeal to fitness buffs who want more in the way of exercise tracking than a basic tracker has to offer, but don't see the allure of a fancy smartwatch.
To get a better idea of how the device works and who it might appeal to, I spent some time with press samples of the Ionic and the Fitbit Flyer wireless headphones marketed alongside the smartwatch (but sold separately for $130). We'll formally test the Ionic in our labs once it hits the market and we can buy the same units consumers get, just like we do with all other products, so stay tuned for those results.
In the meantime, here are some of my first impressions:
What It Looks Like
The Ionic features the usual smartwatch bells and whistles. It has a built-in GPS, heart-rate monitor, water-resistant construction, and a battery that Fitbit claims will run for a few days between charges.
Like a lot of fitness-focused smartwatches, it's not exactly attractive. While there are leather and other decorative bands you can buy to dress it up, it's still chunky and looks like a large fitness tracker, especially on the slimmer arm of a woman.
On the bright side, the screen is sharp, colorful, and easy to read. Depending on the clock face you select, the main screen lets you view stats such as heart rate and step count along with the time.
It's easy to scroll through the apps, though at a rate of only four per screen, it does take a while. But, because there aren't that many of them available, this isn't such a big deal just yet.
The Ionic will buzz lightly when you receive a text, call, or other notification. I found it easy to scroll through and read the texts on the screen, eliminating the need to dig out my smartphone.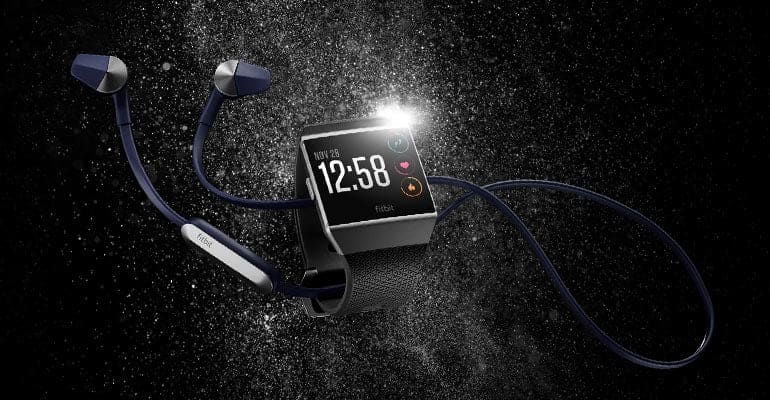 Fitness Fun
This is where the watch shines. Tap the Exercise app, which looks like the old yellow AOL logo, and you'll see options for run, bike, swim, treadmill, weights, interval timer, and workout. Pick one and hit go. The app will track factors such as distance covered, calories burned, and the amount of time you exercise. All of that information is saved in your history.
Need a little more direction? The watch's Coach app includes a handful of pre-programmed workouts such as "10-Minute Abs" and "7-Minute Workout." Hit start and little videos demonstrate how to do each exercise as a timer counts down. The watch buzzes gently to inform you that you've reached the end of that particular exercise, prompting you to watch the next video.
I found the video tutorials easy to follow and much easier to view than similar presentations on my phone, especially in the midst of exercising. The workout moves are simple enough; once you start in on them, you can really get away with just a quick look at your watch. In time, says Fitbit, the workouts will tailor themselves to your feedback. It's a great feature, but it would be even better if it had some kind of audio component, especially since the watch is marketed to work best with wireless headphones.
According to Fitbit, audio coaching for walking and running is coming next year. The company also will offer more workouts as part of its upcoming paid-subscription-based coaching service.
Other Apps
Arguably, the most notable non-fitness app right now is the Ionic's Starbucks app, which lets you pay for your morning caffeine fix, and get your precious reward stars, without pulling out your smartphone, or your actual wallet. There's also weather, a relaxation app and the workout app Strava.
There's also an app for mobile payments, which works with the onboard NFC (Near Field Communications) short-range, wireless chip to let you use your watch in place of your credit card at certain retailers. The app isn't live yet, so I wasn't able to try it out with my personal credit card, but once it's rolled out Fitbit says it will work with debit and credit cards issued by many of the top banks in the U.S.
The watch has 2.5GB of storage, enough for about 300 songs. There's an app that lets you sync your own music, though it requires you to do it through the version of the Fitbit app that you download to your desktop or laptop computer. And it has to be music that you've paid for. So, if you store your music on your phone, or rely on streaming services, you could be out of luck.
Unless, of course, you use Pandora. The watch comes with a Pandora app installed. Through Fitbit's smartphone app, you can either set it to auto-sync your top Pandora stations, or choose up to three workout-themed Pandora stations to install. Just a warning that it can take up to 15 minutes to upload each station to your smartwatch, at least at first, and your smartwatch really needs to be plugged in when you do this or the process will drain the battery.
It took me more than a few tries to both download what little music I had stored on my computer and to get the Pandora stations to sync. It's a pretty clunky process right now and you need to make sure that all of your devices are connected to the same Wi-Fi network, or it won't work. And, yes, you need a paid Pandora subscription. The free version won't work with this.
That's pretty much it for apps right now, but Fitbit says more are coming soon from companies including Adidas, news organizer Flipboard, GPS-enabled stat tracker Game Golf and surf-tracker app Surfline. It's also opening up its software development kit to developers, in hopes they'll create more.
Wait for It
For the tech-obsessed fitness junkie, there's a lot to like here in terms of features. But it's not for everybody. It's not going to replace a general purpose smartwatch, at least not until developers start generating a lot more apps.
Many people, including weekend warrior athletes, might be better served by saving their money and sticking with one of Fitbit's more basic traditional fitness trackers such as the Charge 2. This device counts steps and tracks heart rate very well, (yes, it will tell you the time too), and that's what most people are looking for these days anyway.
The Ionic's workouts are nice and it's great to be able to listen to music without having your phone nearby. But the most practical thing to probably do is wait and see. Only time will tell if developers will create more useful apps, or if Fitbit will iron out the bumps in its software.