When you shop through retailer links on our site, we may earn affiliate commissions. 100% of the fees we collect are used to support our nonprofit mission.
Learn more.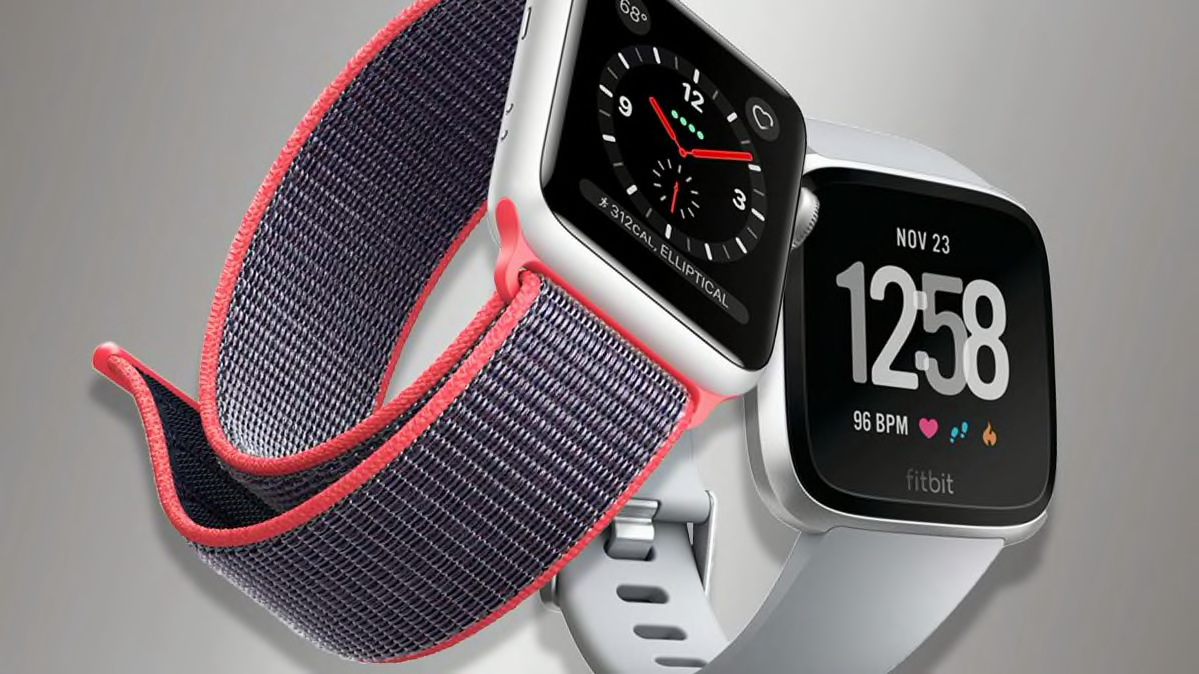 Fitbit's new smartwatch clearly has the Apple Watch in its crosshairs. It looks very similar and offers many of the same features, but at a significantly lower price. The basic version costs $200. By contrast, a simple GPS-enabled edition of the Apple Watch Series 3 starts at $329.
But how does the Versa truly measure up against Apple's market-leading smartwatch?
According to our testers, it's a worthy competitor, though perhaps a bit short on the premium features found in other smartwatches.
As always, we didn't test a preproduction press sample. We buy all our smartwatches—along with every other product we test—at retail, just like you do.
Along the way, our technicians evaluated how well the Versa counts steps and tracks heart rate. They also graded it on ease of use and the readability of the display under different lighting conditions.
In the end, the Versa earned top marks in many areas, but its Overall Score fell just short of those tallied by the three Apple Watch Series 3 models we've tested, not to mention the $300 Fitbit Ionic.
That's largely because the Versa's heart-rate tracking abilities are just a touch behind those of other devices, says Charles Davidman, who heads CR's smartwatch testing program.
"It just wasn't as good," he says. "We got inconsistent results compared with other models."
That's not to say the Versa is a bad product, Davidman says. It still earned a CR Best Buy recommendation, finishing just 5 points behind the top-rated Apple Watch, which sells for $649.
Which option is best for you? That depends in large part on the features you need. Here's a look at how the watches compare. For more test results, check out our full smartwatch ratings.
The Nuts and Bolts
Design. The Versa looks more refined than the Fitbit Ionic, released in 2017. While the watch face is still bigger than the one you find on the Apple Watch, the case is comparably slim and rounded off at the corners.
It comes in black, rose gold, and silver finishes, with latex bands in matching colors. For about $30 more, you can get special edition models with woven bands in black or purple.
Fitbit also offers accessory bands in metal and leather.

That leaves ample choices for men and women, though women may want to try the Versa and the Apple Watch on for size before making a purchase—just to be sure the faces are not too large.

For those with a strong sense of personal style, the Apple Watch has a slightly wider selection of bands, including nylon, stainless steel, and even leather options designed by Hermès.

Battery life. The upside of that big watchface on the Versa is that it allows room for a big battery—one that Fitbit claims will last you up to four days per charge. While that's a day less than the Ionic's purported five-day battery life, it's significantly longer than the staying power of the Apple Watch, designed to be charged every day.
And because the Fitbit doesn't need to be charged every night, it can be used to track your sleep patterns. The watch's companion app provides a detailed analysis of how much and how well a user sleeps. But Consumer Reports doesn't test sleep-tracking features, so we can't say how accurate that data is.
Basic functionality. The Versa and the Apple Watch Series 3 are both easy to use, according to our testers. It's not hard to pair them with a smartphone. (In the case of the Versa, that includes Android, iOS, and Windows devices.) And text and graphics are clearly visible on the displays for each model, even in bright and dim light.
Both models also got high marks for durability. Each made good on the claim of being water-resistant to 164 feet. And each emerged from our display-glass scratch test with a Very Good score.
Once again, though, Apple offers more opportunities to upgrade. The $649 stainless steel model we tested features a sapphire crystal glass that earned an Excellent rating.

Fitness Tracking
Studies show that a growing number of people are opting to replace fitness trackers with smartwatches, but, in addition to the third-party apps such as Facebook and Yelp that make watches popular, users want robust fitness features.
Both the Versa and the Apple Watch Series 3 were very accurate when we tested their step-counting abilities. But that's no surprise. Most models perform well in that category.
The Versa fell just a bit short of the Apple Watch, though, when it came to heart-rate tracking. While it did receive a Very Good score, Davidman says the Versa wasn't as precise as the Apple Watch Series 3, the Ionic, and the Samsung Gear S3 smartwatches during our tests.

That shortcoming is enough to drop the Versa below those smartwatches in the overall rankings, Davidman says. But it might not matter to the average consumer, unless a heartbeat or two per-minute difference is a deal-breaker.
Cellular Service
The Series 3 watch gives you the option to add cellular service. The Fitbit Versa does not.
That means you can't field calls from the Fitbit and, if you want to receive notifications, you're going to have to keep your phone nearby. The device must be paired to a phone to perform that task.

The Versa doesn't have built-in GPS, either. If you want to track how much ground you cover during a given workout, you're going to have to bring your smartphone along with you.
That said, the Versa and the Apple Watch Series 3 cover the basics well. Both will let you know when you have a call, text, or calendar notification, though the Versa won't show you the pictures in texts like the Apple Watch does.
The base model of the Versa also doesn't have the near field communication (NFC) tech required for mobile payments. But special edition models do.
Other Features and Apps
With the Apple Watch, you can rouse Siri by pressing a button, then giving her a voice command. The Fitbit Versa does not support Siri or any other digital assistant.
In fact, it doesn't have a microphone or speaker, which means you can't reply to a text message by speaking into the watch. And if you want the device to get your attention with a beep or a chirp rather than a vibration, you're out of luck.
When compared with the Apple Watch, the Versa's mobile app offerings are limited, too. They include E-Trade, The New York Times, Pandora, Starbucks, and Yelp. Fitbit has signed a deal to offer the streaming music service Deezer as well. But don't expect the Versa to be pinging you routinely with breaking news headlines, Facebook updates, and alerts about potential MLB no-hitters.
For what it's worth, the Versa has a bunch of built-in workout apps that the Apple Watch doesn't—though there are plenty of alternatives available in Apple's app store. And Fitbit users will find even more workout apps available, for an extra charge, through the company's Fitbit Coach subscription service.
Bottom Line
At the end of the day, it comes down to whether you're willing to pay $100 or more extra for those premium benefits offered by the Apple Watch. If you're a fan of Fitbit's fitness-tracking features and you're happy with basic smartwatch functionality, the Versa has a lot to recommend it—especially when you factor in the extended battery life.