Consumer Reports Says Not to Buy USI Electric MPC122S Combination Smoke & CO Detector
CR's lab tests reveal a performance problem when this model detects carbon monoxide Update, March 31, 2022: The USI Electric MPC122S has been recalled by Universal Security Instruments and the Consumer Product Safety Commission on March 31, 2022. Get more details on this recall.
The USI Electric MPC122S Combination Smoke & Carbon Monoxide Detector might alarm too quickly, too late, or not at all, when exposed to carbon monoxide, according to tests conducted by Consumer Reports. It's one of 14 smoke and CO detectors we recently tested. As a result, CR is labeling the detector a "Don't Buy: Performance Problem." (It passed our smoke and fire tests.)
In our labs, we run all CO detectors through two tests. As with all of CR's testing, we rely on industry standards as benchmarks (in this case UL standard 2034), but we develop our own comparative evaluations for the purposes of providing consumer information.
The first test assesses whether the alarm goes off within 40 to 165 minutes when exposed to a CO concentration of 100 parts per million (ppm). The second test assesses whether an alarm goes off within 4 to 15 minutes at a CO concentration of 400 ppm. We refer to these tests in our ratings charts as our low CO levels test and high CO levels test, respectively. In our 25 years of testing CO detectors, the USI Electric MPC122S is the only one to alarm too early.
"These tests are critical because carbon monoxide can be deadly," says Bernie Deitrick, CR's test engineer for smoke and CO detectors. "Exposure to 100ppm can cause a worsening headache starting at around an hour. Exposure to sustained levels of 400ppm or greater can prove fatal within 2 to 3 hours. On the flip side, by responding to transient exposures that are not truly dangerous, the detector could create a nuisance for the homeowner and the local fire department, and cause the home's occupants to not trust the detector."
Carbon monoxide poisoning depends on how long you're exposed and how much of it you're exposed to. For example, continuous exposure to 30 ppm of CO has little effect on healthy individuals, so you don't want a CO detector to go off when it detects such low levels of the gas, unless it's present for a long period of time.
For smoke and CO detectors, we always test two samples of each model. In our initial tests, the two samples of this specific USI Electric detector failed both our low and high CO levels tests, but they passed our smoke and fire tests. (USI Electric is a wholly-owned subsidiary of Universal Security Instruments.)
Further Testing With Different Models
After our discussion with USI, we purchased four new samples of the USI detector, which all had a date code of April 2019. This time, all four samples alarmed in our 100 ppm test, but three of the samples alarmed after just 22 to 30 minutes, which is well before they should go off (at 100 ppm, alarms should go off between 40 and 165 minutes). To be sure, we repeated the test on the four samples and got similar results.
In our 400 ppm test, all four of the new samples alarmed within the appropriate time frame.
CR contacted Universal Security Instruments about our new findings. The company's president and CEO, Harvey Grossblatt, challenged our testing methods, saying they don't duplicate the UL standard tests and aren't consistent with the tests performed at USI's labs in the U.S. and China.
"We duplicate the tests that are required to pass the UL 2034 Standard and to be able to advertise their listing mark," Grossblatt says.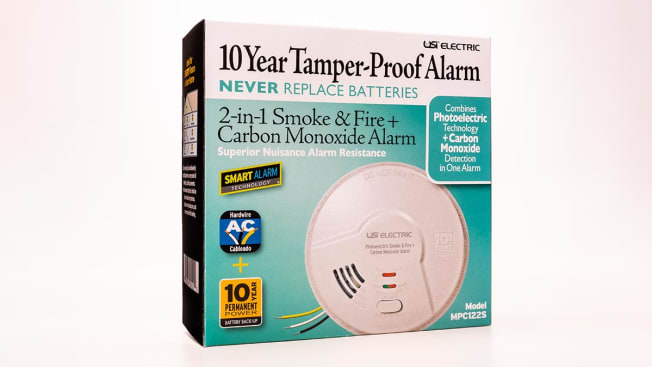 Grossblatt says that the company went back and reviewed its testing data for detectors manufactured at that time, and its data shows that the detectors performed within the bounds of the standard. He also asserted the safety of USI's products.
"Consumer Reports does not conduct compliance testing with standards—we do comparative evaluations," says Deitrick. "We have been testing CO detectors of various types for 25 years. I've never had a CO detector alarm too early in our tests, until these samples."
Despite this USI detector's problems in our tests, another USI model that we tested at the same time, the Universal Security Instruments MIC3510SB, is our top-rated combination smoke and carbon monoxide detector.
"These results highlight the importance of our testing, and show that there can be significant differences in performance among models, even those made by one brand," says Deitrick. "The simple fact is that the top-rated model from USI worked flawlessly, and the MPC122S version had performance issues. Some samples alarmed late or not at all, some alarmed too quickly, and some worked fine."
If you own the affected USI Electric combination smoke and CO detector, CR recommends replacing it with a different detector. You can check whether you own this specific model by looking for the MPC122S model number written on its back. Just make sure you have a replacement on hand to install as soon as you remove the model in question. Having any detector installed is better than having no detector at all.
Contact Universal Security Instruments by calling 800-390-4321, ext. 238, between 8 a.m. and 4 p.m. ET.