15 Trader Joe's Vegan Snacks Worth Trying
Even if you eat dairy, fish, meat, or other animal products, these sweet, salty, and spicy options could become staples in your pantry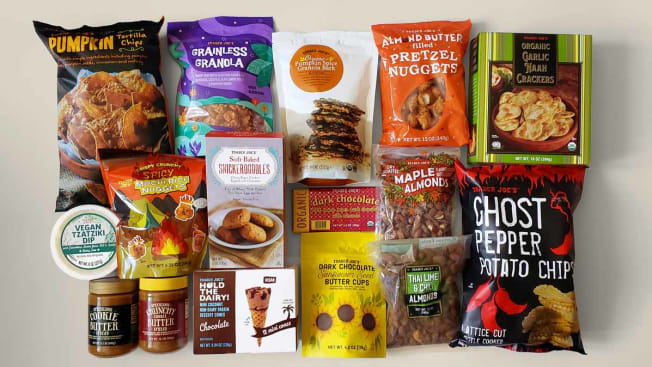 Trader Joe's can be a gold mine of vegan foods, with scrumptious options even for nonvegans who are reducing their meat intake and consuming more plant-based foods and beverages.
"Regardless of your diet, everyone can benefit from a vegetarian, plant-based diet some of the time," says Consumer Reports nutritionist Amy Keating, RD.
Just 3 percent of U.S. adults follow a strictly vegan diet, which means no animal products whatsoever, including eggs and dairy, according to a 2020 survey by the research firm Mintel. "It is unlikely that the numbers for those following completely vegan diets will increase dramatically anytime soon, but that doesn't mean people aren't eating technically vegan meals more often," says Karen Formanski, a Mintel health and wellness analyst.
If you have a sweet tooth, these Trader Joe's branded vegan options may ease your sugar cravings. Some are even gluten-free.
Opening up a bag of Trader Joe's Maple Almonds transported me to childhood, on those rare days when we had pancakes for breakfast or after church on Sundays. The maple flavor on these almonds overwhelms the senses, so you might need only a handful as a snack. Or you might want to chop a few and actually top some pancakes with them. Because they're dry-roasted before they're mapled, they have a pronounced crunch. Maple Almonds are only a seasonal item, according to Rachel Broderick, a Trader Joe's spokesperson. So if they suit your taste, you might want to grab a few extra packs during your next TJ's visit because they may run out by the time winter rolls around.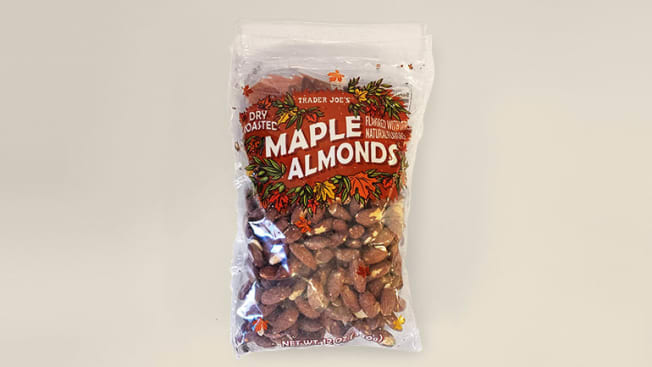 Soft-Baked Snickerdoodles
With a flavor that's loved throughout the year, these Trader Joe's snickerdoodles are vegan, gluten-free, and nut-free, and they don't taste overly sweet. They're cinnamony and puffy, and they're soft, yet dense, so just a few can be satisfying. A couple of these and a cup of coffee are all you might need for an afternoon pick-me-up. At least it worked for me.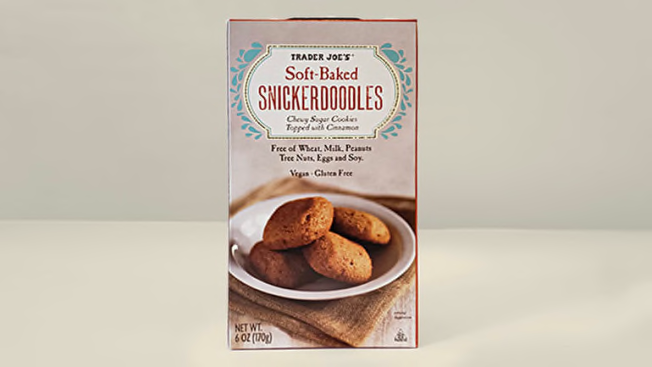 Super Dark Chocolate With Almonds
This bar could meet your needs if you're prone to chocolate cravings. It's made of 73 percent cacao, but it doesn't have as much of that bite that some dark chocolates with 70 percent or more cacao might have. You'll find small pieces of roasted almonds spread fairly evenly throughout this chocolate bar, vs. the bigger chunks you might find among similar bars from other brands.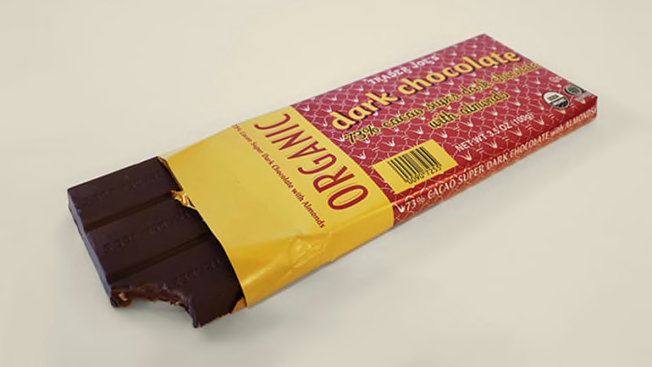 Hold the Dairy! Mini Coconut Non-Dairy Frozen Dessert Cones
Browsing the aisles of my local Trader Joe's in Brooklyn, N.Y., I was delighted to find these mini chocolate cones in the freezer section, which I'd normally whiz through to get in line as quickly as possible. Unlike mainstream ice cream cones, I was relieved to see they aren't topped with peanuts, a common allergen that's also one of mine. The frozen dessert itself is coconut-based, but unlike other coconut-based products like creamers and yogurt, this wasn't so coconutty. The most prominent flavor was chocolate, but what really stood out was the texture: It's not heavy like a cow's-milk-based ice cream, yet it still had a creamy texture, more than what you'd get with, say, a scoop of icy chocolate gelato. This dairy-free dessert was almost fluffy, and piled into a nice and crispy cone.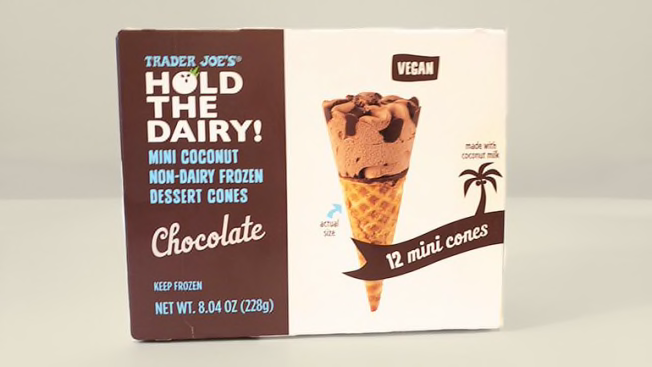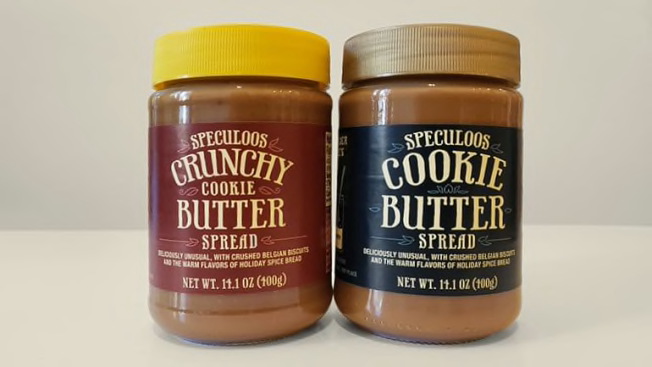 Dark Chocolate Sunflower Seed Butter Cups
Sunflower seed butter is often used in place of peanut butter at schools or other places where food allergies may be a concern. These vegan and gluten-free treats can be a good alternative to Reese's peanut butter cups. But like Reese's, you might not need too many. I found them extremely sweet. They may not be a perfect fit for people looking for a vegan chocolate fix either, because sugary and salty sunflower seed butter can overpower the chocolate flavor.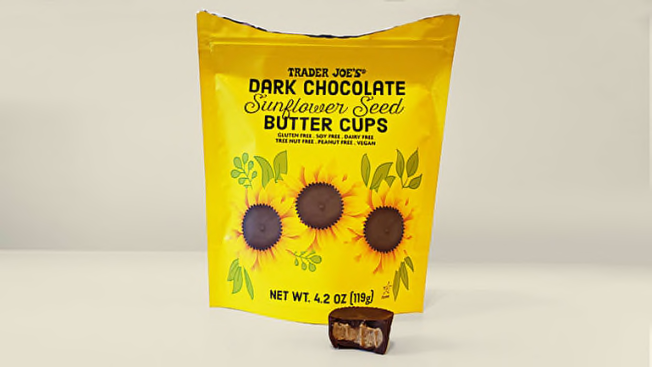 Organic Pumpkin Spice Granola Bark
If you took a Kind chocolate chip granola bar, dipped it in dark chocolate, and then added in pumpkin pie, what would you get? Trader Joe's pumpkin spice granola bark, that's what. At first bite, the flavor of salty chocolate came on strong. Then a moist grain texture, followed by the pumpkin flavor from real pumpkin puree. Finally, there are clove, nutmeg, vanilla, and cinnamon flavors as endnotes that define fall foods in my book. Seeds, brown rice flour, and quinoa make this gluten-free granola bark filling. This is also a seasonal item for the fall, so quantities are limited.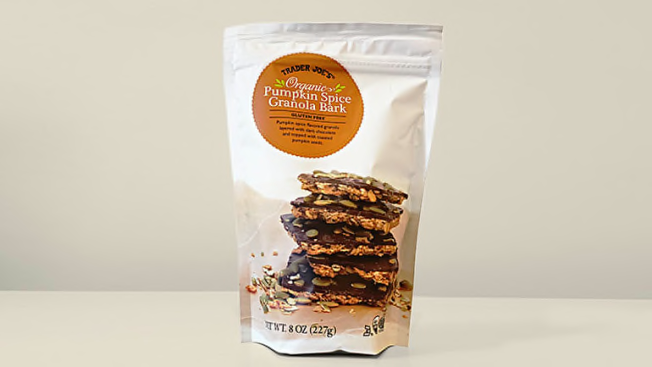 For year-round consumption, Trader Joe's vegan and gluten-free Grainless Granola is dense and clumps together, making it a solid option if you want to add a little crunch to some yogurt. Its stickiness comes from tapioca syrup and coconut sugar. The coconut flavor isn't prominent till the very end.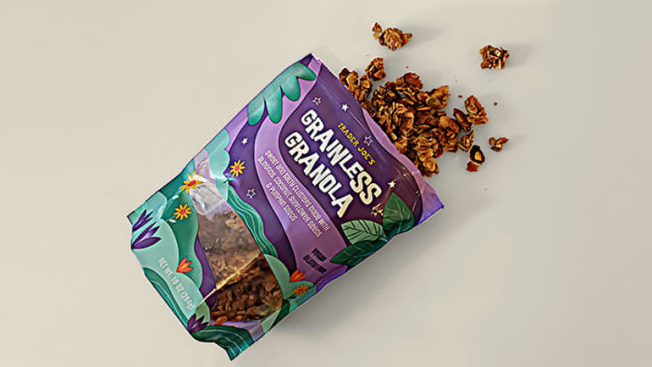 Almond Butter Filled Pretzel Nuggets
From the outside, this satisfying snack simply looks like a rotund, square-ish pretzel sprinkled generously with salt. But when you bite through, you reach sweet almond butter, and chewing mixes salty and sweet, crunchy and smooth at the same time. In my household, this is a regular in our snack rotation.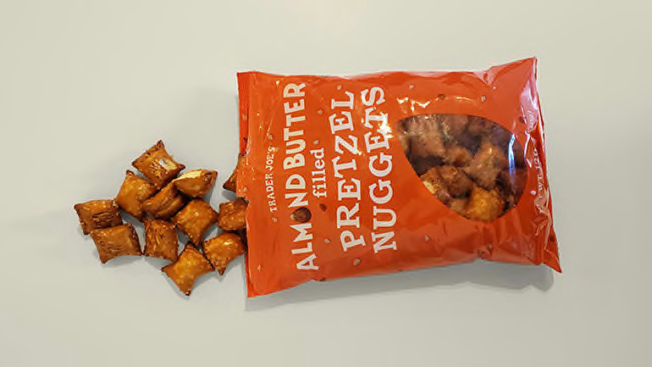 If salty snacks are more your style, these crackers, chips, and a vegan dip are tasty options worth considering.
Organic Garlic Naan Crackers
Think toasted bread, with just a whiff of garlic. That's the aroma of these thick and very crunchy crackers. Unlike my home cooking though, the garlic in this recipe is mild, making them a perfect vehicle for hummus, tapenade, or other dips (see vegan tzatztski, below) since they aren't likely to overpower those flavors. These crackers may also be a good replacement for saltines if you require a bland diet or something to settle your stomach.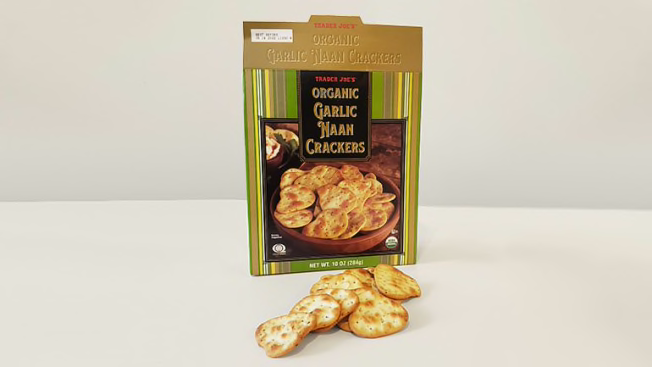 If the pumpkin flavor here gives you pause because it makes you think of pie, you probably don't have to worry. The flavor of these chips comes on salty, with mostly the corn tortilla chip flavor many of us know and love. The texture isn't too light and crumbly the way some tortilla chips are. When the pumpkin flavor does come through, it's not your typical pumpkin spice latte-type seasoning. It's more simple. Like other pumpkin-containing products at Trader Joe's, company spokesperson Broderick says these are also a seasonal item available only in the fall.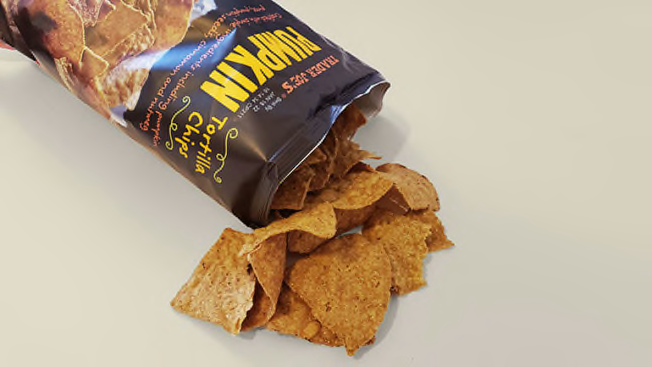 At the suggestion of a friend who said she picked up the vegan version of this dip accidentally but loved it, I gave it a try. Naturally, the dill and garlic made me think of pickles, but it was the "dairy free cream cheese alternative," made mostly from coconut oil, potato starch, and chickpea protein, that made it stand out. It felt much lighter and smoother than tzatziki that's made with tangy cow's milk yogurt.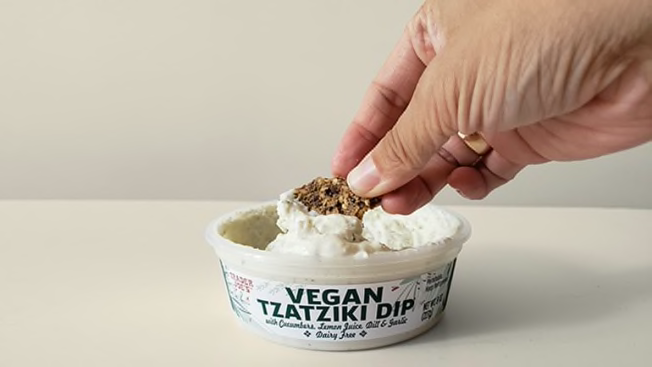 Spice can help add a twist to your regular snack rotation, making what might otherwise be boring into firey and flavorful bites.
Thai Lime and Chili Almonds
This may not be the case for everyone, but these roasted, seasoned, and spicy almonds burn so much that it feels like steam is coming out of my ears. But that's expected with Thai chilis, which can burn my fingers for hours when I cut them fresh. The spice overpowers any bits of lime leaf and lemongrass you might come across in the bag.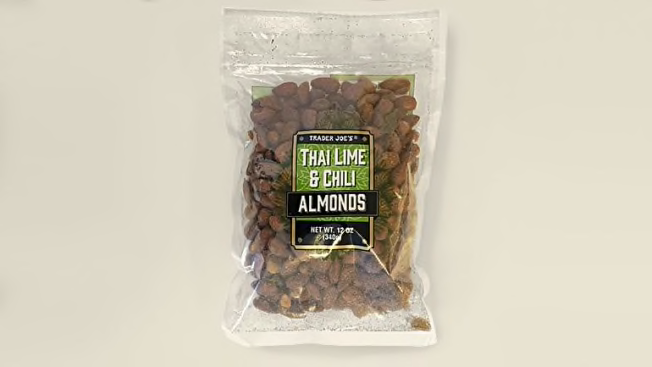 Crispy Crunchy Spicy Mochi Rice Nuggets
The mochi I'm most familiar with are made with sweet bean paste or ice cream covered in a soft, dense rice-flour-based dough. So it seemed strange that these mochi rice nuggets are so cracker-crunchy, and very spicy. Seven types of peppers go into seasoning these rice nuggets, but as you chew, the rice helps mellow out the spiciness.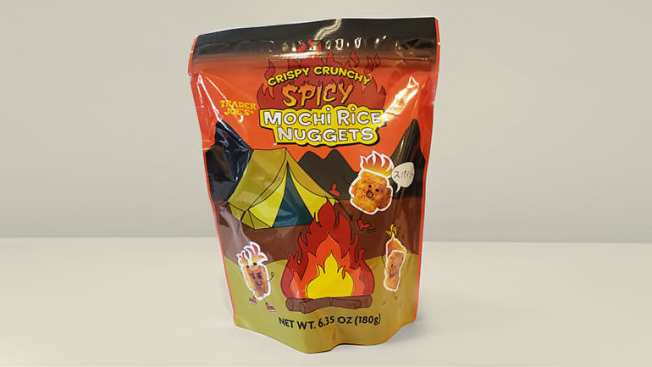 Ghost Pepper Potato Chips
With both fear and anticipation, I took a long first whiff of these waffle chips—then realized it was burning the inside of my nose a little. These chips aren't as spicy as I expected based on previous ghost pepper experiences though, which is a surprise because ghost peppers rate more than a million Scoville heat units (a measure of spiciness) while Thai chili peppers run between 50,000 to 100,000 Scoville units. But ghost peppers, like many others, are mixed with different flavors, often diluting the spice and bringing out what hides under that feeling of being on fire. With these chips, smoke flavor, garlic, onion, and vinegar flavor came out as the heat subsided. They didn't even make me break a sweat.