When you shop through retailer links on our site, we may earn affiliate commissions. 100% of the fees we collect are used to support our nonprofit mission.
Learn more.
Part of the calculation after every snowstorm is deciding which tools in your arsenal best suit the conditions. While homeowners might have an array of shovels and other tools, most of us own just one snow blower.
Here are the types of snow blowers the pros at Ariens and Consumer Reports recommend for the kind of snow you typically get and the surfaces you need to clear.

Average Driveway
A single-stage snow blower should suffice for snow up to about 9 inches, though the wetter the snow the more trouble these smaller models have with snow that deep. Consider a compact two-stage model for anything up to about a foot, wet or dry. Follow up with a steel-bristled broom and ice melt.
Tip: With dryer snow, blow in the direction of the wind and angle the chute lower if you see the snow is drifting toward where you've already cleared.

Before you buy a new snow blower, check our buying guide and Ratings. You'll find shopping tips and reviews of more than 85 snow blowers.

Larger Driveway
Unless you never get more than a few inches of snow at a time, skip a single-stage snow blower and go for a two-stage machine from 24 to 30 inches wide. The better models also have beefier engines, easier steering, and other convenient features. Because these models don't clean right down to the pavement, as a single-stage does, follow up with a steel-tipped shovel and ice melt.
Tip: If you're committed to getting a two-stage snow blower but aren't sure what size, consider where it will fit in your garage or shed.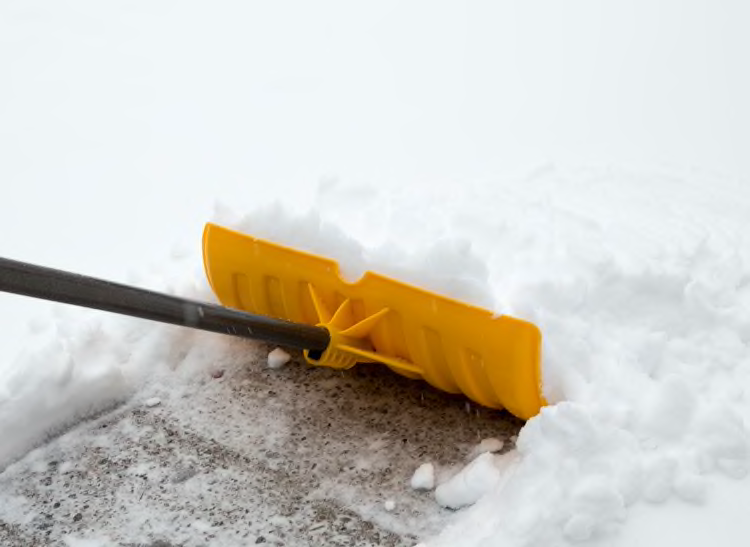 Deck, Patio, or Short Walkway
This is where a single-stage snow blower is preferred, since it can get into smaller spaces. They're good for decks too because they typically have a rubber auger that's safe for the finish. For snowfalls that generally don't exceed four inches, even an electric model will do. Finish up with a plastic-bristled broom.
Tip: Try your leaf blower for clearing up to about 3 inches of dry, dusty snow.
Steep or Unpaved Surfaces
Consider a track-driven, two-stage snow blower, which passes smoothly over gravel, grass, or other uneven surfaces. These start at about 24-inch clearing widths. You won't clear down to the surface, but what's left will melt more easily.
Tip: If you have a standard two-stage model, adjust the skid shoes (bolted to the sides of the auger box) to raise the auger box's scraper edge slightly off the ground. Otherwise, the scraper will continuously catch on the surface.