When you shop through retailer links on our site, we may earn affiliate commissions. 100% of the fees we collect are used to support our nonprofit mission.
Learn more.
Clearing snow is riskier when you can't keep your balance. Consumer Reports tested four slip-on ice cleats on a sheet of thick ice that we tilted to varying slopes, and also at an ice-skating rink. In addition, we tried walking indoors on linoleum, carpet, and painted concrete to test the potential for slipping and damage to floors.
What We Tested
Stabilicers Original Heavy Duty Traction Cleat are the most heavy-duty ice cleats and, at $34 per pair, the priciest. They each have two adjustable straps and replaceable traction points that screw in.
OuterStar Ice & Snow Grips, $8, have lightweight construction with stretchable rubber and steel studs.

Yaktrax Pro Traction Cleats, $18, use a lightweight design with steel coils rather than traction points. Each has a removable strap.
Icetrekkers Diamond Grip ice cleats, $27, are described as "made of case-hardened steel alloy and strung on steel aircraft cable," and there's a stretchable rubber sling that runs around your foot.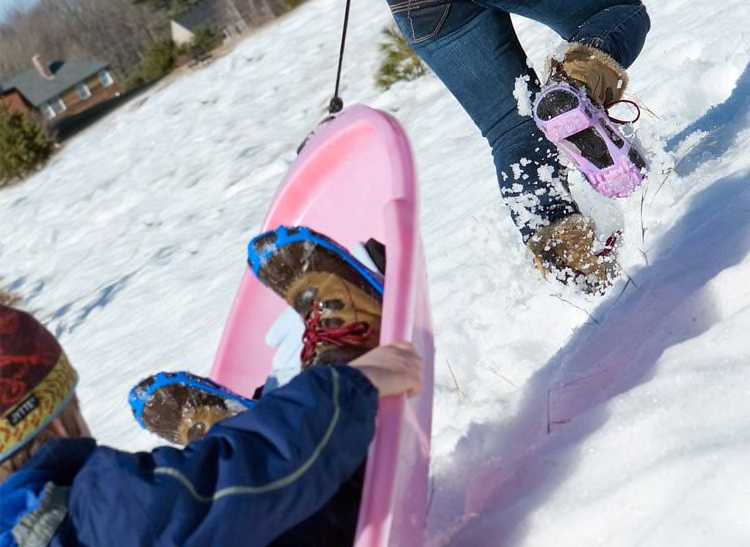 Slip Resistant
All four sets of ice cleats improved on the traction that running shoes provide. But they differed in their grip on slopes and indoor surfaces, notably a vinyl-tile floor. Most effective all around was the Stabilicers, which provided a firm grip on every surface and condition we tried.
With the OuterStar, the least expensive ice cleats, we slipped around the most on icy slopes and vinyl tile indoors. The Yaktrax and Icetrekkers ice cleats held better.
In later tests on an ice-skating rink, all worked fine for merely standing or walking a few steps slowly. But for anything more than that, the Yaktrax ice cleats provided the least traction of the runners-up.
Tips for Clearing Snow Faster