Best Soda Makers From Consumer Reports' Tests
Good choices from Aarke, Drinkmate, and SodaStream suit a variety of tastes and budgets If you drink so much soda water that it virtually runs through your veins, consider buying a soda maker. Making the bubbly stuff yourself means no longer having to lug bottles and cans home from the grocer, or haul them in from the porch after a delivery. It potentially frees space in your pantry, cabinets, fridge, garage, or basement, too. And it translates to fewer empties in the waste stream.
To help you find the best soda maker, Consumer Reports tested widely sold models from Aarke, Drinkmate, and SodaStream. Here we serve up a number of advantages that soda makers have over store-bought seltzer. Using one allows you to:
We made dozens of bottles of seltzer to evaluate the four soda makers in our tests. We rate each model on how easy it is to use, including when attaching and detaching bottles and using the controls. We use standard 14-ounce CO₂ cylinders, which work in any soda maker.
To judge whether a soda maker produces equally fizzy bottles of seltzer, we start by using ice-cold water, which carbonates better, and we install a gauge on the cap to measure the gas pressure inside each bottle. "You can expect that bottles with the same internal gas pressure will produce about the same amount of fizz," Deitrick says. We also check the maximum gas pressure that each machine can add to water, for people who want a real snootful of scintillation.
In the bottle-cap test, we see how easy it is to release pressure from each brand's gassed-up bottle without spilling soda everywhere. "When a bottle that's been highly carbonated sits for a while—or has warmed up or been shaken—some of the gas that's been pumped into the water enters the space at top of the bottle, so the gas pressure inside rises," Deitrick says. "If the pressure isn't released smoothly, the soda can come out fast, and you get a fizzy mess."
For the icing test, we examine whether the CO₂ nozzle ices up—a problem with some designs that can affect the fizz level. When high-pressure CO₂ exits the injector, it drops in temperature and can freeze some water on the nozzle. When the injector is blocked, gas can be diverted to the bottle's side—instead of directly down into the water—so it doesn't carbonate as well.
So how did the soda makers in our tests do? Read on for ratings and reviews of each one.
SodaStream Fizzi
Price: From $85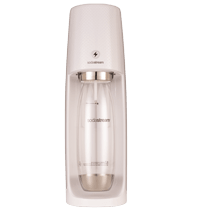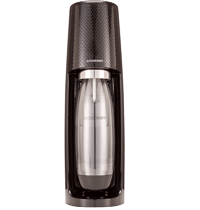 CR's take: If you're looking for a very good machine at a reasonable price, check out the SodaStream Fizzi. It scores almost as well as the top model in our ratings (the Fizzi One Touch, below) for making seltzer with a consistent amount of bubbles, but it costs less. It's among the easiest soda makers to use, too—insert your bottle top in a clamp, push the clamp into place, and push start. The Fizzi's bottle caps stay on well when the contents are under pressure. The CO₂ injector sits at the top of the water line, so gas entering the bottle doesn't freeze the water in the nozzle and ice up the works. You can vary the carbonation simply by pressing the button for longer or shorter times.
Easiest Soda Maker to Use
SodaStream Fizzi One Touch
Price: From $99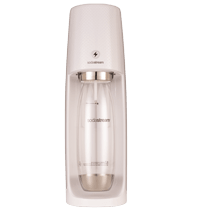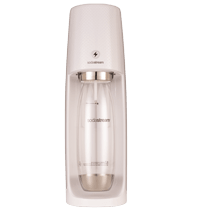 CR's take: The SodaStream Fizzi One Touch, the only machine we test that must be plugged into an outlet, gets our highest marks in every test. Uniquely, it has three preset levels of carbonation, each with its own control button that you lightly touch to activate. Because the electric-powered One Touch doesn't require you to hold down a button or lever, it alone earns our top mark for ease of use, and it's ideal for someone with limited hand strength. Deitrick says the One Touch's "medium" button makes soda about 1½ times as fizzy as "low," and the "high" button doubles the bubbles of "low." But no matter how much carbonation you want, you'll get consistent results. The unit's one drawback? It's not ideal if you like your soda just a tad spumante. "It's pretty carbonated at the lowest level, and you can't go below that," Deitrick says.
Best Soda Maker for Carbonating Juice
Drinkmate Carbonated Beverage Maker
Price: From $87
CR's take: The Drinkmate is the only one we test that's claimed to carbonate juice and a variety of other beverages, including iced tea, wine, and cocktails. We used apple juice in our test, and Deitrick found the results "delightful"—like hard cider without the kick. Other features of the Drinkmate, however, make it a so-so selection. Icing is a bigger problem for this unit than for the others; the Drinkmate's injection nozzle sits deep in the water and can freeze more of it, so it doesn't carbonate consistently.
This model requires a bit more work than the others here to make seltzer. You need to put a large, specially designed cap on the Drinkmate bottle before you add gas. Once you're done carbonating, you have to release some gas by pushing a tab on the cap, wait for the hissing of the escaping gas to stop, and then replace the large cap with a small cap. Notably, we found that once we put the small cap on after adding a lot of gas, it was hard to slowly release some of the resulting high pressure. So sometimes the cap popped off, spewing seltzer everywhere.
Aarke Premium Carbonator
Price: $250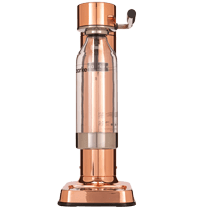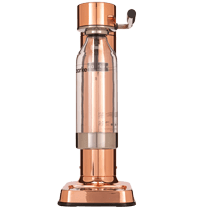 CR's take: If you want to make a stylish statement on your bar or kitchen counter—and don't mind the eye-popping price—check out the slim, metal-clad Aarke Premium Carbonator. Its screw-in bottle attachment isn't quite as easy to use as the snap-in mounts of the SodaStream models, but we liked that it uses a lever to add gas, rather than a push button. This model's carbonation nozzle also ices up somewhat, which means you don't consistently get the same amount of gas in each bottle. "That doesn't change the taste," Deitrick says, "though the soda may feel different in your mouth if the carbonation level isn't the same." You can use SodaStream bottles with the Aarke; both brands' bottles cost about the same, but our quick perusal of retailers showed that the SodaStream bottles were available in more stores.
When you shop through retailer links on our site, we may earn affiliate commissions. 100% of the fees we collect are used to support our nonprofit mission. Learn more.