When you shop through retailer links on our site, we may earn affiliate commissions. 100% of the fees we collect are used to support our nonprofit mission.
Learn more.
The new Mazda Miata RF is tailor-made for those driving enthusiasts entranced by the Mazda MX-5 Miata's agility and sporty demeanor, but who also favor an actual roof over their heads instead of a ragtop.
This new variant of the delightful roadster has a retractable, power-operated hardtop and gorgeous, targa-style body the company calls a Retractable Fastback design.

We recently rented a Miata RF from Mazda to sample this fresh spin on our 2017 Top Pick sports car. The RF Grand Touring we sampled proved to be every inch a Miata—all 154 of them.
Once again, the essential magic is in the two-seater's agility. The quick steering is matched by the reactive suspension and right-now responses that invite tackling turns with gusto. As with the roadster, the taut ride and insightful road feedback supply an enthusiast-rewarding experience.
The concession for this joy is a busy ride that could become tiresome on daily commutes. Mazda states that the RF has a 50/50 weight balance like the regular Miata. We found the RF even more balanced, and it displayed less body roll. It also felt slightly more solid to us, without a hint of the flexing often associated with open-top cars. Unfortunately, we didn't notice any significant reduction in noise at highway speeds.
A 155-horsepower, 2.0-liter four-cylinder engine delivers satisfying verve, despite how paltry that horsepower figure appears on paper, thanks to the car's light weight and well-chosen gear ratios. Tipping the scales at 2,445 lbs., the RF adds 113 lbs. to the cloth-topped Miata. The engine is paired with a six-speed manual transmission with short, easy stick-shift throws and a low-effort clutch. The pedals are well spaced and in close proximity, making the clutch-brake-accelerator dance easy. These traits further invite frequent shifting to indulge in the car's handling and throaty exhaust sound. Our testers agreed that the notchy shifter is as close to perfection as we have experienced in recent memory.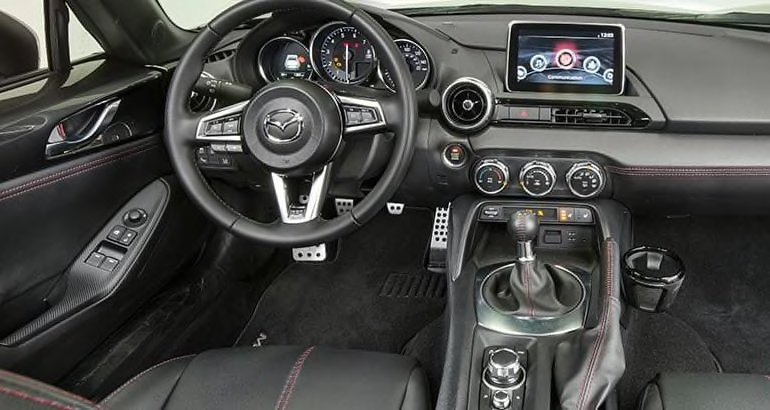 Acceleration is not as explosive as you might expect from a big-chested muscle car, but the Miata is a delight to drive with a very tractable gas pedal, meaning every little tip-in results in forward motion. Clearly, though, a Miata is more about handling than acceleration.
The powered retractable top performs its mechanical origami in about 14 seconds, making a swift transformation from cute closed coupe into a rather exotic-looking sports car.
The manual Miata roof operates so simply that a driver can unlatch it and toss it back quickly, and the one-button operation here is an elegant alternative to the manual soft top. Also, the hardtop promises more security and long-term durability than a cloth top.
Both Miata versions have an intimate cabin whose diminutive dimensions and low-slung seats mean it literally won't fit everyone. Our RF was dressed with leather-upholstered seats with attractive red stitch accents. The lack of lumbar adjustment is disappointing, and the narrow width may make it less appealing to larger drivers.
More on the MX-5 Miata
Complete road test
There are a few concessions made with the compact cockpit, such as limited storage spaces. The CD player and glove box are positioned between, and behind, the bucket seats.
With the top up, visibility is quite limited in all directions, making backing out of parking spaces a challenge. There is no backup camera, but the RF is equipped with cross-traffic alert.
The RF looks special, but beyond its distinct appearance, there is little that differentiates this pocket-sized thrill ride from the regular Miata. It's neither more powerful nor more pampering inside. In essence, it offers another flavor of this spicy car and, in the process, adds more distinctive styling and a measure of convenience.
You'll need to test-drive to decide on the right version for your motoring palate, but we guarantee it will be a flavorful experience.