Preview: 2022 Subaru BRZ Still Emphasizes Balance Over Brawn
Light and low-slung, the BRZ promises fun without a turbo In an era where even affordable family sedans boast 0-60 times below six seconds, it's refreshing that Subaru is marketing the updated 2022 BRZ as a sports car for purists who care more about an enjoyable driving experience than bragging rights afforded by specs and statistics.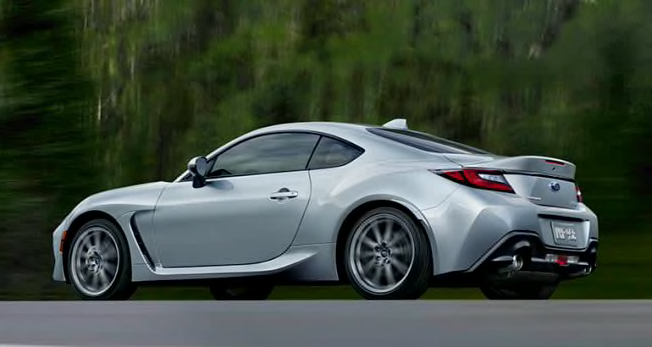 We've always been fans of the BRZ/86 twins. In fact, we've used a Toyota 86 to test ultra-high performance tires at our track. A focus on predictable performance, fun-to-drive character, and affordability is largely missing from the modern sports car segment, which increasingly pushes top speeds and handling limits that an average driver will never encounter. That's why we're glad that it appears Subaru hasn't made any changes that would fundamentally alter the car's temperament. And the same appears to hold true for the near-identical Toyota GR86.
You might mistake the new BRZ for an outgoing model with a really good aftermarket body kit. That's because the design—a low-to-the-ground, "2+2" sports car—is essentially unchanged. Yes, it's about an inch longer and nearly a half inch lower than the 2012-2020 version, but the proportions are the same. You'll probably notice larger flares over the rear fenders, more prominent door sills, a more sculpted roofline, and a new grille. Most of the exterior design changes are at the rear, with new taillights and a license plate holder that's moved from the trunk to the bumper.
Underneath the sheetmetal, Subaru says the BRZ gets suspension and chassis upgrades like other Subaru models that improve overall performance. The automaker also claims a "near perfect" weight distribution, meaning equal weight over the front and rear wheels, which helps with handling balance.
Snug and simple, the BRZ's cockpit now offers a few more concessions to modernity. A digital gauge cluster can be programmed to show specific performance diagnostics, including water temperature, G-force, and a linear tachometer. A touch screen is now standard in the center of the dash, as are Android Auto and Apple CarPlay compatibility.
Subaru promises good visibility thanks to narrow-but-strong roof pillars—we'll take a look at visibility ourselves when we get ours in for testing. Two tiny rear seats fold down for extra storage, which Subaru says is enough space to store a dedicated set of aftermarket wheels and tires for track use so the car can be driven to a track on its street-legal tires.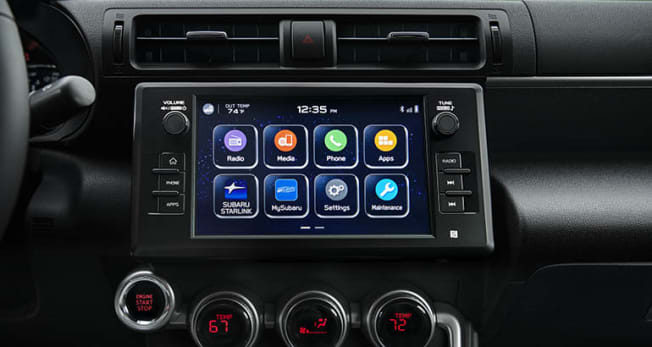 For 2022, the new BRZ will get a naturally aspirated version of Subaru's 2.4-liter four-cylinder engine. The automaker refers to it as a "boxer" engine because its two banks of pistons are located in horizontal opposition to each other—like the gloves on a pair of sparring fighters. The engine's design contributes to the car's low center of gravity.
Subaru says the new engine is good for 228 horsepower—a slight upgrade over the 205 horsepower output of the current BRZ's 2.0-liter four-cylinder. Peak torque also arrives at much lower RPM, which should make the car feel even quicker. Unlike most modern sports cars (or even family SUVs, for that matter) the BRZ's engine doesn't have a turbocharger. The focus is on predictable power delivery rather than the fastest possible sprint, which also means it's free of any initial turbo lag.
Most cars no longer give drivers the option to choose their own gears, but a six-speed manual transmission is still standard on the BRZ. A six-speed automatic with paddle shifters is optional, and has been given some software updates that Subaru says will improve performance. Rear-wheel drive is the only powertrain choice, which means that the BRZ remains the only Subaru without all-wheel drive.
Safety and Driver-Assist Systems
Subaru says that BRZs equipped with the Limited trim and an automatic transmission will get the EyeSight suite of driver assistance systems, but didn't respond to our inquiries about which specific systems are included, and whether forward collision warning (FCW) or automatic emergency braking (AEB) will be standard on all models.
The BRZ is designed for use as both an everyday driver and a track car. Safety priorities are different on a closed track than a public road, so traction and electronic stability control systems can be fine-tuned and even turned off entirely.