First Drive: Redesigned 2022 Subaru BRZ Proves Nimble and Fun
This light, low-slung sports car balances handling and ride quality The formula remains unchanged for the redesigned Subaru BRZ: It's a small, nimble rear-drive coupe, powered by a flat-four boxer engine that is best defined by its handling chops. The interior is intimate, with a nominal back seat whose best purpose is to hold a helmet on the way to an autocross event. 
At a time when the average new car now costs about $45,000, the BRZ shines as a relatively low-cost vehicle. Sure, it doesn't boast big turbocharged horsepower figures or blazing-quick acceleration. But it has true sports-car agility and smile-inducing looks. 
What we rented: 2022 Subaru BRZ Premium, Subaru BRZ Limited
Powertrain: 228-hp, 2.4-liter four-cylinder engine; six-speed manual and automatic transmission; rear-wheel drive
Base price: $27,995
Destination charge: $960
Price as driven: $28,995 Premium manual, $33,255 Limited automatic
The Subaru BRZ and Toyota 86 (now GR86) twins shine for their focus on predictable performance, fun-to-drive character, and affordability—that latter is largely missing from the modern sports car segment. Most sports cars today boast felonious top speeds and track-ready handling limits that an average driver will never encounter—and certainly shouldn't explore on public roads. 
That's why we're glad that Subaru (and Toyota) stuck to its established formula with this second generation. Whereas the original coupes were differentiated merely by badges, this time around, there is more distinction between the character for each car and nominal differentiation with the front fascia. 
The BRZ has a more compliant suspension, making it more suitable for daily driving. The GR86 is firmer, and more entertaining on the Consumer Reports test track, and its enthusiast focus makes it a better weekend car.
Shoppers would be well served to test drive each. And why not, they are a hoot to drive. But the key in choosing which to purchase is being honest with yourself about what you want to experience every time you drive one of these vehicles. Our hunch is that most will tilt toward the BRZ.
In other words: Date the GR86 on a test drive, then marry the BRZ.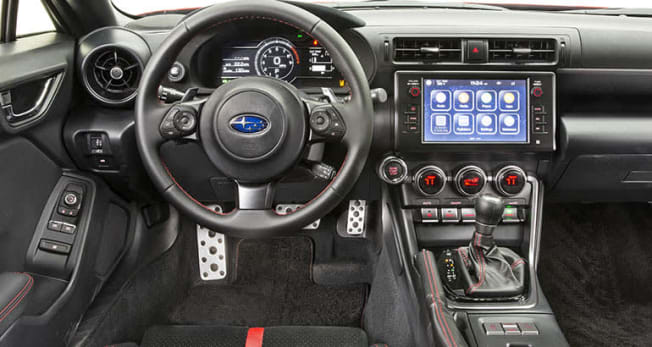 Styling: You might mistake the new BRZ for the outgoing model with a really good aftermarket body kit added on. That's because the design is essentially unchanged. Yes, it's about an inch longer and almost a half-inch lower than the 2013 to 2020 version, but the proportions and lines are the same.
You'll probably notice larger flares over the rear fenders, more prominent door sills, a more sculpted roofline, and a new grille. Most of the exterior design changes are at the rear, with new taillights and a license plate holder that has moved from the trunk to the bumper. The styling may be evolutionary, not revolutionary, but it looks sharp nonetheless.
Engine: The BRZ shares the 2.4-liter four-cylinder engine with the GR86, a larger engine than the 2.0-liter in the outgoing model. Power climbs from 205 hp to 228 hp, without the use of turbo. Peak torque arrives at a lower rpm, creating a more urgent feel, especially around town.
This is a notable improvement over the previous iteration, endowing it with a more prompt throttle response. The power does come on in a smooth, predictable way, but for true performance driving, the key remains to preserve momentum, staying at mid to high revs and in the right gear. It simply doesn't have the grunt to power out of the turns, otherwise.
Handling: This car comes alive on tight, twisty backroads. It is nimble and sporty to drive, proving controllable and balanced when pushed to its limits. On the track, it doesn't feel as sharp as the GR86. The steering and suspension are both a hint softer, making the car feel a bit more benign. This slight concession does make it more livable in the real world, where no doubt it will spend most of its time. 
Transmission: There is a choice of six-speed manual or six-speed automatic transmission, making it among the few cars available with a stick shift. We rented two cars, enabling us to sample each. 
The manual transmission is easy to drive. The clutch is light and a cinch to engage. The shifter has short throws, requiring little motion to row from one gear to the next. The shift gates are neatly defined, and effort is light. 
These days, most drivers prefer an automatic transmission, and traffic congestion is often to blame. The good news is that the automatic is better than expected. And when you want more direct control, the paddle shifters behind the steering wheel override the automatic and allow you to initiate downshifts at will—say, ahead of a corner. 
Value: The 2022 BRZ starts at $27,995 and goes to $32,295, with a $960 destination fee added for most states. For that money, enthusiasts will find the bang-for-the-buck quotient to be off the chart.
Controls: The controls are a bit better than before, with an intuitive layout. The climate adjustments are neatly separated in three rows, each with a different control type: dials, buttons, and switches. The array looks dated, but it is easy to interpret and use while driving. The modern infotainment system feels more integrated than before, but it is still basic for the times.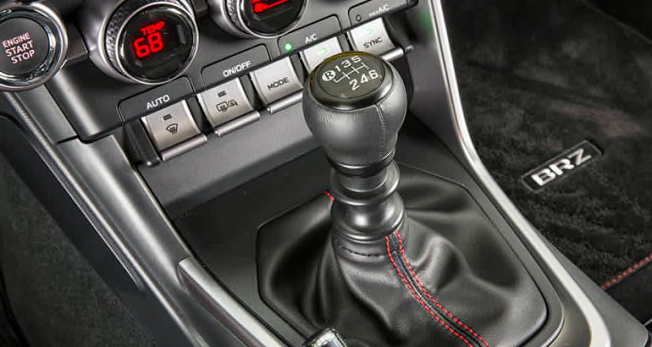 Noise: The satisfying soundtrack entertains when flogging the car, but it can be tiresome on casual drives. The BRZ may be a bit quieter than the GR86, thanks to the softer suspension muting some road feedback. 
Rear seat: No surprise, the rear seat is tiny. Using it requires the front seats to be moved far forward. Consider it strictly a place to stow a backpack or groceries, and even then, access is challenging.
Storage: Cargo space is practically relegated to your pockets, like other small sport cars. There is minimal storage up front. The manual gives up one of the three central cupholders found in the automatic. There are bottle holders on the doors. 
The rear seat folds down quite flat for added versatility. However, it is a single piece, requiring you to walk to each side of the car to release it or secure it. The trunk lid opens wide, but the opening is small and narrow, particularly toward the bottom. The trunk height is shallow, but it is deep, front to back. This combination makes it rather unfriendly to use. But it does have more storage overall than a Mazda MX-5 Miata, another driver-centric car in this price range.
Driving position: There are some definite trade-offs for being a sharp-looking sports car. The tilt-and-telescope steering wheel helps find a comfortable position; there is a well-placed left foot rest; and the pedals are positioned for easy heel-toe operation for experienced drivers. However, visibility is compromised by the short windshield and side windows. Rear corners are large blind zones. Blindspot warning and rear cross traffic warning are chief draws for the Limited trim. 
Access: It is low to the ground and requires some flexibility to enter with grace. No surprise. Exiting requires a full-body squat that could at least count toward your daily exercise regime.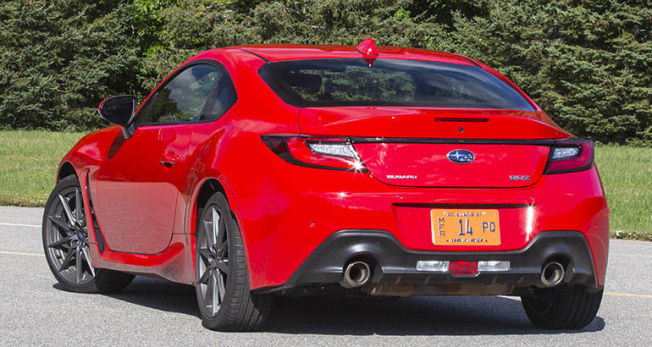 What We'll Keep Our Eyes On
Ride: The ride is more compliant than that of the GR86. By contrast, it feels much more livable, although the BRZ does seem to sacrifice some sharpness on our test track. We'll study the ride and handling more closely, lap after fun-filled lap, once we purchase a car to test. 
Steering feedback: Steering action is quick and prompt, but we'd welcome a bit more feedback, particularly on the track. 
Transmission: Both transmissions work well, but there remains an endless debate among our testers over which is the superior choice. Ultimately, the answer comes down to where you plan to drive it. Major metropolitan areas favor the automatic—same as any car. But that manual transmission is quite easy to manage for a sports car. Shift-it-yourselfers would find the manual well-suited to a wide range of scenarios, and these days, as a joke goes, it may even be a theft deterrent.
Safety and Driver-Assist Systems
BRZs equipped with an automatic transmission will get the EyeSight suite of driver assistance features. The two-camera system bundles automatic emergency braking, lane departure warning, adaptive cruise control, and automatic high beams. As with various Subaru models, the manual version is not available with EyeSight.
The BRZ is designed for use as both an everyday driver and a track car. Safety priorities are different on a closed track than a public road, so traction and electronic stability control systems can be fine-tuned and even turned off entirely.