When you shop through retailer links on our site, we may earn affiliate commissions. 100% of the fees we collect are used to support our nonprofit mission.
Learn more.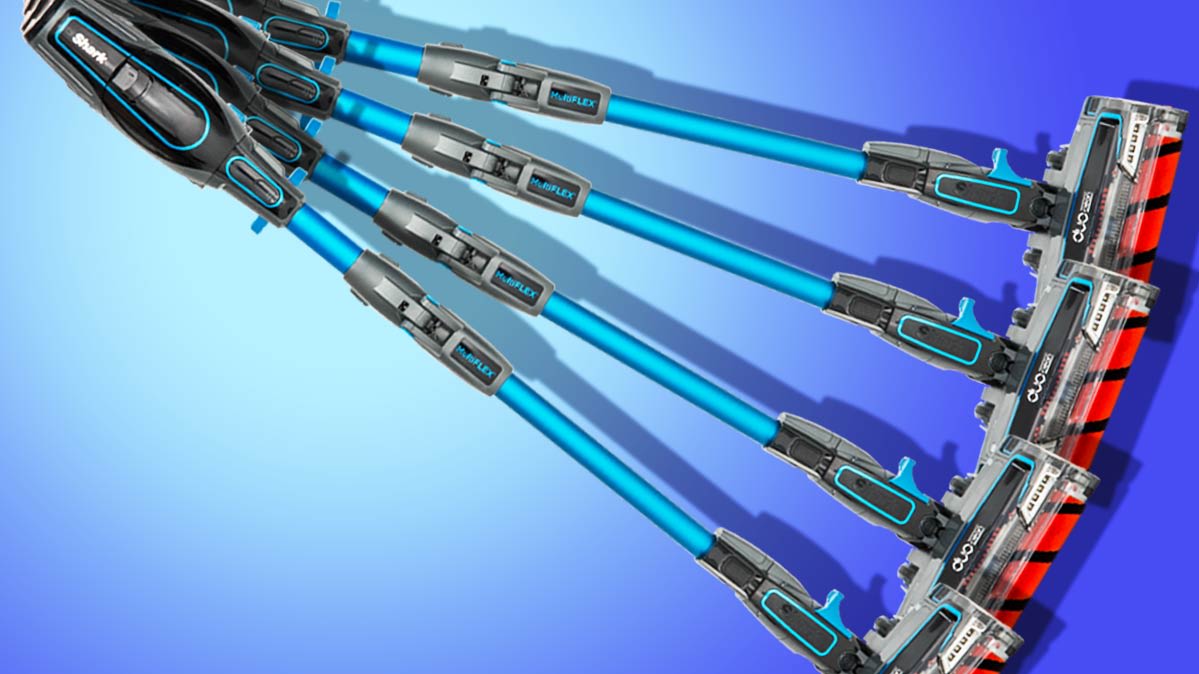 "In the past few years, stick vacuum suction has gotten a lot stronger, especially in battery-powered stick vacuums," says Frank Rizzi, a senior Consumer Reports test-lab engineer who tests vacuums. "If you don't have wall-to-wall carpet, these machines can do a lot of cleaning."
Furthermore, cordless stick vacuums are taking over. According to the marketing research firm Gap Intelligence, more than 100 different cordless stick vacuums are currently on sale at major retailers compared with less than 30 corded stick vacuums.
Runtime for cordless stick vacuums varies widely. In Consumer Reports' tests, some stick vacs lost power in as little as 15 minutes, while others ran for 47 minutes. Some manufacturers provide an extra battery with their cordless stick vacuums so you can have one charging while you're cleaning with the other.
Consumer Reports has tested dozens of stick vacuums from such brands as Bissell, Black+Decker, Shark, Dirt Devil, Hoover, and Dyson.
How We Test Stick Vacuums
Because stick vacuums don't have the same deep-carpet cleaning capability as full-sized models, CR conducts a carpet surface cleaning test, evaluating how well the machines pick up sand, rice, and cereal within a certain amount of time. (In the more challenging embedded-dirt test for full-sized vacuums, our engineers try to clean up sand that's been ground into pile carpet.)
In our bare-floor cleaning test for cordless stick vacuums, we scatter litter on a tiled floor with grout grooves, which increases the difficulty of the test. We also conduct a pet-hair removal test on medium-pile carpet as well as a clean emissions test to see whether a vacuum is releasing the dust that you just sucked up.
Read more about our vacuum tests in this handy guide to how CR tests vacuums.
Below are the best cordless stick vacuums from CR's tests listed in alphabetical order.
Best Stick Vacuums From CR's Tests
Bissell Air Ram 1984
CR's take: For an affordable price, like others on this list, you get a top-notch and self-standing cordless stick vacuum. The Bissell Air Ram 1984 scores an Excellent rating on our carpet cleaning test and is just as good at bare floors. It has the longest runtime among the cordless vacuums in our labs with a charge that lasts 47 minutes. Even though it's a basic model, the Bissell Air Ram has held its place near the top of our ratings for some time. But unlike other stick vacs, it doesn't convert to a hand vacuum or come with any accessories, it's just a stick vac.
Black+Decker Smartech HSVJ520JMBF27
CR's take: Though not as impressive overall as the Bissell Air Ram, the Black+Decker Smartech is impressive at cleaning bare floors and earns an Excellent at suctioning up pet hair, but not quite as good at cleaning carpet. Unfortunately, it doesn't do as well removing dirt from around the edges of a room. On the plus side, this vacuum has a convertible hand vacuum for getting into tight spaces, and a swiveling powerhead to help you easily maneuver around furniture. At 20 minutes, the battery life is shorter than that of some of the other models we tested, so you'll have to be quick at cleaning.
Dirt Devil Reach Max Plus BD22510PC
CR's take: At this price, and we've seen it on sale for even less, the Dirt Devil Reach Max Plus is packed with cleaning power. In fact, it aces every one of our tests—carpet, bare floors, and earns an Excellent rating for pet hair. Plus it's whisper quiet. It's only so-so on edges, however. Runtime is 19 minutes and it takes 3 hours to recharge. At 6.3 pounds, it's easy to maneuver and the swivel head helps when you're vacuuming around furniture. The Dirt Devil converts to a hand vac and comes with an electric-powered brush and a crevice tool for deeper cleaning.
Shark IonFlex 2X DuoClean Ultra-Light Cordless IF251
CR's take: One of the best stick vacs in our ratings, the DuoClean IF251 can get around tight corners with ease, and is stellar at picking up pet hair from both bare floors and carpets. In terms of picking up debris on carpet, this stick earns a Very Good rating, meaning it picked up most of the embedded talc in our tests. Like other Shark stick vacs, it has a dual brush roll that includes a bristle brush roll and a soft brush roll which helped it excel on the carpet and pet hair tests. Shark vacuums earn our top ratings for both predicted reliability and owner satisfaction.
Shark Ion F80 Cord-Free MultiFLEX IF281
CR's take: Shark's MultiFLEX IF281 is another example of a great stick vacuum that excels at bare floor cleaning and pet hair pick up. The MultiFLEX IF281 earns an Excellent rating in our emissions tests, meaning it did not distribute much dust back into the environment as it rolled over piles of debris. It's not the best—but not the worst—at carpet cleaning, so you might want to stick with bare floors or choose a different stick that scores higher on our carpet cleaning tests. Shark vacuums earn the best ratings for both reliability and owner satisfaction.
Shark Ion X40 Cord-Free Ultra-Light IR141
CR's take: The Shark Ion X40 earns an Excellent rating for bare floor cleaning and is one of the quietest stick vacuums that we've tested. It doesn't do so well when it comes to carpet, so those with lots of carpeted floors should steer clear (or look at a similar Shark model, such as the DuoClean Ultra-Light Cordless IF251). Our testers especially liked the duo clean power head that includes a bristle and a soft roller, which help it pick up both fine and large particles. For those concerned about the longevity of their vacuum, Shark as a manufacturer earns our top ratings for both predicted reliability and owner satisfaction.
Shark IonFlex DuoClean Ultra-Light IF201
CR's take: While it's called ultra-light, the Shark IonFlex weighs 8.7 pounds, which is average for models in our cordless stick vacuums 6 pounds and over but several pounds heavier than the truly lightweight models in our tests. This well-rated Shark cleans up pet hair like a champ, earning an Excellent rating on that test. And like the top-performing corded SharkFlex DuoClean Ultra-Light Corded HV391, it has two cleaning speeds and converts to a hand vacuum when you need to get into tight spaces. Unfortunately, you can't remove the brush roll for cleaning, so you'll need scissors to cut away strands of hair and fur. The lithium-ion battery runs an average of 15 minutes when fully charged, on the skimpy side. But unlike some stick vacs, you can vacuum at any speed without sacrificing runtime. Shark vacuums earn our top ratings for both predicted reliability and owner satisfaction.
Shark Rocket Complete with DuoClean HV380 (Walmart)
CR's take: This top Shark is a corded model that converts to a hand vac and comes with a 12-inch crevice tool. It earns an Excellent rating for its performance on our carpet cleaning tests—if you have wall-to-wall carpets and need to pick up small messes, this might be a good choice for you. This vacuum wasn't so great at keeping emissions down, however, so if you are sensitive to dust you might want to find a different vac. This model has the option of compact storage, and the large dirt chamber can be emptied with just one step.
Inside the Vacuum Test Lab