When you shop through retailer links on our site, we may earn affiliate commissions. 100% of the fees we collect are used to support our nonprofit mission.
Learn more.
Spending $600 on a stick vacuum is a tall order for most of us. And yet we can't tell you how impressed Consumer Reports is by the new Dyson V8 Absolute. In a nutshell, it's the best stick vacuum we've ever tested, with an overall score of 93. That's 13 points higher than the runner-up.
Depending on whether you have bare floors or lots of carpet, the Dyson V8 Absolute could serve as the only vacuum you need, shedding the stick vacuum's reputation as a supplemental appliance designed only for surface cleaning. But if you have wall-to-wall carpet, our tests found that you'll probably still want the deep-cleaning power of a full-sized vacuum.
We put the Dyson V8 Absolute through the same battery of tests used for all of our stick vacuums, which are relatively lightweight machines that have—at least until now—been designed for spot surface cleaning. Stick vac tests differ from those we use for full-sized upright and canister vacuums. Here's the nitty-gritty on its performance.

Cleaning Power
Spilled cereal on the kitchen floor, cat hair on the living-room sofa, dirt tracked across the family-room carpet—these are the types of cleaning tasks our stick vacuum tests are designed to measure. They represent the biggest contribution to a model's Overall Score.
The Dyson V8 Absolute was twice as fast as many competitors at sucking up the 125 grams (a few handfuls) of cereal, rice, and sand that we spread across our test carpets and bare floors. Dyson says it recalibrated the electronics of the motor from earlier models, such as the Dyson V6, adding more suction power.
It was so good, in fact, that we wondered whether the improvements put the V8 on a par with full-sized vacs. So we put the Dyson V8 Absolute through the deep-cleaning test designed for bigger machines, cleaning up a 100-gram mixture of sand and talc that's embedded into medium-pile carpet. Alas, its performance was merely so-so at this tougher test, ending its bid to become the last vacuum cleaner you'll ever buy.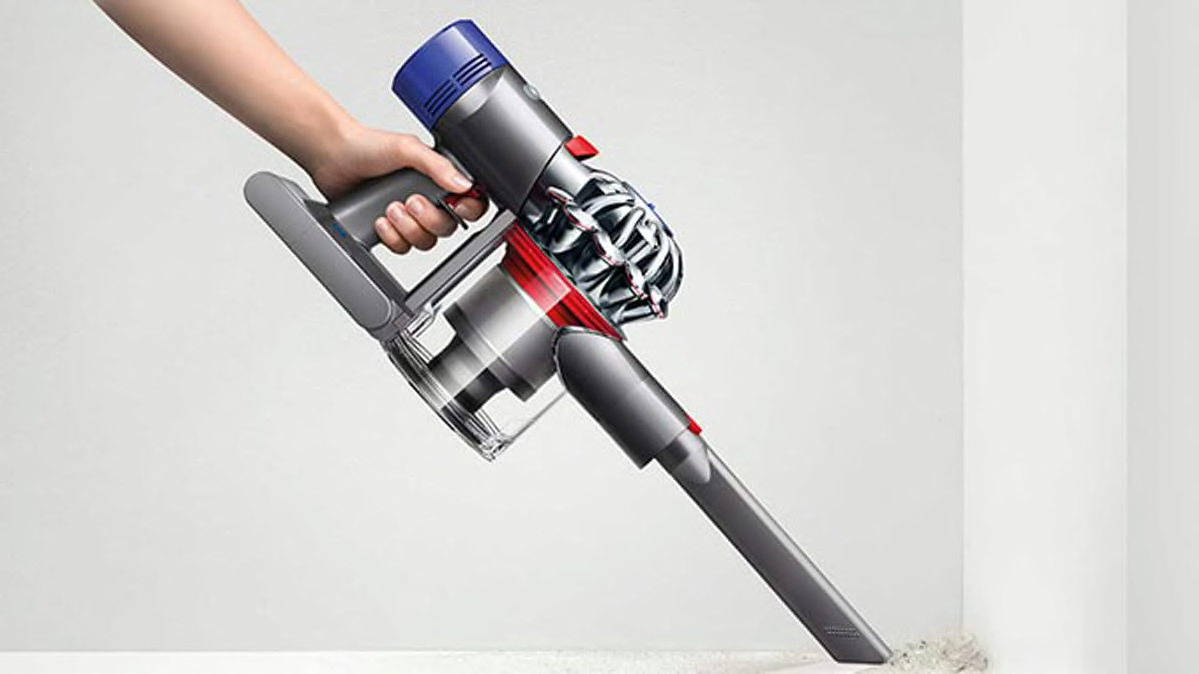 Convenience Features
So it's not quite a game changer. But there's still a lot to like about the Dyson V8 Absolute, starting with its weight: less than 6 pounds. As with many stick vacs, the V8 converts to a hand vacuum, good for cleaning the car or other tight spots. Converting it is particularly easy, and you can empty the dirt chamber in one simple step.
The V8 also comes fully loaded. In addition to the main direct-drive cleaner head, there's a soft roller cleaner head—made of woven nylon with rows of antistatic carbon fiber filaments—that's gentle on hardwood floors. We also like the mini motorized tool, ideal for upholstery, and the soft-dusting brush designed for electronics and other delicate surfaces.
And you'll have plenty of time to use those accessories on a single charge of the six-cell lithium ion batteries. In our tests, the V8's average run time was 21 minutes, which is the longest among all our recommended stick vacuums. That's particularly impressive considering the Dyson V8 Absolute's more powerful motor.
Quiet Operation
Then there's the matter of a vacuum's annoying high-pitched whine. It's nowhere to be heard from the V8. Again, Dyson points to several innovations, including acoustic felt in the motor that absorbs vibrations, and streamlined airways that reduce turbulence around the motor control board. We didn't deconstruct the V8 to test those specific claims, but we can tell you that based on our sound meter readings, it's one of the quietest stick vacuums on the market today.
A Few Cheaper Options
The V8's virtues notwithstanding, you still may not be ready to shell out $600 for a stick vacuum. We get it. That's why we pulled together this list of solid-performing models that cost a lot less.
The Dyson V6, $300
The predecessor to the V8 makes our recommended list thanks to superb surface cleaning on carpets and bare floors. But it's quite a bit noisier and doesn't have as many add-ons, including the soft roller cleaner head and mini motorized tool. The V6 should be available until the end of 2016, at which time Dyson may start phasing out production.

Kenmore 10341, $150
This CR Best Buy is only so-so on carpets, but if most of your cleaning needs are in the kitchen and other bare-floor environs, it's worth a look.
Shark Rocket DeluxePro TruePet HV322, $230
Our current champ among corded stick vacuums, the Shark provides impressive suction on both carpets and bare floors. It also converts easily to a hand vac, which you can carry far and wide thanks to the Shark's generous 30-foot-long cord.