New Roku Express 4K+ Streaming Player, Streambar Pro Sound Bar Due in May
An OS update will bring new features and quicker access to content We've gotten accustomed to Roku updating its product lineup in early fall, but a few new products, as well as a refresh of the Roku operating software, are coming this spring.
Among the new items will be a new, lower-priced streaming player, called the Roku Express 4K+, and a new sound bar speaker called the Streambar Pro that has built-in 4K streaming capability.
Also on tap is a new enhanced remote control—the company's first to include a rechargeable battery—that will be offered as an option for a variety of Roku devices.
All are expected to arrive in mid-May.
The new Roku hardware will be accompanied by an update to Roku's software. Roku promises a number of improvements in the update, including faster access to content and more personalization. Dubbed OS 10, the new software has already begun rolling out to select Roku streaming players, and will hit all supported streaming players and Roku TV models in the coming weeks.
"With Roku OS 10, we are enabling people to get to the content they love faster through features like Instant Resume and the Live TV Channel Guide customization options, and taking the guesswork out of the more complex network and gaming features by automating them," says Ilya Asnis, senior vice president of Roku OS at Roku.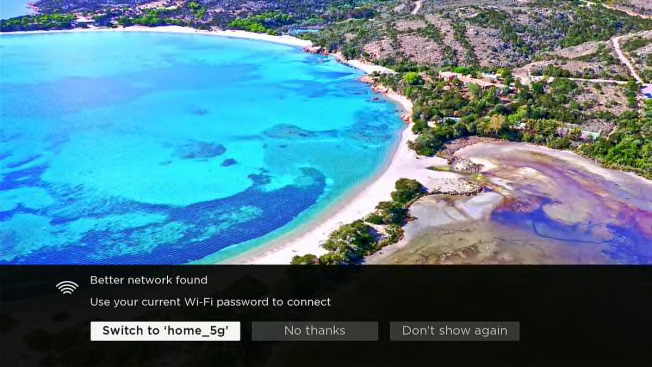 New Player, Optional Remote
Roku's newest player is the Express 4K+, priced at $40, which replaces the current Roku Premiere in the company's lineup. Like that model, it's a small set-top box that offers 4K picture quality, plus support for both HDR10 and HDR10+ high dynamic range formats, though not Dolby Vision, which is found in some pricier models.
Compared with the model it replaces, it has a faster processor and dual-band WiFi, plus more storage, which the company says will help speed up channel start times. It will also support a microUSB Ethernet adapter if you prefer a wired connection to your home network. The Express 4K+ comes with an HDMI cable for connecting it to your TV.
The included WiFi voice remote control has TV controls that let you turn the TV on, adjust the set's volume, and use Roku Voice to launch channels, search for content, and control streaming services.
Like other Roku players and TVs, the Express 4K+ will work with Amazon Alexa and Google Assistant, as well as Apple AirPlay and HomeKit, so you can use voice commands on devices that include them to control the player.
As it has with some previous players, Roku will be making a special version of the Express that will be exclusive to Walmart. Called the Roku Express 4K—without the "plus"—the main differences are that the Walmart version will come with a basic infrared remote and will sell for $35 rather than $40.
This spring, you'll be able to upgrade your current player—as well as Roku TVs, sound bars, and speakers—with a new "hands free" optional remote control, called the Roku Voice Remote Pro. A unique feature of the $30 remote is that it has a rechargeable battery, which the company claims will operate for months before needing to be recharged. When it does need recharging, you can do that using any standard microUSB charger.
The remote control also has a headphone jack if you want to watch TV without the sound disturbing others in the room. When you plug in a set of headphones, the TV sound will automatically mute.
The remote's "hands free" voice control lets you just say, "Hey, Roku," followed by a voice command to turn the TV on, adjust the volume, or control playback. The company says a built-in midfield microphone will pick up voice commands as long as you're within 12 feet of the remote.
The Voice Remote Pro also has a lost-remote finder feature; you just need to say, "Hey, Roku, where's my remote?" and it will emit a chime until you find it. You can also use the free Roku mobile app on your phone to activate the feature.
But if you're leery about having a remote control with an "always ready" microphone, there's a hard switch for turning off the microphone and disabling the hands-free voice feature. When the switch is off, you'll need to press the mic button on the remote to use voice commands.
New Streambar Pro Sound Bar
The Roku Streambar Pro, which will also be available in mid-May, is the successor to the company's current Roku Smart Soundbar. Like that model it is priced at $180, and has built-in Roku 4K streaming capability, including support for the HDR10 and HLG high dynamic range formats.
HDR10+, a newer HDR option that's being enabled by the OS update, works much like Dolby Vision, in that it can use metadata in the signal to adjust the picture brightness on a scene-by-scene basis. With regular HDR10, the brightness level is set for the entire show or movie.
Among the Streambar Pro's features is a new voice remote—the same one that comes with the flagship Roku Ultra streaming player—with personal shortcut buttons and a headphone jack for private listening. A set of Roku headphones is included.
Also new is a new virtual surround audio mode, which is also enabled by the OS 10 update. Available on both the Roku Streambar Pro and the Roku Smart Soundbar, it will create a more spacious, immersive sound, according to the company.
The Roku Soundbar Pro, which also comes with an HDMI cable in the box, will work with the Roku Wireless Subwoofer, $180, and Wireless Speakers, $150, to create a true surround-sound setup.
We're looking forward to buying and testing both the new player and sound bar when they become available, and adding them to our streaming device and sound bar ratings once we've completed our evaluations.