When you shop through retailer links on our site, we may earn affiliate commissions. 100% of the fees we collect are used to support our nonprofit mission.
Learn more.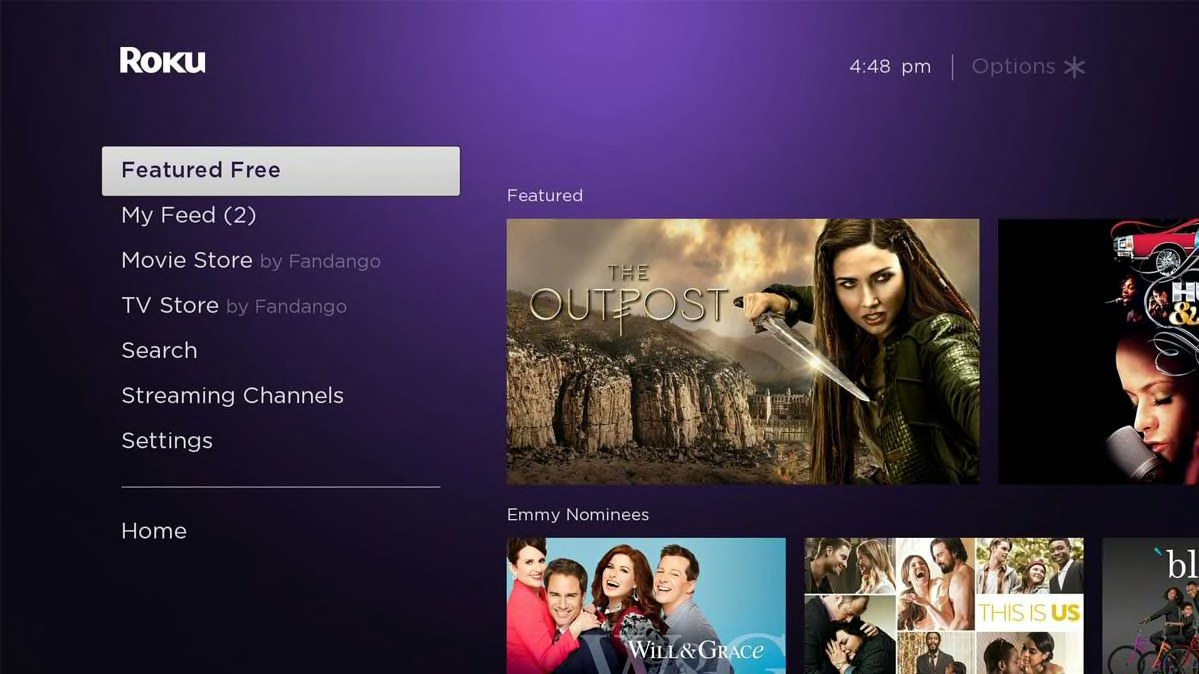 This fall, Roku will deliver a one-two punch of new lower-cost streaming players, plus some software updates that will add improvements in areas such as search and control for those using Roku streaming players, Roku TVs, and the new Roku TV Wireless Speaker.
Two new Roku players bring 4K and HDR capability to consumers looking for lower prices. They are the Roku Premiere, $40, and the Roku Premiere+, $50.
The operating system update will let you control Roku streaming players using Google Assistant devices such as Google Home.
There are also some enhancements to the upcoming Roku TV Wireless Speaker system, which is scheduled to arrive in November. As we noted when the speakers were first announced, while they look like a regular stereo pair of wireless bookshelf-style speakers, they're designed to work more like a sound bar to help improve the audio quality of Roku TVs. But they'll work only with Roku TVs.
"We are in a unique position that is unlike any other TV streaming platform," said Ilya Asnis, Roku's senior vice president of Roku OS, in a statement announcing the new enhancements. "Our single operating system running across Roku TVs and Roku TV Wireless Speakers gives us the ability to innovate how consumers experience audio and entertainment in their homes."
The new players will hit the market in October, but you'll have to wait until November for the two OS updates.
New Roku Premiere and Premiere+
Roku streaming players have typically done very well in our streaming device ratings. In fact, a Roku streaming player is often our top recommendation for the average consumer looking for a lot of content thanks to its support for numerous streaming services.
The two new Premiere players look identical to the Roku Express, the company's entry-level high-definition set-top player that's barely larger than the Roku Stick. Unlike the Stick, which plugs directly into a TV's HDMI port, the Premiere streamers connect via an HDMI cable, and come with adhesive strips for attaching them to a TV.
Both are 4K models that support the HDR10 and HLG HDR formats. The differences between the Premiere and Premiere+ models are that the latter is available exclusively at Walmart stores and Walmart.com, and comes with a voice remote with TV power and volume buttons.
Roku is pricing the players aggressively. At $40, the Roku Premiere costs just $10 more than the high-definition Express model, while the Roku Premiere+ will cost $50. That puts the Premiere on par with the Amazon Fire TV with 4K Ultra HD—which recently had a price drop from $70 to $40—as the cheapest 4K model you can buy.
That makes it about $30 cheaper than both the Google Chromecast Ultra, $70, and Roku's own Roku Streaming Stick+, $70, and much less expensive than the Roku Ultra, $100, the Amazon Fire TV Cube, $120, and the Apple TV 4K (32GB), $180.
One thing to note: Roku has a confusing habit of introducing new models with the same model names as previous ones, and the Premiere is no exception. Roku Premiere and Premiere+ models were introduced in 2016 but have since been discontinued. The earlier models were larger set-top boxes, far bigger than the new ones arriving this fall.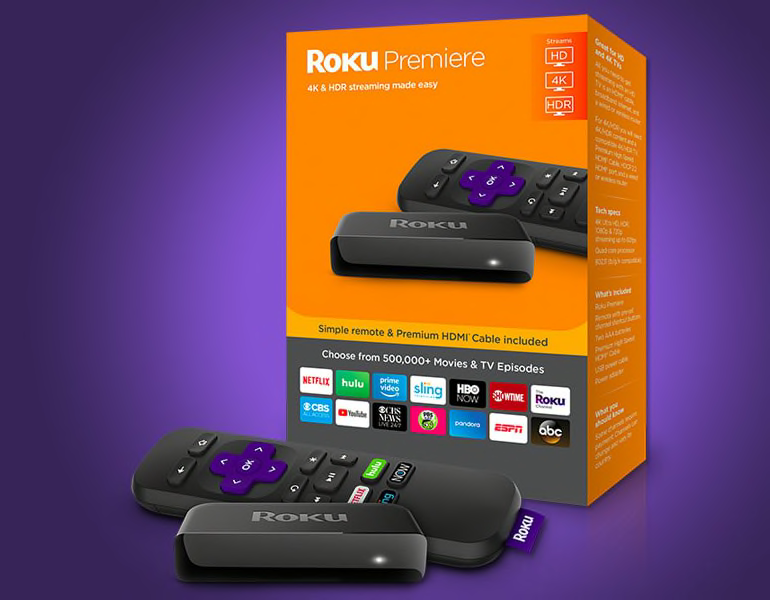 Speaking of the Roku Ultra, a new version will ship with premium JBL headphones as part of the package. (This model comes with a voice remote that includes a headphone jack for private listening.) There will also be some new tones—including the theme song from HBO's "Game of Thrones"—for the remote-finder feature, which helps you find a misplaced remote by sending an alert when you press a button on the player.
The Roku Premiere is available for preorder at Roku.com, though like the new version of the Roku Ultra, it won't be available until early October, about the same time the Roku Premiere+ hits Walmart and Walmart.com.
OS Updates Add Features
There are a few across-the-board updates for most Roku devices. Coming soon is Google Assistant compatibility, so you can use Google Assistant devices to pause and search for content, and launch channels on certain Roku streaming devices. Roku TV owners get some additional abilities, including being able to turn the TV on and off, adjust the volume, switch inputs, and change the channel if the TV is connected to an antenna.
During a meeting with Consumer Reports last week, Roku executives said that one out of every four smart TVs is now a Roku TV. Roku TV brands now include Element, Hisense, Hitachi, Insignia, JVC, Philips, RCA, Sharp, and TCL. Several Roku TVs, including models from Hisense and TCL, have done well in Consumer Reports' TV ratings.
Also coming soon is support for premium music services from Pandora and Spotify.
There will also be two separate operating system updates that will roll out later this fall: Roku OS 8.2, for Roku TVs and Roku Wireless TV Speakers; and OS 9, aimed at Roku streaming players.
The OS 8.2 update lets you use voice commands—either on Roku voice-enabled remotes or via the Roku app on mobile devices—to access and control music services such as iHeartRadio, Pandora, and TuneIn.
If you'll be using Roku TV Wireless Speakers with a Roku TV, the same update adds a few new sound enhancements, including a volume-leveling feature that keeps the sound level consistent when you change channels, when you move from live TV to a streaming channel, or when a commercial comes on. The other, called Speech Clarity, claims to improve dialog intelligibility by boosting those frequencies commonly found in speech.
The second OS update, OS 9, is for Roku TVs, the Roku Wireless Speakers, and Roku streaming players. It brings some of the OS 8.2 features, such as automatic volume leveling, to streaming devices and Roku TVs regardless of whether you're using the Roku wireless speakers. (The speech clarity feature, however, remains exclusive to Roku TV-Wireless Speaker combos.)
It also adds the ability to search for free content by genre, such as sitcoms, comedies, or dramas.
So when will you be able to take advantage of these updates? Pandora Premium is already available on the Pandora channel in the Roku Channel Store, and the Google Assistant capability will arrive within the next few weeks.
Roku OS 8.2 is already rolling out to Roku TVs and is expected to be completed in November. OS 9 hits Roku streaming players in early November but won't reach Roku TVs until early next year.
Roku says all the updates will be completed by the first quarter of 2019.
Roku's Digital Assistant
Two things you aren't likely to see this fall, though, are Roku Connect and the Roku Entertainment Assistant. Roku Connect, which is the underlying technology that powers the Roku Wireless Speakers, is a software platform designed to let other companies build audio products that connect wirelessly to Roku-enabled devices, so you can control them using voice commands from a Roku TV remote.
The Roku Entertainment Assistant is basically the company's answer to voice-powered digital assistants such as Amazon Alexa and Google Assistant. However, its focus is strictly on entertainment, so while you'll be able to use voice commands to control other Roku-enabled devices, you won't get the broader range of skills offered by Alexa, Google Assistant, or Apple Siri.
Both of these initiatives, which were originally promised as part of a larger software update later this year, are now slated to arrive in 2019, the company told us last week.