How to Move Your Spotify Playlists to Apple Music and Other Streaming Platforms
You can use third-party tools to switch to Apple, Amazon, Tidal, and other music platforms—but there are some privacy trade-offs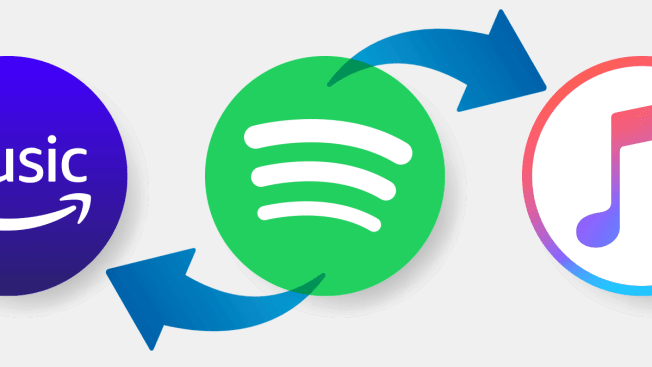 Music icons Neil Young and Joni Mitchell pulled their music from Spotify last week, to protest the company's hosting of podcasts that feature misinformation about COVID-19. If you want to join them in quitting the giant music streaming service, moving your playlists can be a bit tricky.
However, quite a few people are leaving the world's biggest music streaming service despite the inconvenience, judging by the popularity of the #QuitSpotify movement that quickly gathered steam online.
In response to the controversy, Spotify announced it would "add a content advisory to any podcast episode that includes a discussion about COVID-19," but declined to remove any episodes. The statement, signed by CEO Daniel Ek, also says "it is important to me that we don't take on the position of being content censor."
Popular Tools for Moving Playlists
I tried three of these tools: Soundiiz, FreeYourMusic, and SongShift. (SongShift works only on iPhones.) All three let you transfer a few playlists with a limited number of songs free of charge, but you have to pay to move multiple playlists, or bring along your liked songs and albums.
Soundiiz was the cheapest of these options, costing $4.50 per month—yep, it's a subscription service, one that you can cancel as soon as your transfer is done. SongShift starts at $5 per month, as well. FreeYourMusic offers more expensive subscription plans, or you can pay a one-time fee of $12.
The services are all similar. Here's how it worked on Soundiiz when I tested the service by moving my Spotify playlists to Apple Music.
I opened the Soundiiz website in a browser and tapped the Spotify icon. (I could have used a smartphone app instead.) That opened Spotify's log-in interface. Then I tapped the Apple Music icon and logged in. From there, all I had to do was head to Soundiiz's Transfer tab, select the playlists I wanted to move, hit Confirm, and follow a few more steps. 
If you have a lot of playlists, or playlists with a lot of songs on them, it will take a long time, about half an hour in my case.
The popular music streamers have almost identical catalogs, but your new service might not have every single song you saved on your old account. The transferring apps let you know if there are songs that aren't available. These music transfer apps also match up the wrong songs sometimes. So once the transfer is complete, it's smart to check your new music streaming service to make sure it worked. 
Protect Your Privacy and Security
Before you use any of the many playlist-transfer services available, you should be aware of some privacy and security issues.
Some services used to ask you to give them your username and password. Do not do that, especially if you use the same password on different accounts. (You know that's a bad idea, right? Use a password manager instead.) The services we listed above let you simply link to your music streaming accounts, without handing over your log-in credentials. That's a lot safer.
You should know a lot of music transferring services share data with advertising companies, such as what songs you've saved on Spotify. Your music streaming could reveal more than you expect. Music and podcast habits could be used to make assumptions about your political affiliations, sexuality, age, race, and more. That doesn't mean you shouldn't use these services, but there are trade-offs, as with almost all online activities. 
When you're done transferring your music, unlink these third-party services from music streaming accounts so they can't continue to harvest your data. It's easy to do. Here's how, on Spotify and Apple Music, which are far and away the biggest music streaming platforms out there. 
On Spotify: Head to your Spotify account page > Hit the Apps tab > Select "Remove Access" next to the corresponding service. 
On Apple Music: Open the app and hit the Listen Now tab > Select the icon in the top right to open your account settings > Apps With Access > Edit > Remove the service.
Now, Cancel Your Payments
Once you've transferred your playlists, you need to cancel your subscription, too. Once you cancel, you'll have access to the premium service until the next billing cycle. At that point, that app will switch to the free tier, if it has one.
You can't cancel Spotify from the app; you'll need to use a web browser. If you sign up for any subscription through an app on your iPhone, you'll need to follow the separate instructions below.
To cancel Spotify: Head to your Spotify account page > Available plans > Scroll down to Cancel Premium > Continue to Cancel > Continue to Cancel (yes, again) > Yes Cancel.
To cancel Spotify if you signed up with an iPhone: Open the settings app on your iPhone > Tap the tab at the very top with your name > Subscriptions > Select the app you want to cancel > Cancel Subscription.