When you shop through retailer links on our site, we may earn affiliate commissions. 100% of the fees we collect are used to support our nonprofit mission.
Learn more.
Just a few weeks after Google took the wraps off its YouTube Live streaming service, Hulu has joined the fray with its own cable-replacement service, Hulu With Live TV.
Unlike other video streaming services such as Netflix (and Hulu's own non-live streaming service, which the company still offers), these two new services provide live TV offerings delivered over the internet. They present alternatives to the old-fashioned pay TV packages you'd get from a cable company or satellite TV service. Similar services include DirecTV Now, PlayStation Vue, and Sling TV.
We've given Hulu's new TV streaming service a spin. There was a lot to like, including an easy-to-use interface and a fairly robust channel lineup. But as with YouTube TV, we found the service to have a not-quite-finished feel, perhaps not surprising since Hulu says this is a beta version, with no date given for a finished release.
Despite the beta labeling, Hulu TV is available nationally. It offers about 50 channels, including live local broadcasts from the four major networks, plus a cloud DVR service for recording shows and storing them online, all for $40 a month. You'll also get on-demand content from Hulu's current streaming service, with the option of paying a bit more for a commercial-free option.
Here's what we found.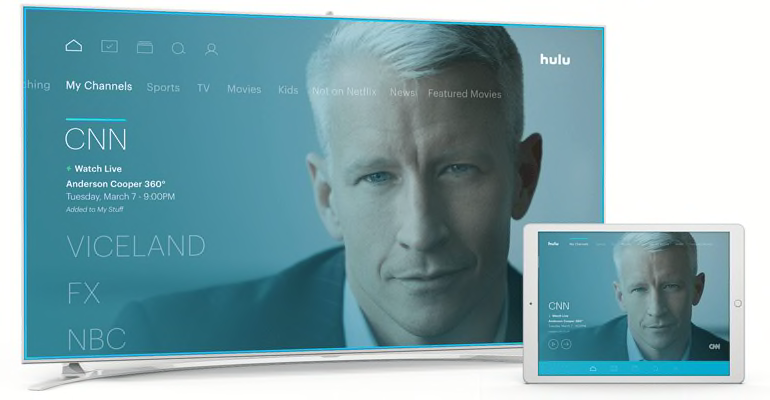 What You Can Watch
Right now, Hulu TV includes live content from the four major broadcast networks—ABC, CBS, Fox, NBC—but only in a handful of major markets. The company says that live broadcast programming from local affiliates in other markets will be available later this year. Consumer Reports is located just outside New York City, and we were able to get all the major broadcast channels.

Right out of the gate Hulu TV also has a nice representation of cable channels, including A&E, Bravo, Cartoon Network/Adult Swim, Disney, E!, Food Network, FX, HGTV, and Travel Channel. You also get History Channel, National Geographic, TBS, TNT, USA Network, and Viceland, plus news channels such as CNN, CNBC, Fox News, Fox Business, and MSNBC.

Sports fans will likely enjoy the lineup of sports channels, including CBS Sports, ESPN, Fox Sports, and NBC Sports, as well as regional sports networks. You can see the full channel lineup available in your area by visiting the Hulu TV website and typing in your ZIP code.
In addition to these channels, the $40-per-month base package brings with it Hulu's full 3,500-title library of on-demand streaming content, which otherwise costs $8 a month. (A commercial-free option for Hulu TV customers costs an extra $4 per month.) This includes original Hulu programming, such as the much-talked about new series "The Handmaid's Tale."
There are a few content holes, however. Notably, you can't access AMC, Discovery, or Viacom channels (which include Comedy Central, Nickelodoeon, and MTV). Also, right now there's no access to HBO, even though its parent company, Time Warner, is a part owner of Hulu.
Add-On Options
Hulu offers some add-on options that can improve your experience, especially if you've got a large family.
With the basic package, only two people can use the service at a time. For an extra $15 a month, you can upgrade to an Unlimited Screens plan that gives you as many streams as you want inside the home, plus three streams outside of it.
Users who watch and record lots of shows may want to upgrade from the basic 50-hour cloud DVR that comes with the service to an "enhanced" DVR with 200 hours of storage. This costs an extra $15 a month. You also get the ability to fast-forward through recorded ads, and automatically record new shows or sports that you've marked as favorites.
For customers who find both these add-ons appealing, Hulu bundles them together for $20 a month, a $10 discount.
While several competing TV-replacement services offer extra channel packages, right now the only programming add-on from Hulu TV is Showtime, which costs an extra $9 a month. The company says additional premium channels will be added in the near future.
Setting It Up
Out of the gate, one weakness of Hulu TV is that the service only works with Apple TV and Chromecast streaming players, Xbox One game consoles, and mobile devices. (Both iOS and Android phones are supported.)
That means some popular platforms for getting streaming content to a TV, notably smart TVs, plus Amazon Fire TV and Roku streaming players, are missing in action. At its launch event this week, Hulu said the service will be "coming soon" to Amazon and Roku players, as well as Samsung smart TVs.
We checked out Hulu TV using an Xbox One S connected to a 65-inch Samsung TV in the Consumer Reports TV lab. When you connect to the service, you receive prompts to set up programming preferences. Although the basic plan supports only two users at a time, you can set up personalized accounts for up to six family members; each user gets a main screen populated with their favorite TV shows, movies, and news channels.
Starting from scratch, setup took about 15 minutes. The process included selecting preferences for individual channels, sports teams, and such broad content categories as Action & Adventure, Crime & Justice, Sci-Fi, and News & Headlines. People who already have a conventional Hulu account can import their existing Watch List programs.
In general, Hulu TV has a relatively easy-to-use menu system that works really hard to blur the lines between live, recorded, and on-demand content, which are all served up in a single interface. This may be either refreshing or confusing, depending on your preferences.
For example, some users may not like the fact that Hulu TV gives equal weighting to shows you've marked as favorites and the programs it recommends. We would prefer to see our favorites prioritized, with the recommendations as a secondary option.
As you watch more content, Hulu TV will learn about your preferences—not just the shows you watch, but also the time of day and the devices you use—and make adjustments to the recommendations accordingly.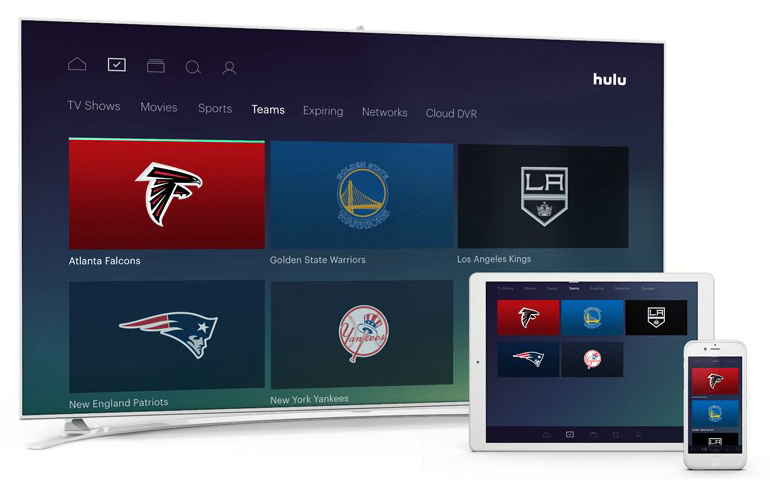 Navigation Is a Mixed Bag
Setup was easy, but not everything about Hulu TV works as smoothly.
For example, all the shows, movies, and sports programming you've identified as favorites, plus ones Hulu thinks you'll like, are found under Lineup within the home menu. Once you dive in you see a lot of categories—probably too many. These include Continue Watching, My Channels, Sports, TV, Movies, Kids, News, Featured Movies, Hulu Originals, and more.
You have to swipe through multiple screens to see them all. And unfortunately, you're not able to customize the list by removing those categories you seldom or never use.
Additionally, we found Hulu TV's process for recording shows to be somewhat clunky.
On a DirecTV DVR, as an example, you can simply hit a button on the remote control to record a show; hitting the button twice records the whole season.
In comparison, recording a show on Hulu TV feels complicated. If you're watching live TV, you have to select Pause, then use the Fliptray (a playback navigation guide that lets you watch and browse at the same time) and add the show to My Stuff using an onscreen "+" (plus) button. That's a lot of steps.
To delete a recording, you have to go into the Manage DVR section of My Stuff, and select the minus button (-) next to the item you want to remove. The company says that since TV episodes, movies, and sporting events are recorded to the cloud DVR on an individual basis, everything must be deleted individually—there's no "one-click" way to delete an entire series or team.
On the other hand, sports fans may like the easy way Hulu TV lets you find, follow, and watch your favorite professional and college teams, including MLB, MLS, NBA, NCAA, NFL, and NHL franchises. Hulu TV will show the games from each of the sports you choose and record them, subject to availability, blackouts, and device restrictions.
And parents with younger kids might appreciate the "Kids Mode." Activate it and your children will only be able to access kid-friendly programming.
How to Choose a Service
Hulu With Live TV is impressive, but how does it compare to other live TV streaming services?
Sling TV can cost as little as $20 a month, but that plan is limited to a single user, and Sling lacks some major broadcasters. DirecTV Now has more channels than Hulu TV for less money, but lacks CBS and doesn't yet have a DVR function. YouTube TV is $5 per month cheaper than Hulu TV but has fewer channels, and it is available in just five major markets right now. Sony's PlayStation Vue has more channels, but its comprehensive plan is pricey, and it doesn't offer all the major broadcast affiliates nationwide.
Most of these services are promising to add more content, and support for a wider range of devices, in the future. They are all works in progress.
To make a choice right now, you really need to visit each website, plug in your ZIP code, and see what content is offered where you live. Since all of them offer free trials, you don't have much to lose. You can try kicking the tires on all of these services and see which one works best for you and your family.