When you shop through retailer links on our site, we may earn affiliate commissions. 100% of the fees we collect are used to support our nonprofit mission.
Learn more.
Honda's Power Equipment division is best known for beefy generators, snow blowers, and mowers, all with classic engines and renowned durability. Now the brand's fans can look forward to another Honda innovation: the multi-tool Honda VersAttach System, sold exclusively at Honda dealers.
Other makers of outdoor power equipment including Craftsman, Ryobi, and Troy-Bilt sell string trimmers with split shafts that let you remove the trimmer head and replace it with an edger, brush cutter, or another tool. Honda has taken its multipurpose tool a few steps further with six power attachments and a choice of two power heads, both with four-stroke engines.
Consumer Reports hasn't yet tested the Honda VersAttach but we're curious to see if the attachments do as well as the dedicated tools they're meant to replace. At the moment we have two concerns, the combined price of the multipurpose tool and all its attachments, and the weight of the individual components.
The Power Heads
The Honda UMC425, $319, has a 25cc Honda GX25 engine and weighs 11.2 pounds (about 12 when fueled up) without attachments. Figure in about two pounds more for the UMC435, $359, which uses the 35cc Honda GX35 engine. One plus for both is that four-stroke engines tend to have lower vibration, make less noise, and last longer than their two-stroke counterparts.
The attachments for the multipurpose tool work with either power head, though you'll get more oomph (and weight) from the pricier power head. The attachments lock snugly into place without tools and include anti-vibration features that make the tools easier to handle.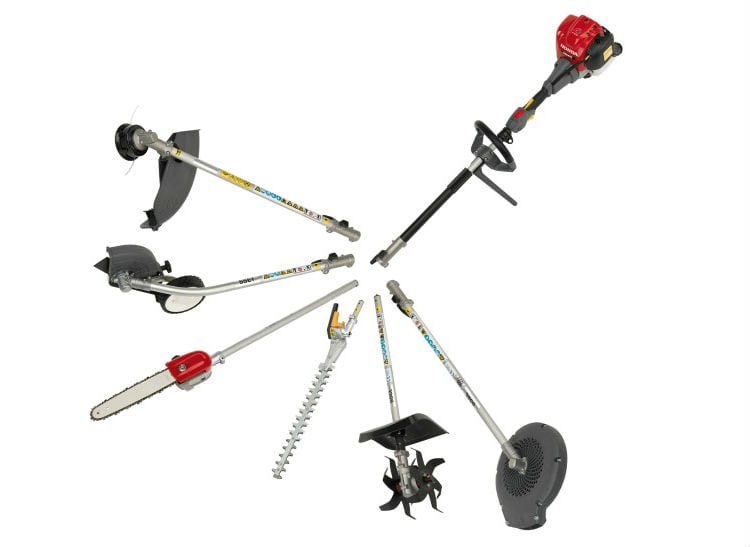 The Attachments (from upper left)
• String trimmer. Honda SSST, costs $129 and clears a 16.5-inch swath. It has a bump-feed head, which we like less than fixed-line heads, but the dual 0.105-inch lines should supply plenty of power for dense growth. One concern: the 3.1-pound attachment makes the whole thing 15 pounds—or 17 using the pricier head. By comparison, the lightest gas-powered string trimmers we recommend weigh 10 pounds or less.
• Edger. Honda SSET, costs $169 and has a 7.87-inch blade. It weighs 4.1 pounds.
• Pruner. Honda SSPP, costs $199 and weighs 3.5 pounds. It has an Oregon 91 Series chain on its 12-inch bar, enough for general cutting.
• Hedge trimmer. Honda SSHH-S, costs $209 and has a 21.6-inch, double-sided, double-reciprocating blade. It weighs 4.8 pounds.
• Cultivator. Honda SSCL, $239, tills soil in a 6.5-inch swath. It weighs 7.2 pounds.
• Leaf blower. Honda SBBL, $129, weighs 4.85 pounds and blows at 250 cubic feet per minute (cfm), about average for our tests but below the performance of our recommended leaf blowers.
The Bottom Line
While we can't predict how the six tools of the Honda VersAttach will perform, in our experience few or no parts of a multipurpose system match what a single purpose product can do. And one main attraction of multipurpose products is that someone who needs all of the functionality the complete package offers can pay far less overall than buying six individual products. That isn't the case here.
If you're a fan of Honda tools and neither the money nor the weight is an issue, the Honda VersAttach multipurpose tool may be worth a look. But if you want to check out the single purpose competition, see our Ratings of string trimmers, chain saws, and leaf blowers.