When you shop through retailer links on our site, we may earn affiliate commissions. 100% of the fees we collect are used to support our nonprofit mission.
Learn more.
There's a lot of baby gear on the market that you probably don't need. A baby stroller, however, is a necessity and as your baby grows you'll likely end up buying more than one. Four million strollers are sold each year and some are easier and safer to use than others. The majority of stroller-related accidents result from falls. But there are some less-common risks associated with them. Here's how to keep your baby safe.

Buy an Age-Appropriate Rig
Not all strollers are suitable for newborns. Until your baby is able to sit up on her own, a lightweight or umbrella stroller isn't recommended. Although at least one umbrella stroller in Consumer Reports tests reclines fully, allowing a harnessed infant to ride safely lying down, most are meant for children older than 6 months. If you have your heart set on a lightweight baby stroller, look for a model that can be completely reclined or can accept a car seat.

If your stroller comes with a carrycot or bassinet, don't assume it is for use in the home, too. The manual and the manufacturer's website should clearly state if the carrycot has been certified for use as a bassinet for other-than-stroller use. And never place soft bedding (quilt, blanket, pillows) in the carrycot with your baby; this adds a suffocation hazard.

After your baby is born, you may be eager to get back to your outdoor exercise routine but most all-terrain and jogging strollers are not suitable for infants younger than 6 months. Wait until your child is one year old before he rides in a jogging stroller.

When shopping for a stroller for an older child, check the weight limit. Most shouldn't be used by children who weigh more than 35 pounds, although some can.

Familiarize Yourself With Features
It may sound silly, but before taking your baby stroller out for a spin, become familiar with all its features including:
Folding and unfolding the stroller.
Buckling and unbuckling the restraint straps.
Raising and lowering the backrest. With a baby on board, raising the backrest can be tricky.
Attaching an infant car seat to the stroller or stroller frame and locking it in place. (Hint: Before strapping your baby in, lift the entire stroller by the car seat handle, to make sure it's securely clicked into place.)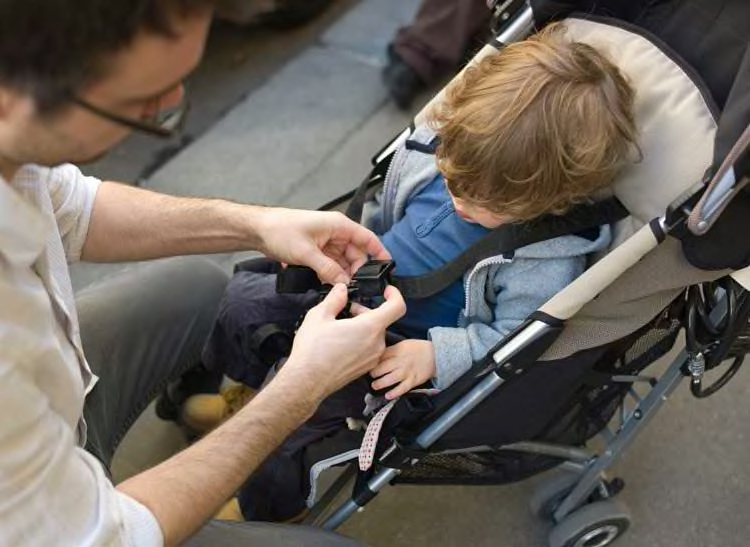 Significant Safety Checks
Before opening your baby stroller, make sure your child is well away from the locking mechanism. There have been incidents of finger injuries and even amputations of fingers caught in the hinge. Remember, there's an audible click when you set up a stroller, lock the harness and parking brakes, or when a car seat is moved into the correct, locked position. Listen for it.

Strap your child in. Use the 5-point restraint system every time you put your child in the stroller, just as you do when placing him in a car seat. Even when your child is older or asleep, make sure the straps are in place and the restraint buckles are locked. It takes very little to bounce an unharnessed baby out of the seat—hitting a bump in the sidewalk, negotiating a curb—and straps hanging loose can pose a strangulation hazard.

Check for recalls. A friend may offer you an old baby stroller or you may have one stored from an older child. Before you dust it off, look on the frame for the manufacturer, model number, date of manufacture, and serial number and check recalls on the website of the Consumer Product Safety Commission. If you're also using a car seat, check the website of the National Highway Traffic Safety Administration, which oversees car seat recalls.

Watch the wheels. Some strollers come with quick-connect/release wheels that can detach unexpectedly. If you're unfamiliar with this type of wheel, ask for help from store personnel or a bicycle shop. Other strollers have air-filled tires that require you to check the tire pressure and fill the tires to the proper level when needed.

Navigating Know-How
It only takes a slight incline to send a baby stroller rolling away from you. Lock the brakes when you take your hands off the stroller, even if you're stopping for just a moment.

Never take a stroller with a child in it onto an escalator; use a ramp or elevator instead. If there is no ramp or elevator, take your baby out of the stroller, collapse it, and carry them separately.
Resist the temptation to toss a shopping bag or diaper bag over the stroller's handles. It can tip the stroller over with the baby in it. Store your gear in the basket underneath instead. If you expect to carry more cargo than your stroller's basket can handle, wear a backpack.

More choices. For travel systems to lightweight luxury strollers, use our stroller buying guide to help find the perfect baby stroller.