When you shop through retailer links on our site, we may earn affiliate commissions. 100% of the fees we collect are used to support our nonprofit mission.
Learn more.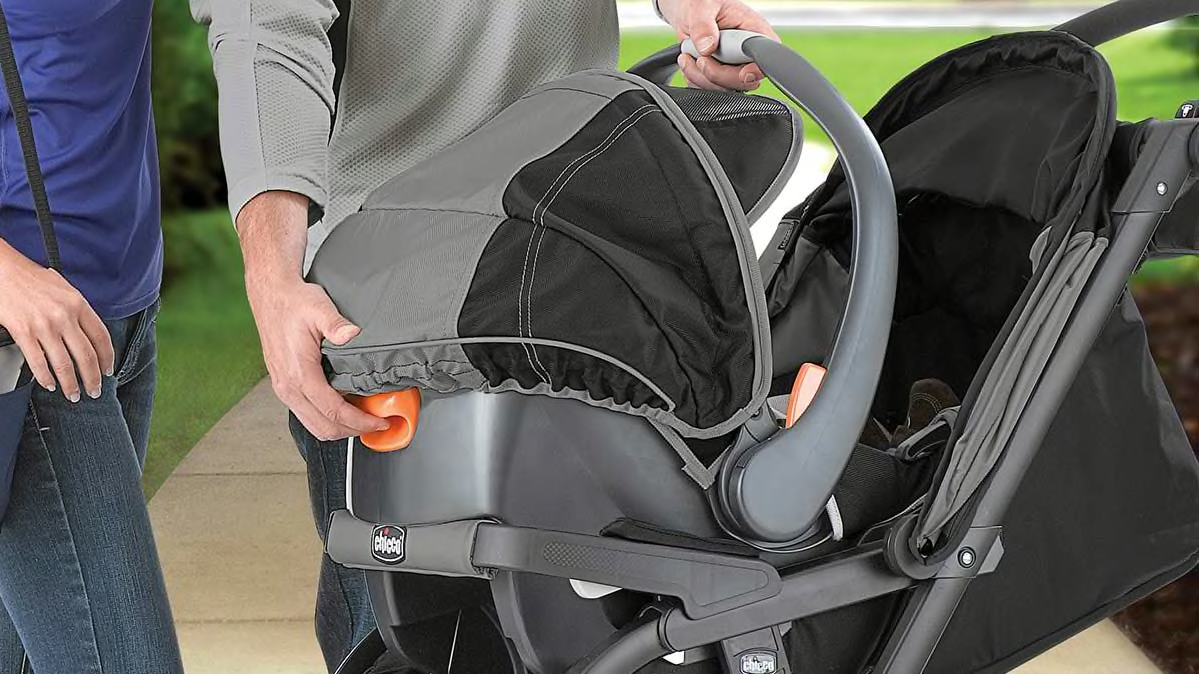 Two of the most important pieces of baby gear you'll buy are a car seat and a stroller. One keeps your baby safe on drives, and the other keeps her safe pretty much anywhere else you'll need to go.
What a lot of new parents may not realize is that you want to consider both pieces of gear at the same time, because many strollers—but not all—can accept an infant car seat. That means you can pop the car seat off its base in the car and into the stroller, without ever unstrapping, or even waking, your little angel. It's a super-convenient arrangement that lasts until your baby outgrows the infant car seat.
Manufacturers of strollers and car seats often bundle the two pieces together into what they call travel systems, but it's not easy to find a combination in which both products score well in Consumer Reports' tests.
Take the Graco FastAction Fold Jogger Click Connect Travel System, $300. The stroller in this duo makes CR's top-picks lists, proving to be easy to use and maneuverable enough to earn a score of Excellent in that test. But the car seat doesn't score well enough for us to recommend, in part because our expert testers found it harder than others to install properly.
You can mix and match top models from different brands to build your own travel system, of course, and indeed there are aftermarket adapters designed for this purpose. But not every CR recommended car seat plays nice with every CR recommended stroller.
That's why CR's car seat and stroller experts stepped in to design travel systems from the best products in our ratings. Then they tested each pairing to evaluate how well the components work together. After testing multiple combinations of car seats and strollers in our labs, we found that a few partner perfectly while others can separate from one another—posing a risk—even when used with the adapter recommended by the manufacturer.
"What we found in the lab is that putting together a good travel system on your own would take a lot of trial and error," says Joan Muratore, who oversees stroller testing for Consumer Reports. "And the stakes are high."
In the end, as you can see below, we designed three mixed-brand travel systems that won't force you to compromise.
How We Test Car Seats
Because car seats are critical to keeping your child safe, Consumer Reports puts each model through a rigorous series of real-world tests, noting how easy each model is to adjust and install properly in a variety of cars with both LATCH mechanisms and seat belts. We also subject child car seats to a crash test, separate from those mandated by government agencies. For more information, read a full description of how we test car seats.

How We Test Strollers
Our test engineers start our stroller tests by using each stroller the way a parent would: We adjust the harness, backrest, and wheel brakes, and fold and unfold each model as you would when moving it in and out of a car. We collapse and carry each stroller, too, noting the folded size and weight.
We push each stroller through a test course studded with S-curves, and steer it between cones and over obstructions such as grass, mulch, and tree roots. And last, we assess safety by subjecting each model to standard industry tests as well as stability and braking tests designed by CR's experts.
"A well-designed stroller can make a parent's life easier," says Muratore. "A model that's not thought through can end up being an extra chore you have to contend with."
The Best Stroller and Car Seat Combos
These three stroller/car seat combinations excelled in our rigorous tests, and pair safely together and offer a secure fit.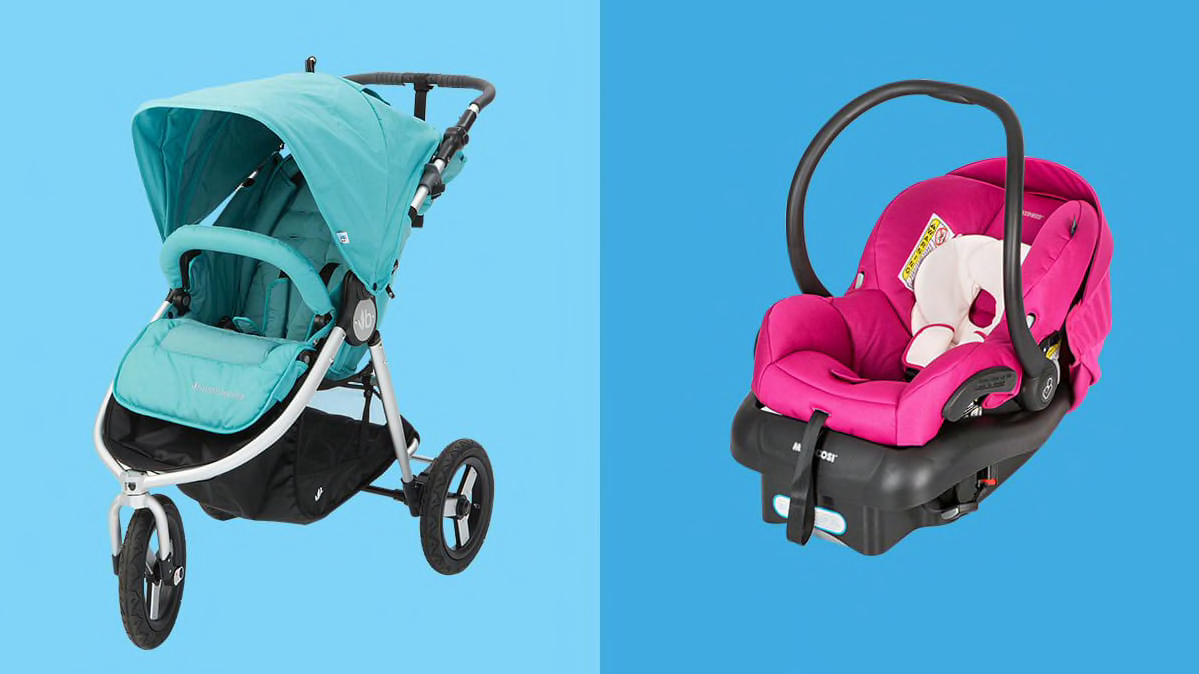 The Spare-No-Expense Duo
Stroller: Bumbleride Indie, $555
Car seat: Maxi-Cosi Mico AP, $200
Adapter: Bumbleride MNC-15 adapter, $45
Total price: $800
CR's take: This duo perfectly highlights what you can get by mixing and matching brands. It's the most expensive of the three travel systems designed by CR's experts, but it still costs less than some strollers in our ratings. Bumbleride makes a number of top strollers, including the Indie, which gets some of the best marks of any traditional stroller in our ratings, thanks to its nimble handling and easy-to-use features. But the company doesn't make car seats.
Using the Bumbleride adapter, we partnered it with the Maxi-Cosi Mico AP, a stellar car seat that proves exceptionally easy to use in our tests, and which attaches securely in a variety of cars, whether using the LATCH mechanisms or a seat belt. But the brand doesn't make a traditional or combination stroller that we've tested, and its infant car seat carrier, called the Maxi-Cosi Taxi, earns a much lower score in our tests.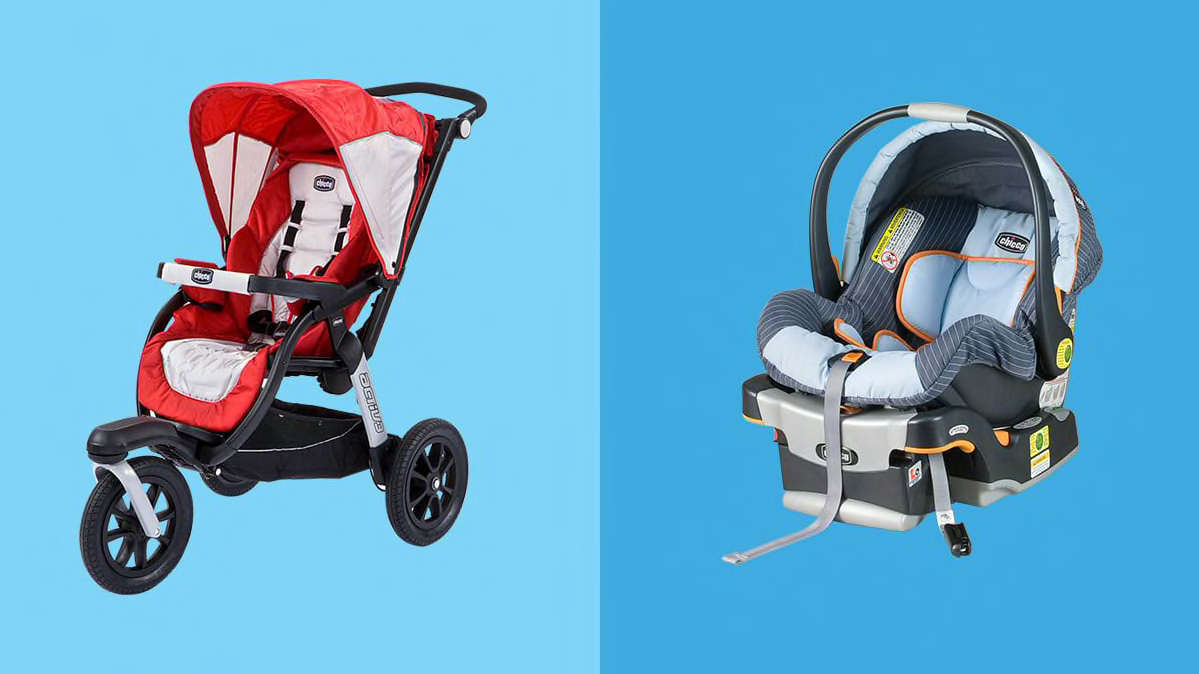 Best Matching Travel System
Stroller: Chicco Activ3, $300
Car seat: Chicco KeyFit, $180
Adapter: None
Total price: $480
CR's take: Our testers found that you get the best (and easiest) fit between car seats and strollers when you stick to a single brand, and this duo from Chicco is a prime example. But Chicco doesn't sell the Activ3 stroller with the KeyFit car seat as a travel system. Building this bundle yourself means you can have all the advantages of the jogging stroller, which handles nimbly and, once you're removed the KeyFit car seat, collapses flat using one hand.
The Chicco KeyFit is the highest-scoring infant car seat in our ratings, and has been for years. It's easy to use and install with a seat belt or LATCH mechanism, plus it earns the highest score possible in our crash-protection test. Its lone drawback is that it maxes out with a 22-pound child and, considering most babies triple their weight by the time they turn 1, you'll need to upgrade to a new car seat sooner than you may have planned. Of course you can continue to use the Activ3 stroller after you move your child to a convertible car seat, but you'll need to unstrap her to move her between the two.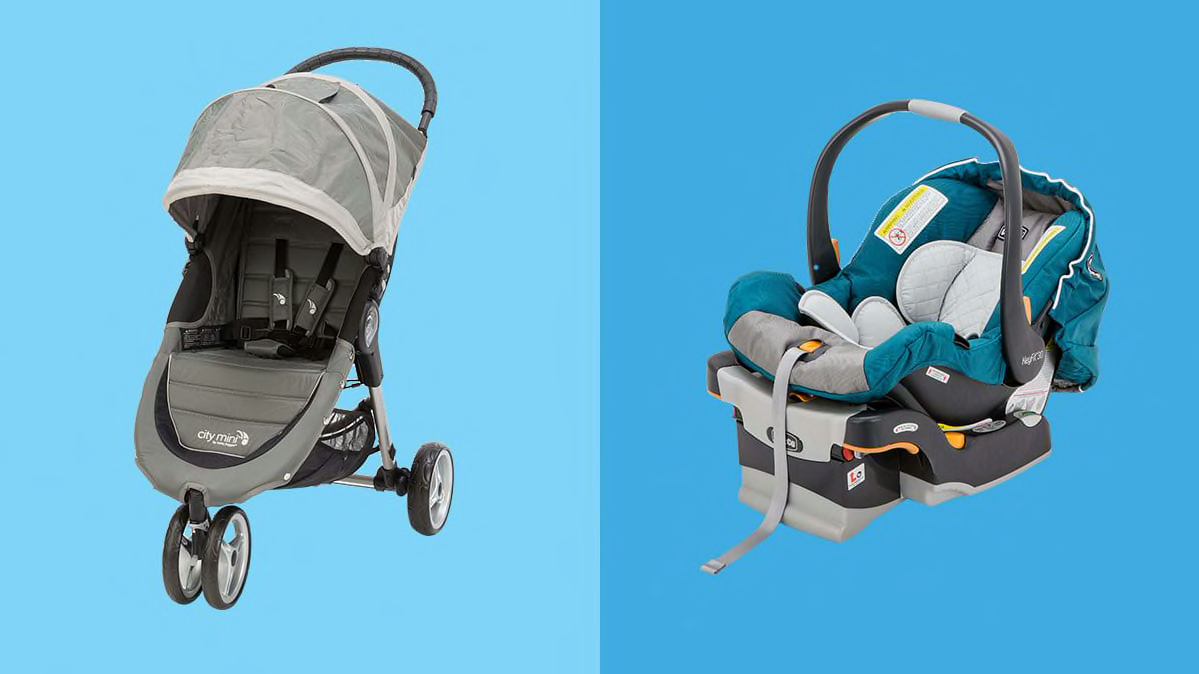 Best Budget-Friendly Travel System
Stroller: Baby Jogger City Mini Single, $250
Car seat: Chicco KeyFit 30, $200
Adapter: Baby Jogger Car Seat Adapter for Chicco/Peg-Perego, $59.95
Total price: $510
CR's take: According to our findings in the lab, the KeyFit 30 partners well with Baby Jogger's City Mini, a traditional stroller that outperforms any Chicco stroller in our ratings. It has large wheels, good for tackling tree roots or curbs, and is highly maneuverable, even through sharp turns. The adapter proves secure in our tests, though you'll need to remove the stroller's canopy to ensure proper installation. We should note that one tester did have trouble getting a secure fit, but our in-house stroller expert found that it fastened securely in three separate tests.
Chicco's duo of infant car seats, the KeyFit and the KeyFit 30, both do extremely well in our tests. Both also prove easy to use and install in a variety of cars—a big distinction given that car seats are too often installed improperly. The Chicco KeyFit 30 accommodates little ones up to 30 pounds, giving you a longer window of use than the Chicco KeyFit, featured above, which maxes out at 22 pounds.